---
Post Author: Christina Whitehouse-Suggs
---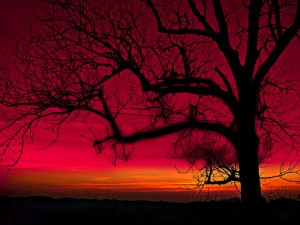 Luke 19:1-10 The Story of Zacchaeus
I want to tell you the story of another boy who climbed a tree:  The Giving Tree by Shel Silverstein.   (Read story)
The message of the children's book is profoundly true. Over and over again it is the giving tree that is happy. In the first part of the story when both the boy and the tree are enjoying their mutual give and take, they both are happy.  But have you ever noticed that after that first part, not once does it say that the boy is happy. It is always, "And the tree was happy."
Ben Gill in his book, The Joy of Giving, says in the opening paragraph:
"My life has been spent helping people to learn the gift of giving. After twenty-five years in this pursuit, I come now to tell you that one fact has become increasingly clear: the happiest people on earth are the people who have learned the joy of giving."
Let me tell you another story about a boy and a tree.  Once there was a tree and she loved a boy very much.  He would climb her branches, make crowns from her leaves, eat her figs, and when he was tired, would sleep in her shade.  And the boy loved the tree very much.  But time went by and the boy grew older.  One day the boy came to the tree and she invited him to play and eat figs and rest.  But the boy said he was too big to climb and play…he wanted to buy things and have money.  The tree offered her figs for the boy to sell and have money and be happy … the boy took her figs and left.  And the tree was happy.  But the boy stayed away a long time, earning money and becoming a successful businessman.  So successful, in fact, that he earned a promotion and became a regional supervisor … earning more money than he ever could've imagined.  He forgot all about the tree and her hope for him to be happy.  But he was not happy.  He had no friends.  People hated him because he was corrupt – skimming the profits, stealing from his co-workers, lying and cheating throughout the week but playing the part of the devout believer when it mattered.
He heard the grumbling of his neighbors, his servants, his "friends".  He knew what they said about him.  And even though he pretended it didn't bother him … it did.  One night, he dreamt about his old friend, the fig tree.  She whispered to him, "Come to me, boy.  Climb my branches & remember what it means to be happy."  The next day, he heard that a famous preacher was passing through town & he wanted to get a look at him.  But his grumbling neighbors and all the people he had cheated & taken advantage of wouldn't let him through.  He heard them laughing as he jumped and strained to catch a glimpse of this preacher.  He stopped as he caught sight of a tree … HIS tree.  She beckoned to him, waving her branches wildly.  He smiled, looking for an instant like the boy he used to be, and took off at a run, catching the crowd by surprise.   He swung himself into her branches and climbed quickly out to where he could see perfectly.  The preacher was closer than he expected … so close, in fact, that the branch he was laying on brushed the top of the preacher's head and made him look up, catching the man's gaze.  "Come down," he said.  "Come down & learn what it means to be truly happy."
The tree shook with love as the man climbed down, pausing for moment to hug her trunk.  The crowd grumbled loudly, "He already knows what it means to be happy.  He's stolen from all of us to make himself rich.  The thief … liar … cheater."  With his arms still around the tree, the man exclaimed, "I DO know what it means to be happy…I had forgotten!  Money doesn't grant happiness…GIVING does!  Right here and now, in front of everyone, I pledge to give half of everything I own to the poor and I'll repay the people I've stolen from with 400% interest!"  The preacher reached up and plucked a fig, smiling up at the tree then down at the man.  "Well done, my friend.  This changes everything.  Go and live your life and remember what it means to be truly happy."  And the man did.  And the tree was happy.
Our world is obsessed with the pursuit of temporary happiness; a new car, new iPhone, new house.  But we miss the basic truth that genuine, lasting joy is the product of giving, not getting. Giving isn't just about money; it's a lifestyle that encompasses one's whole personality. It's a lifestyle perfectly exemplified in Jesus Christ. And when we live lives of joy, when we remember what it means to be truly happy, that's the Spirit of Christ functioning as the Lord within us.  May the grace of God produce the joy of Christ within each of us.  Amen.
---
https://media.myworshiptimes31.com/wp-content/uploads/sites/3/2012/08/29171017/medium_3480169658.jpg
375
500
Christina Whitehouse-Suggs
https://youngclergywomen.org/wp-content/uploads/sites/3/2017/05/YCWILogo_Vert_Black-300x229.png
Christina Whitehouse-Suggs
2012-08-20 04:00:19
2016-02-17 16:02:17
New Hope: Greedy Boys and Happy Trees