---
Post Author: Miriam Smith
---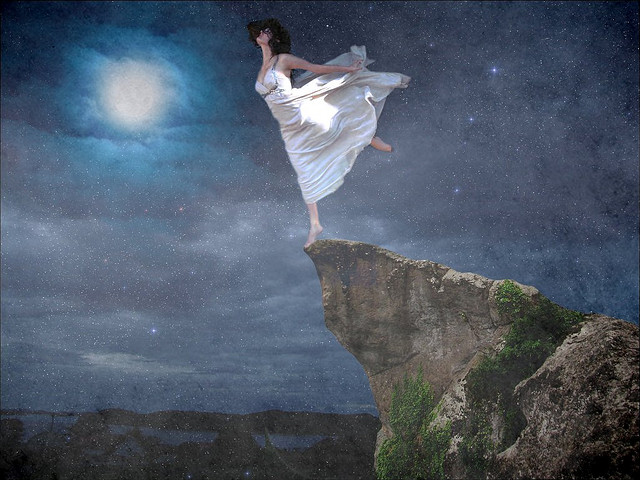 I spent my first two years of ministry scared to death.
Now, preaching and teaching do contain some measure of risk, and running a committee meeting can be a risky endeavor. These things were part of what I knew I was signing up for when I was ordained. They were part of the job. Likewise, so were sitting with families while a loved one died, listening while a young student confessed his fear that God can't love him, praying with people in hospital rooms, and moderating arguments between warring volunteer organizations. These were sacred moments, and I quickly learned it was part of my job to be present in them. However, fast on the heels of that revelation came my deep fear that I would handle a situation poorly and manage to break the church. Or at least greatly disappoint them.
Somehow in my preparation for ministry, I missed the enormously important part about how I would be changed as I began to live into my calling.  And even though I knew I was (and am) in desperate need of healing of my sinful self on a daily basis, I didn't count my fear as part of what needed to be changed. Instead, through trying to control my fear, I developed an obnoxious and overbearing attitude that I was convinced made me seem to have it all together all the time. In reality it made me obnoxious, overbearing, and terrified that the church would find out how scared I really was.
When Jesus is healing someone in the gospels, the healing happens after the person in need moves toward Jesus. For each one, there had to have been some kind of recognition that things were not okay, and something had to give. They could not suffer the present reality much longer and now was the time to seize the day—or the hem of a traveling teacher's garment. It was risky to reach out like that, but God was there on the other side. For a long time, I wasn't ready for that.
Then, in my second year of ministry, my mother began dying from cancer and as what was normal turned from family dinners to hospice care, I took what felt like a huge risk. I let go of my attitude, filled the congregation in, and asked them to hold my family in prayer. And as my mother's health failed, I gave up my fear of disappointing my church for the hard truth: I was not okay and I needed them to know.
Somehow I had been convinced I would be letting the church down if I asked for their help. That's not what happened at all. Instead the church prayed, the choir figured out who would take care of my dog while I went home, and members even came to my mother's funeral. In hindsight it seems obvious, but at the time I was not expecting grace to be present on the other side.
And then a few months later, in the way of my denomination, I was sent to a new church in a new city. The temptation to fall back on my abilities to act like I had things together to get me through the transition was strong, but this time I had learned something.
So I asked some people to hold me accountable. I was going to work on taking risks, I told them. I was sure I'd caught it in time, and would do better this time around. My new church wouldn't have to suffer from an associate pastor consumed with fear that she wasn't good enough to do the job. I was going to trust that there would be grace enough to get me through.
At first, I took small steps: asking my senior pastor for help prioritizing my workload because projects were falling through the cracks, agreeing to share personal testimony about grieving my mother during the sermon one Sunday, and seeking out the people who rubbed me the wrong way and working to get to know them better. Then I found myself visiting some small groups and preaching sermons while asking the church to heed God's call to transformation.
It was a start. But as challenging and rewarding as those moves were, I knew I was still holding back. I was preaching a call to transformation, but I was not willing to seek it for myself. I might have given over my professional life, but it was becoming frighteningly apparent that I needed to put my emotions and feelings on the line. I couldn't pray that God would open up my understanding if I was not willing to open myself up as well.
You see, I still had massive Do Not Enter signs up around my personal life. And it was remarkably hypocritical to walk alongside these new people in their vulnerable moments knowing that I was still holding on to my old protective shell of fear.
So, what changed? I met someone. And our relationship has helped me to change.
This is not a fairytale, where meeting the Right One means all fades to black with a shimmer of magical escapism. But it is true that in this instance in my life, this conviction to take risks and let go of some fears coincided with meeting someone I sincerely like (like, a lot).
And since then, I've been thanking God for this someone on a daily basis. Not just because he is fun to be around, lovely to behold, and interested in the particulars of what makes a life of faith a good life, but because—call it Providence or whatever you will—he came into my life and I knew if I wanted to build a relationship with him, I couldn't stay the same. And thanks be to God that I haven't.
The rest of the truth is this: I am writing from the midst of a struggle that is ongoing. I've already disappointed myself and deflected some questions and avoided some topics because I'm still scared. But this time I hope that being scared means I'm making progress. I am finally leaning out past my fear to catch a glimpse of what good things might be in store down the road. This person I've met is definitely willing to offer me grace. And I know that in order to get there, scared or not, I'll need to keep taking risks.
---
Miriam Smith is a United Methodist elder serving in Huntsville, Alabama.
---
Image by:
Kathryn
Used with
permission
https://media.myworshiptimes31.com/wp-content/uploads/sites/3/2014/10/29170431/4373711411_ef063a334f_z.jpg
480
640
Miriam Smith
https://youngclergywomen.org/wp-content/uploads/sites/3/2017/05/YCWILogo_Vert_Black-300x229.png
Miriam Smith
2014-10-09 04:00:01
2015-08-25 18:17:46
The Risky Thing About Risk