---
Post Author: Sarah Lamming
---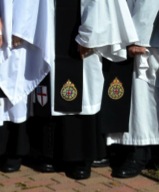 Sitting down on a recent Sunday evening with Downton Abbey on in the background, I carefully sew the Anglican Communion's Compass Rose and the Episcopal Shield onto my new tippet[i]. This seemingly simple task does not begin to capture the last decade of my life and the journey I have been on.
As a cradle member of the Church of England, passionate about working with youth and helping marginalized communities know the unconditional love of God, it should not have been a surprise when my priest asked me if I would consider becoming a priest – but it was.  My family includes prominent supporters of women's ordination, but I had never imagined it as a path for myself, because I had almost no female role models to follow.
My discernment process took me to visit a number of people.  One was a permanent woman deacon, who did not believe women should be priests and challenged me to consider the deaconate as a vocation.  Another was my bishop, who was pastorally able to hear and discern that God was calling me to the priesthood, but he himself could not in good conscience ordain a women.  Therefore, when I was approved by the national selection process, I needed to prepare myself to be released from that diocese when it came to my curacy[ii].
Early on in the summer prior to my ordination, I receive the call from my bishop confirming that there would not be a curacy in his diocese for me. There were eight ordinands in my year—four men and four women—but there were only four curacies.  All of the positions would be going to the men.  It was the call I was expecting, but it was still painful to know that because of my gender, I was not even going to get to look at any of the parishes from my diocese. That meant that I would have to wait to see what came available in the fall, when the dioceses that had vacancies could start to look for good fits.
I was one of the last of my classmates to get a curacy confirmed.  It was in an area of the country that was new to me and in a diocese that was in the process of appointing a new bishop.  As it turned out, my curacy was perfect for me, and I grew and flourished there, first as a deacon and then as a priest.  But over the next three years, my soul just kept getting wounded by individuals, parishes, and the institution as a whole, because of my gender and sexuality.
There were times when the male clergy from my deanery[iii] would be invited to concelebrate for patronal festivals at local churches that were anti-women's ordination, and I would not get an invitation. (Neither would my training incumbent, because he was working with a woman).  The second time this happened, I phoned up the church and asked when the service was, turned up in collar, and sat near the front.  The service followed the Roman Missal, and we prayed for Pope Benedict and the Provincial Episcopal Visitor[iv] with no mention of the diocese that we were in.   After the service, I had a number of parishioners from the parish come up to me and say how lovely it was to have me there, and wasn't it a shame I was not behind the altar with the other priests.  It seemed that the views of a small minority of the laity and the Rector of that parish were preventing people from having the opportunity to experience the ministry of ordained women.
The clergy of the group of parishes where I served worked on ways to inform people who would not accept communion from a woman when I was to preside, so they could choose to go to a different service.  Or we would make sure that there was also a male priest available to distribute the hosts.  There was frequently some aisle hopping, which I came to ignore on the surface, but deep down, I was hurting. My male colleagues did not have to put up with this, and it went completely against the church's teaching that the worthiness of the priest does not affect the validity of the sacrament.
The greatest wound, however, was the consistent low-grade sexual harassment that occurred.  The old men wanting to kiss me or pat me on my bum.  The not-so-subtle chat up lines at inappropriate times, the worst of which was by one of the undertakers during a funeral.  And the bets that the local supermarket guards were having about who could "bed the priest." When I brought these issues up with my clergy colleagues, their initial reply was, "What do you expect?  You are a young female."
It's taken three years in America to really acknowledge the wounds and hurt I have been carrying. I know that I do not belong in the Church of England at the present time. My great uncle used to say, "Never threaten to go; always threaten to stay."  For the time when I was going through the discernment process, at seminary, and in my first year in ministry, I had hoped to stay and be a voice within the debate on gender and sexuality, but the cost was too great. The institution was stopping me from being the priest God is calling me to be.
Coming to America and joining the Episcopal Church has not been easy.  Both are a part of the Anglican Communion, but they are two different churches, and learning a new culture takes times.  I chose the Episcopal Shield on my tippet to represent the church that is accepting me as a priest regardless of gender or sexuality.  I also chose the Anglican Compass Rose, because I want to keep some connection back to my homeland and the global nature of this community of faith to which we belong.
Watching Downton Abbey has been helpful, because I realize just how far we women have come in the last century, but we still have a way to go.  The Church of England has to discover how to be truly inclusive and authentic, and how to allow everyone, lay and ordained, to be who God has created them to be.  The vote yes on women bishops will be an important step to take when it finally happens, but the harder issue is the whether the old power structure will allow the gospel to be lived afresh for this generation.  We will not know what that looks and feels like until barriers around gender, sex, sexuality, race and class no longer define the church
Photo is the Rev. Lamming's own.
---
---
https://media.myworshiptimes31.com/wp-content/uploads/sites/3/2012/12/29170908/compassrose1.jpg
192
159
Sarah Lamming
https://youngclergywomen.org/wp-content/uploads/sites/3/2017/05/YCWILogo_Vert_Black-300x229.png
Sarah Lamming
2013-01-01 04:00:34
2018-11-13 11:46:18
Sewing on the Compass Rose