---
Post Author: Heather Hill
---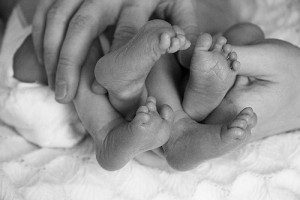 "Choose this day whom you will serve…but as for me and my household, we will serve the Lord."         Joshua 24:15
Every choice we make to do one thing is a choice not to do another. One of the choices I made earlier on was to devote my life to serving God's church.  By choosing this I chose not to go to medical school or pursue an engineering or management degree, but to major in religion and classics.  I spent my time learning Greek and Latin instead of molecules or physics.  Could I have served God while having a secular career? Of course, but God was calling me to serve full-time as an ordained clergy person.
I began ordained ministry single without even a houseplant to care for.  Throughout the last ten years as a priest, my life has changed dramatically. After adopting two plants and a dog, I entered a serious relationship that eventually led to marriage and children.  I know God has led me through these transitions and called me to the vocation of both spouse and mother, as surely as to the priesthood. Yet, I keep realizing how my vocation as a parent is a choice to follow God one way and to not follow God in another.
About a month ago, the implications of this choice became very clear to me.  I had a day designated to spend with my kids (twins, now 15 months old) enjoying them and caring for them.  In the middle of this day I received a call that a wonderful, elderly member of my parish was in the last hours of her life.  After speaking with her granddaughter, I immediately called my children's daycare, only to discover that they didn't have room that day for two infants. My husband, also a clergyperson, was in the midst of caring for his parish an hour away and could not come home.
That day, which had begun as a joyful day with my children, brought my vocation as a mother and my vocation as a priest up against one another.  I have heard of many stories of ordained mothers taking their infants to visit those who are dying.  Before I became a parent, I dreamed of visitations with a cooing baby and how much the elderly parishioners would smile to see a tiny face.  The surprise of my life, I found out one February day, was that God had chosen to give me the gift of twins!  The idea of my two toddlers running around the house as this grandmother lay dying did not seem like it would be a welcome visit.
I have often told family members who were not able to by a loved one's bedside in their time of need that God heard their prayers and was with their loved one even when they were not.  Today, I had to believe these words could be true in my own life and ministry.  My heart was torn by my desire to be the physical presence of God's love in the room – there when no one else wanted to be to say one last, final blessing on this woman in her earthly pilgrimage.  I had visited her just days before and shared both communion and prayers, but it just didn't seem the same.  However, that day God called me to share my presence with two growing toddlers.  I found myself in almost constant prayer for this woman at the end of her life, and my prayers for her joined with prayers for my children, that they might be at the beginning of equally long God-filled lives.
I have read so many articles that imply or outwardly state that current generations who choose not to have children are self-centered that individuals who make that choice just want to have fun while they are young, but I realized that if I had chosen not to have children I would have been at that woman's bedside and that many women whose vocation is to not have children of their own serve in ways that I can not at this stage in my life.
I love my twins in a way that I love no other and I would not give them up for the world. They have opened up new ways for me to share God's love in the world and a greater understanding of God as our amazing creator.  Our call to parenthood shapes all other parts of our life, including our call to the priesthood.
The inward struggle comes when one vocation butts heads with another.  It is then when we realize the manifold consequences of following two calls from God.  I take to heart the words of the apostle Paul, though my prayers could go forth, I could not be all things to all people at this moment (1 Corinthians 9:22). Both my vocation as a priest and as a mother are callings from God, and I am learning how to trust that God will find new ways to work through me in sharing love with the world. These two callings often complement and strengthen each other, but balancing the two is not without its challenges.
Are you a clergywoman balancing the dual vocations of parenting and ordained ministry?  Tell us about your experience in the comments section below.
---
https://media.myworshiptimes31.com/wp-content/uploads/sites/3/2013/10/29170709/2703829973_5e0ccd2b07.jpg
333
500
Heather Hill
https://youngclergywomen.org/wp-content/uploads/sites/3/2017/05/YCWILogo_Vert_Black-300x229.png
Heather Hill
2013-10-24 17:01:11
2018-11-13 11:44:19
Choosing to Serve