In honor of the 10th Anniversary of The Young Clergy Women Project, the Board is thrilled to announce a new logo and a new organizational name: Young Clergy Women International. We are grateful for the vision and hard work of those who birthed this organization and nurtured it through its infancy (Weren't those first steps amazing?) and first decade, and we are proud to claim the new name as our own as we continue the work of building up the youngest ordained women who serve Christ's church around the globe.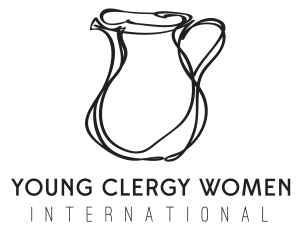 As Young Clergy Women, we embody a certain tension. When we consider the long span of Christian history, we acknowledge that many Christian denominations have only recently begun to ordain women (and that many have yet to do so). Yet, a rich representation of women in the biblical story reminds us that Young Clergy Women are not a new phenomenon! Women have testified to the faithfulness of God with their actions: The Widow of Zarephath fed her household plus Elijah using a jar of oil that did not run out; a grateful woman broke a jar of nard over Jesus' feet, thereby anointing him; Mary urged Jesus to turn vessels of water into wine at a wedding in Cana, and women throughout the Bible led the way in offering radical hospitality to friends and strangers alike. Scripture also reveals that women were the first messengers of the gospel. The Samaritan woman at the well left her own water jar when she ran back into town to tell everyone about Jesus. And Mary Magdalene, perhaps still holding the jar of spices that she, Mary, and Salome had taken to the tomb, was the first to shout, "I have seen the Lord!"
As we enter into our second decade over 1600 members strong, it is our hope and prayer that, like these women of scripture and the pitchers they carried, the women of YCWI will be supported and connected as we engage the holy task of preaching with our words and with our lives.
Into this new organization we welcome a new class of fabulous women to join in leadership as Board Members. Board Members generally serve a three-year term, and some women stay for a second three-year term after their initial service. We give thanks for the women who have served our organization faithfully and will roll off the board this year: Diana Carroll, Jamie Haskins, Julie Jensen, Amy Loving Austin, Erica Schemper, and Phyl Stutzman. Their gifts and skills have been a blessing to each one of us on the board and to the organization as a whole.
We are also thankful for each member of the board who will be returning this year: Kelly Boubel Shriver, Caroline Berardi, Sarah Hooker, Emily Brown, Austin Shelley, Molly James, Erin Klassen, Julie Hoplamazian, Meg Jenista, Sarah Moore, Lesley Ratcliff, Sarah Ross, Sarah Weisiger, Whitney Wilkinson, and Elizabeth Grasham.
You can find out more about all of our off-going and current board members on our board page.
Without further ado, we are excited to introduce our newest board members!
Dwalunda Alexander was born and raised in Houston, Texas, where she graduated from Texas Southern University with her Bachelors of Arts in Psychology in 2005. She moved to Fort Worth, Texas, in 2005 to attend Brite Divinity School on the campus of Texas Christian University where she received her Masters of Divinity with a concentration in Black Church Studies in December 2008. She is currently in her final stages of completing her Doctor of Ministry in Preaching from Lincoln Christian Seminary. Dwalunda is an ordained elder through the Rhema Fellowship of Churches and currently serves as a part of the worship ministry at Destiny Church in Fort Worth. She is also the founder of Antioch Kingdom Ministries and an educator with Fort Worth ISD. The best part of her days is spent loving, laughing, and enjoying life with her husband Jon and their four wonderful children.
Megan Clapp serves as Associate Pastor of Immanuel Lutheran Church (ELCA) in Northwestern Minnesota. She is a graduate of Luther Seminary, and, along with her Masters of Divinity, received a degree in Children, Youth, and Family ministry. She was ordained in 2011. Megan is passionate about helping God's people grow in faith that is connected to every part of life and equipping families to grow together in discipleship. Megan is married to Eric (who serves as Pastor in a nearby congregation) and they are parents to Lillian. She loves good books, delicious coffee, great conversations, and spending time with friends and family on any available patio, deck or lake.
Jo Kershaw is the parish priest of St Anne's Wrenthorpe, in one of the south-eastern bits of the north of England. She grew up in Scotland, studied German at St Andrews and Oxford, where she completed a doctoral thesis on Mechthild of Magdeburg. She still loves all things mediaeval and thinks we could learn a thing or two from the writings of the period and its deep attention to the body and incarnation – even if, sometimes, it's what not to do.  She trained for the Anglican priesthood at Westcott House, Cambridge, where she married her husband Jonathan, also a priest.  Her ministry has been spent in the North of England – her current context is famous for rhubarb and brass bands (luckily she likes both these things!). Jo loves knitting, photography, and science fiction and fantasy – though she'll read most things.  She also loves to travel, and probably drinks too much coffee.
Jennifer Quanbeck is an ordained ELCA pastor who has served congregations in Washington and Montana. A graduate from Luther Seminary (M.Div 2008) and The College of William and Mary (B.S. 2003), Jen enjoys working with youth, health/fitness, and to-do-lists. An analytic at heart, but with a twist of artistic flair, Jen is motivated by opportunities for innovation and change. A lover of hiking, photography, and sunshine, Jen and her clergy spouse, Ben, share life with two young children and currently serve the same congregation in Billings, MT.
Elizabeth Riley is the Associate Rector of Trinity Church (Episcopal) in Menlo Park. Born and raised in Alaska, she migrated south for sunny California to attend Saint Mary's College of California where she studied Theology and English. She then went on to receive her Masters of Divinity from Church Divinity School of the Pacific. Elizabeth especially enjoys justice ministry and interfaith work. She and her husband Scott spend most of their time chasing after their toddler, Eleanor, and look forward to welcoming their second child in winter of 2017. In her free time Elizabeth loves quilting, is an avid reader, and enjoys exploring the Bay Area with her family.
Bre Roberts is an ordained pastor in the Evangelical Lutheran Church in America (ELCA) and serves as co-pastor of St. Luke Lutheran Church in Albuquerque, New Mexico, alongside her husband Ryan. Together they also co-parent two charmingly ordinary pastors' kids. Bre received a Bachelor of Science in Molecular and Cellular Biology from the University of Arizona in Tucson, Arizona and a Master of Divinity from Pacific Lutheran Theological Seminary in Berkeley, California. Prior to living in the Land of Enchantment, she served as an associate pastor in Baltimore, Maryland. Bre speaks fluent nerd, has four tattoos, attends a gaming convention or Renaissance festival in costume whenever possible, is a novice quilter, and is also the caretaker for the family's cats, Cow and Drizzt.
Here we go into the next decade. May God's outpouring of love through this organization be transformed into acts of justice and mercy in the communities to which we are called throughout the world!
https://media.myworshiptimes31.com/wp-content/uploads/sites/3/2017/05/29165730/YCWI-logo-featured.jpg
200
300
Young Clergy Women International
https://youngclergywomen.org/wp-content/uploads/sites/3/2017/05/YCWILogo_Vert_Black-300x229.png
Young Clergy Women International
2017-06-01 11:22:09
2018-11-13 11:34:10
New Name, New Logo, New Board: A Season of Gratitude and Vision for Young Clergy Women International