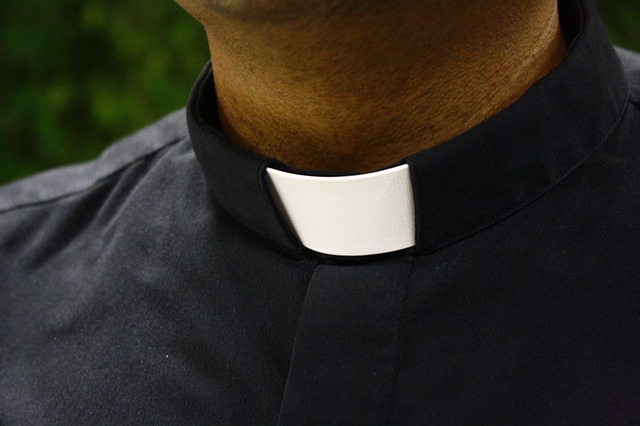 Dear Facebook acquaintance,
Since we haven't actually talked or seen each other since middle school, let me just start by saying I'm aware that you're hearing from me out of the blue. We connected several years ago through the magic of Facebook, where I learned that you've become a lawyer, enjoy the party scene, are friends with lots of beautiful women, and have some pretty strong political opinions. Looks like you're enjoying life and succeeding well at it.
Speaking of Facebook, you shared a picture recently that we need to talk about. It was a picture of you officiating a wedding on a beach somewhere. It looked lovely – beautiful setting, beautiful couple, all that. But I was shocked to see you wearing a clerical collar, that little white square of plastic at the base of your neck contrasted against a black shirt, that unmistakable uniform of the clergy – one I wear every day. I didn't know you had become a priest! How cool! However, a little bit of internet sleuthing revealed that you got ordained online, and wore the uniform to be funny (and that you were never going to let your devout Catholic mother see that picture. I think that's wise, because I remember her, and she'd kill you if she saw it.).
In case you haven't taken the time to scroll through my Facebook page, you should know that I actually am a priest. After leaving my first career as a teacher, I went to seminary (a three-year, full-time graduate program), got my Masters in Divinity, did several internships in churches and hospitals, went through years of meetings with committees and governing boards, medical and psychiatric evaluations, and was finally ordained in a very beautiful and moving ceremony. I have been working as a full-time pastor for the last six years.
I'm surprised by how many people have asked why I went through this long and crazy process when I could have just gotten ordained online. That question has never been anything less than a stab in the heart: it tells me that people have no idea what clergy actually do. Being ordained isn't about getting a piece of paper certifying my credentials. It's about a calling by God, a life commitment, and work that is more difficult and holy than you could ever imagine. Read more
https://media.myworshiptimes31.com/wp-content/uploads/sites/3/2018/05/29165440/clergy-collar.jpg
426
640
Julie Hoplamazian
https://youngclergywomen.org/wp-content/uploads/sites/3/2017/05/YCWILogo_Vert_Black-300x229.png
Julie Hoplamazian
2018-05-24 04:00:11
2018-11-13 11:32:01
An Open Letter to the "Minister" in my Facebook Feed