---
Post Author: Julie Hoplamazian
---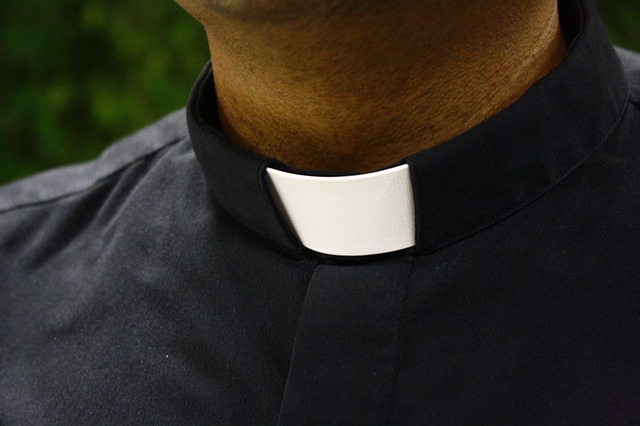 Dear Facebook acquaintance,
Since we haven't actually talked or seen each other since middle school, let me just start by saying I'm aware that you're hearing from me out of the blue. We connected several years ago through the magic of Facebook, where I learned that you've become a lawyer, enjoy the party scene, are friends with lots of beautiful women, and have some pretty strong political opinions. Looks like you're enjoying life and succeeding well at it.
Speaking of Facebook, you shared a picture recently that we need to talk about. It was a picture of you officiating a wedding on a beach somewhere. It looked lovely – beautiful setting, beautiful couple, all that. But I was shocked to see you wearing a clerical collar, that little white square of plastic at the base of your neck contrasted against a black shirt, that unmistakable uniform of the clergy – one I wear every day. I didn't know you had become a priest! How cool! However, a little bit of internet sleuthing revealed that you got ordained online, and wore the uniform to be funny (and that you were never going to let your devout Catholic mother see that picture. I think that's wise, because I remember her, and she'd kill you if she saw it.).
In case you haven't taken the time to scroll through my Facebook page, you should know that I actually am a priest. After leaving my first career as a teacher, I went to seminary (a three-year, full-time graduate program), got my Masters in Divinity, did several internships in churches and hospitals, went through years of meetings with committees and governing boards, medical and psychiatric evaluations, and was finally ordained in a very beautiful and moving ceremony. I have been working as a full-time pastor for the last six years.
I'm surprised by how many people have asked why I went through this long and crazy process when I could have just gotten ordained online. That question has never been anything less than a stab in the heart: it tells me that people have no idea what clergy actually do. Being ordained isn't about getting a piece of paper certifying my credentials. It's about a calling by God, a life commitment, and work that is more difficult and holy than you could ever imagine.
Which brings me to why I decided to write to you. I understand that when you decided to wear the uniform of a clergyperson, you thought it would be lighthearted and fun in the context of officiating the wedding of some of your friends. But let me be clear: when you play dress-up with my uniform and impersonate the office I hold and have worked hard to earn, it is insulting. A clergy collar tells the world that you have dedicated your entire life to serving God and neighbor.
In order to earn this uniform, one must work, study, and train for years. The job of the person who wears this uniform isn't just to show up and say a few words when people get married. It carries the weight of great responsibility for caretaking of souls: to counsel, to listen, to heal, to pray, to bless. It means not only officiating a wedding, but conducting premarital counseling and necessary preparations for the wedding ceremony. It means knowing what to do when a widower in shock and his two young children show up at your church door because his wife was killed in a car wreck the night before. It means sitting with people in broken marriages seeking your counsel and healing. It means rejoicing with new parents who want their child baptized. It means doing the work of ministering in hospitals and prisons and the military. It means writing and preaching relevant and intelligent sermons on a weekly basis. It means conducting regular bible study, theological reading, and reflection. It means teaching both children and adults what it means to live a life of faith. It means acquiring skills in administration, management, and development, because people depend on you to make the church's annual fundraising campaign a success. It means managing a staff and volunteers, some of whom can be deeply antagonistic. It means navigating the rough waters of church conflict with grace, compassion, and firm faith in God. It means many, many, many things, all of which require extensive education, training and preparation.
For the record, I think it's great that you officiated the wedding of some friends of yours.  For many people who wouldn't want a church wedding, the choice to have a beloved friend perform their wedding ceremony can be a more meaningful option than a Justice of the Peace. But don't you dare mistake your online loophole for what ordination really means and what is required to wear this uniform. Think about it this way: you might attend the citizens' police academy, but you wouldn't walk the streets in a police uniform and badge. You might be first aid/CPR certified, but you'd never walk into a hospital in a white coat and claim to be a doctor. You might be "ordained" online, friend, but you are not a minister or a priest.
Go ahead and officiate all the weddings you want. But for those of us doing the daily work to honor this calling God has given us, and who feel the pressure of putting that collar around our necks every day, leave our uniform alone.
---
Julie M. Hoplamazian is an Episcopal priest serving in Brooklyn, New York. She is also a dog lover, arts enthusiast, proud Armenian, and Philadelphia native. She holds an MDiv from Princeton Seminary. She was ordained as a priest in the Diocese of Long Island in 2012.
---
Image by:
Senlay
Used with
permission
https://media.myworshiptimes31.com/wp-content/uploads/sites/3/2018/05/29165440/clergy-collar.jpg
426
640
Julie Hoplamazian
https://youngclergywomen.org/wp-content/uploads/sites/3/2017/05/YCWILogo_Vert_Black-300x229.png
Julie Hoplamazian
2018-05-24 04:00:11
2018-11-13 11:32:01
An Open Letter to the "Minister" in my Facebook Feed