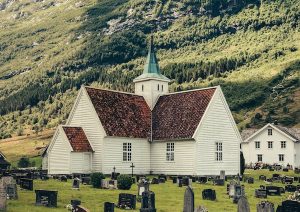 It's nothing special. Just an old photograph—the focus is a little fuzzy and it's certainly not the best angle. There are eleven of us gathered around a Sunday school table, and if I had to guess, the oldest is no more than five. I am the youngest. It might seem like nothing, really, but for me, it is a portal into another time—1988, another life ago when I was a little girl in a small town in the mountains.
I don't live there anymore, but when I visit my parents, I still run into the oldest two children in that photo. Out of the five children that I still recognize in the photo, three are married. Two of them have kids. When I see her, the mother of the one who doesn't is happy to complain about the fact she has grand-dogs instead of grandchildren. My own father loves telling stories about the kids of one of the others.
And then there's the fourth child in that old photograph. She died in a car wreck after our freshman year of college. The roads of eastern Kentucky are unforgiving, so it took a long time to find her car. She had left her boyfriend's house in anger, and, in these hills, running off the road meant that her car ended up down, down, down—all the way down to where the creek runs. The road she was riding on bears the same name as the creek where her car was found: Crane Creek. It's the same road the school bus travelled as it wound its way between our homes and the little school I attended as a child.
I've been reflecting a lot about my early years in eastern Kentucky lately. I recently read Hillbilly Elegy, J.D. Vance's memoir, set in Breathitt County, Kentucky and Middletown, Ohio, not far from Greenup County where I grew up. I know the world he writes of, which is why I also know that the beauty of that world has been nearly erased from his story.
I think of this as I look at that old photograph. The death of the young woman from that photo was my first encounter with the death of someone my own age. And it has never fully left me. Read more
https://media.myworshiptimes31.com/wp-content/uploads/sites/3/2017/06/29165706/country-church-mountains-graveyard-lift-up-your-hearts-july-2017.jpg
424
600
Rev. Abigail Conley
https://youngclergywomen.org/wp-content/uploads/sites/3/2017/05/YCWILogo_Vert_Black-300x229.png
Rev. Abigail Conley
2017-07-04 04:00:19
2018-11-13 11:33:49
Just Ask A Hillbilly