---
Post Author: Rev. Abigail Conley
---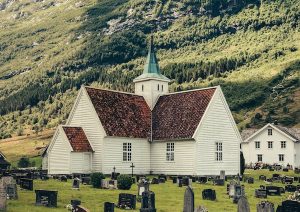 It's nothing special. Just an old photograph—the focus is a little fuzzy and it's certainly not the best angle. There are eleven of us gathered around a Sunday school table, and if I had to guess, the oldest is no more than five. I am the youngest. It might seem like nothing, really, but for me, it is a portal into another time—1988, another life ago when I was a little girl in a small town in the mountains.
I don't live there anymore, but when I visit my parents, I still run into the oldest two children in that photo. Out of the five children that I still recognize in the photo, three are married. Two of them have kids. When I see her, the mother of the one who doesn't is happy to complain about the fact she has grand-dogs instead of grandchildren. My own father loves telling stories about the kids of one of the others.
And then there's the fourth child in that old photograph. She died in a car wreck after our freshman year of college. The roads of eastern Kentucky are unforgiving, so it took a long time to find her car. She had left her boyfriend's house in anger, and, in these hills, running off the road meant that her car ended up down, down, down—all the way down to where the creek runs. The road she was riding on bears the same name as the creek where her car was found: Crane Creek. It's the same road the school bus travelled as it wound its way between our homes and the little school I attended as a child.
I've been reflecting a lot about my early years in eastern Kentucky lately. I recently read Hillbilly Elegy, J.D. Vance's memoir, set in Breathitt County, Kentucky and Middletown, Ohio, not far from Greenup County where I grew up. I know the world he writes of, which is why I also know that the beauty of that world has been nearly erased from his story.
I think of this as I look at that old photograph. The death of the young woman from that photo was my first encounter with the death of someone my own age. And it has never fully left me. To this day, when I visit my parents, I visit her grave. It is on top of a hill like most cemeteries in that part of the world, especially those created before a dam was built for flood control in 1968. More often than not, the unfamiliar rental car I'm usually driving makes me nervous, as I wonder if it can handle the steep, graveled incline.
It's not until I have parked the car and am walking through the cemetery that I begin to feel my roots in this place. My childhood friend's grave is near the edge of the cemetery, immaculately decorated every time I go. Occasionally, I run into her mom or dad there. They are always interested in what I'm doing now. As we speak, I feel the urgency in their asking after me, an urgency that seems twined with the pain of loss. I remember that their daughter was born less than a month after me, in the summer of the babies at our church. Our lives are inextricably linked.
But I am reminded that she is not the only saint that rests upon this hill. Nearby is the grave of a man who was in the choir at the church where we were children. I remember his deep bass call—"O come, come, come, come"—whenever we sang "The Church in the Wildwood." His wife always served the most delicious snacks when we would go swim in their pool.
As I walk the full ridge of the cemetery, I reflect on how this place holds a multitude of memories, passed down for generations. My great-uncle and great-grandfather who both died before I was born are buried here. My great-grandmother and great-aunt have joined them lately, along with a beloved set of grandparents. As I pass by their graves, I remember walking this same path with my grandmother, first as a child, then again later in her life. By then her heart was bad enough that I would go and get the car and pick her up at the end of the ridge, her body spent by the quarter mile stroll.
Farther down, there are many other saints whose stories I know. There are the graves of the two women who owned a country store—sisters who were favorites of my mother's childhood. Then there are monuments with pictures on them, pictures of people from the same church in which I was raised. They came to my parents' open church wedding, surprising my mom by doing so. On and on the stories go.
Farther alone there is one low headstone whose epitaph I have long loved:
Pause my friends as you pass by,
For as you are now so once was I.
As I am now you are sure to be,
So prepare now for this eternity.
"He was always weird," my mom says if she is with me. I stop and turn around at my great-great grandmother's grave, the last one that I recognize. The rest of the cemetery is older than even my grandmother's memory.
I grew up visiting this cemetery several times a year. It is one of the rituals written this world. These hills tell the story of my heritage; they are filled with the blood, sweat, and tears of my ancestors. Almost everyone is descended from stubborn Scotch and Irish settlers. When you look at the places where people managed to carve out roads and lives, stubborn seems to have served us well.
That Sunday school classroom full of bright young children and this cemetery are intertwined in ways that seem impossible everywhere else. Since I left, I've never encountered another place where life is so linked, so rooted in one place, so protective of those who live there. It strikes me that perhaps hillbillies really do have their own way of life.
Like so many others, I left for college and ended up moving far away to a place with more opportunities. And yet, I carry my home with me in unexpected ways. The churches of my childhood, fundamentalist by any outside standard, remain one of my strongest touchstones. In Hillbilly Elegy, J.D. Vance writes that this area isn't particularly strong in church attendance. Yet, all of my lasting friendships were with kids who went to church. Vance writes,
Regular church attendees commit fewer crimes, are in better health, live longer, make more money, drop out of high school less frequently, and finish college more frequently than those who don't attend church at all. MIT economist Jonathan Gruber even found that the relationship was causal: It's not just that people who happen to live successful lives also go to church, it's that church seems to promote good habits.[1]
I don't doubt those claims. In ways that my churches never imagined, my churches kept the promise, "Jesus saves." Those kids I mentioned went on to good things. We have become doctors, attorneys, CPAs, teachers, social workers, and yes, pastors.
I look at my childhood and I see complicated and contradictory worlds: I don't pretend for a moment the drugs and violence that Vance writes of don't exist in those hills. In the years after high school, it seemed as though someone from my class died every few months. One particularly angry obituary called out "the pill mill industry that is destroying our youth." A neighbor who was nearly my age ran drugs from Miami; he was killed by police in a nearby city. My first cousin suffered a stroke thanks to drug-related complications. The stories go on and on.
But they are a story of these hills. And for every one of them, there are a million more stories of beauty and life within these hills. Just ask a hillbilly.
___________
[1] Vance, J. D.. Hillbilly Elegy: A Memoir of a Family and Culture in Crisis (pp. 92-93). HarperCollins. Kindle Edition.
---
Abigail Conley is a Disciples of Christ pastor serving Chalice Christian Church in Chandler, Arizona. She loves horror movies, Stephen King novels, playing Settlers of Catan, and other wonderfully geeky things.
---
Image by:
Tom Skarbek-Wazynski
Used with
permission
https://media.myworshiptimes31.com/wp-content/uploads/sites/3/2017/06/29165706/country-church-mountains-graveyard-lift-up-your-hearts-july-2017.jpg
424
600
Rev. Abigail Conley
https://youngclergywomen.org/wp-content/uploads/sites/3/2017/05/YCWILogo_Vert_Black-300x229.png
Rev. Abigail Conley
2017-07-04 04:00:19
2018-11-13 11:33:49
Just Ask A Hillbilly