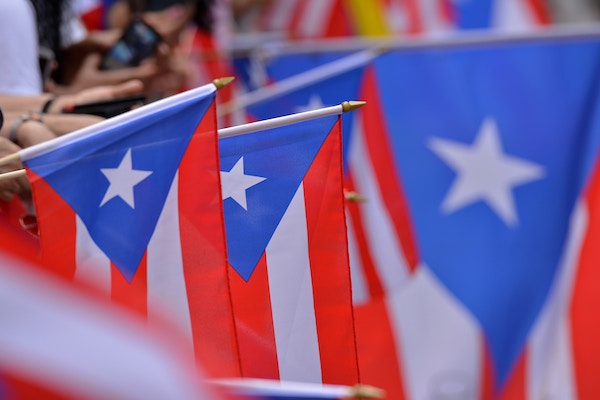 There is a phrase that has become a rallying cry for Puerto Ricans, whether on the island, mainland, or those of us in authentic solidarity with la gente Boricua: that phrase is Puerto Rico Se Levanta, or Puerto Rico Will Rise. Our Puerto Rican brothers and sisters have been in mourning over the loss of the lives of their neighbors and families. Their hearts are broken by the incompetent and insufficient response of the U.S. Government to offer aid and recovery.
Though I am not Latina, I speak Spanish as a second language and serve a bilingual (English/Spanish) and multi-cultural church in Chicago. Our church began praying the moment we learned how devastating both Hurricanes Irma and Maria were to God's people in Puerto Rico. We are a majority Latinx church; some of us have family still in Puerto Rico, and many were waiting anxiously for weeks, and even months, to hear that good news that God had delivered their lives from the devastation. My own suegro (father-in-law) migrated to Chicago from San Lorenzo, Puerto Rico over sixty years ago. But the Holy Spirit moved our church to do more.
The Holy Spirit spoke to us of the work of deliverance through the words of the Prophet Isaiah in chapter 61. Our church is located in a part of Chicago that has been an enclave for Puerto Rican migrants for many years, with the neighborhood of Humboldt Park developing what is known as Paseo Boricua in the late 1960s, and Humboldt Park still being a focal point for Puerto Rican culture, food and celebrations today.
Our church building was built with twelve apartments. Over the years, our congregation has utilized the apartments to house waves of immigrants and migrants, starting with German immigrants when the church was built in 1928. For almost twenty years, the apartments were used as domestic violence transitional shelter for women and their children, while our church basement was a transitional shelter for single men. In those years, our church began a program that is now a separate non-profit called Center for Changing Lives that is about helping people escape the cycles of poverty in a way that honors each person as creative, resourceful and whole.
The women and men we were honored to house engaged in coaching, holistic financial education, and goal setting. The majority of them now own or rent their own homes. For almost five years since Center for Changing Lives and our church became separate entities, our church has utilized our apartments for low-income housing in a part of Chicago that is being rapidly gentrified, where studio apartment starts at $1500 per month. Read more
https://media.myworshiptimes31.com/wp-content/uploads/sites/3/2018/10/29165325/puerto-rican-flags-ricardo-dominguez-such-time-this-oct-2018.jpeg
400
600
Rev. Paula Cripps-Vallejo
https://youngclergywomen.org/wp-content/uploads/sites/3/2017/05/YCWILogo_Vert_Black-300x229.png
Rev. Paula Cripps-Vallejo
2018-10-09 11:22:03
2019-08-15 14:12:12
Holy Spirit Movement: Puerto Rico Se Levanta