---
Post Author: Rev. Paula Cripps-Vallejo
---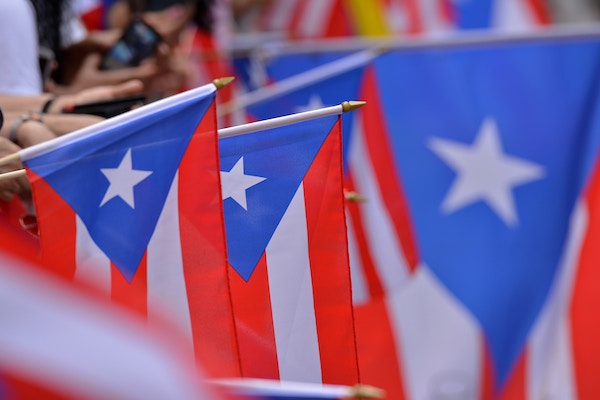 There is a phrase that has become a rallying cry for Puerto Ricans, whether on the island, mainland, or those of us in authentic solidarity with la gente Boricua: that phrase is Puerto Rico Se Levanta, or Puerto Rico Will Rise. Our Puerto Rican brothers and sisters have been in mourning over the loss of the lives of their neighbors and families. Their hearts are broken by the incompetent and insufficient response of the U.S. Government to offer aid and recovery.
Though I am not Latina, I speak Spanish as a second language and serve a bilingual (English/Spanish) and multi-cultural church in Chicago. Our church began praying the moment we learned how devastating both Hurricanes Irma and Maria were to God's people in Puerto Rico. We are a majority Latinx church; some of us have family still in Puerto Rico, and many were waiting anxiously for weeks, and even months, to hear that good news that God had delivered their lives from the devastation. My own suegro (father-in-law) migrated to Chicago from San Lorenzo, Puerto Rico over sixty years ago. But the Holy Spirit moved our church to do more.
The Holy Spirit spoke to us of the work of deliverance through the words of the Prophet Isaiah in chapter 61. Our church is located in a part of Chicago that has been an enclave for Puerto Rican migrants for many years, with the neighborhood of Humboldt Park developing what is known as Paseo Boricua in the late 1960s, and Humboldt Park still being a focal point for Puerto Rican culture, food and celebrations today.
Our church building was built with twelve apartments. Over the years, our congregation has utilized the apartments to house waves of immigrants and migrants, starting with German immigrants when the church was built in 1928. For almost twenty years, the apartments were used as domestic violence transitional shelter for women and their children, while our church basement was a transitional shelter for single men. In those years, our church began a program that is now a separate non-profit called Center for Changing Lives that is about helping people escape the cycles of poverty in a way that honors each person as creative, resourceful and whole.
The women and men we were honored to house engaged in coaching, holistic financial education, and goal setting. The majority of them now own or rent their own homes. For almost five years since Center for Changing Lives and our church became separate entities, our church has utilized our apartments for low-income housing in a part of Chicago that is being rapidly gentrified, where studio apartment starts at $1500 per month.
We rarely have openings in our apartments, but, as we prayed about how to respond to our Puerto Rican siblings who have chosen to evacuate to Chicago, we committed to house at least one family. We shared this vision with some of our community partners and church partners who committed to covering the rent of the families, since FEMA was only offering a one-time support of $500. The Holy Spirit moved in a mighty way, and some of our apartments opened up, so we are now honored to be housing three Puerto Rican evacuee families in our church building. Though there are no exact numbers since Puerto Ricans are U.S. Citizens (and have been since 1917), and are able to move and travel freely in the United States, it is estimated that more than 10,000 households have moved away from Puerto Rico.
I went on maternity leave in late spring with our second child. As I continued to hear stories from my friends in Puerto Rico, and to hear how poorly our government was doing in the restoring of power to all of Puerto Rico, and how unhelpful the US government was with resettling evacuees who have gone all over the U.S., I recall cuddling with our newborn and knowing my church had made the right choice to house one Puerto Rican family. Just as my maternity leave ended and I was getting back into the swing of ministry, a connection was made to two families from Yabucoa, Puerto Rico, which is where Hurricane Maria entered on September 20, 2017. These families tried to stay, they helped with rebuilding, but eventually after months of praying decided they should come to Chicago to be close to extended family, and to have access to clean water, food, and health services that they couldn't receive regularly in Yabucoa.
When a young woman and her toddler daughter from one of the families walked onto our church property, as I stood there holding my newborn son, I could feel the Holy Spirit moving. This bilingual teacher whose heart is still in Puerto Rico said that she kept praying to God for help and guidance. She said to me that as hard as it was to leave her hometown, she had to come to Chicago for her family and her future. Primero Dios (God first), she hopes to return to Yabucoa one day, but she said she knew God heard her prayers, as she makes her home here in Chicago for now.
We are a small church, struggling to support my work as a full-time pastor with benefits. When this idea came to us, it was just a casual conversation but as the Holy Spirit moved, we decided that it was God calling us to trust even more deeply that God would provide for us as we lived into this calling of deliverance work. I think the prophet Isaiah was "on point" with the concept of a garland instead of ashes, the oil of gladness instead of mourning. Deliverance is real, but it doesn't come through just praying for others. And, maybe, just maybe, the deliverance of our church and world is tied up in these small but concrete ways we offer a garland of joy to those coming up out of the ashes, the blessing of gladness for a small humble apartment on a corner in Chicago for those who have had to leave their home and life in Puerto Rico for now.
I know that I personally cannot say Puerto Rico Se Levanta (Puerto Rico Will Rise!) if I am not doing my part as person of faith to be in solidarity with those who the government has tried to keep down. Guiding my small church to house three families who have made their way to Chicago helps our church rise up even more as we continue to our part to bring God's kin-dom of justice and peace on earth as it is in heaven. As stressful as church finances can be, this journey of solidarity for myself and Humboldt Park United Methodist Church, has reminded me if we are going to rise, we must all rise together. Puerto Rico Se Levanta if we continue to live by faith, instead of fear; if we continue to bring the good news of deliverance in the midst of the systemic oppression. The Spirit of God is upon us……El Espiritu Santo esta sobre nosotrxs…Do you feel it?
---
Rev. Paula Cripps-Vallejo is theLead Pastora of Iglesia Metodista Unida de Humboldt Park in Chicago, Illinois.
---
Image by:
Ricardo Dominguez
Used with
permission
https://media.myworshiptimes31.com/wp-content/uploads/sites/3/2018/10/29165325/puerto-rican-flags-ricardo-dominguez-such-time-this-oct-2018.jpeg
400
600
Rev. Paula Cripps-Vallejo
https://youngclergywomen.org/wp-content/uploads/sites/3/2017/05/YCWILogo_Vert_Black-300x229.png
Rev. Paula Cripps-Vallejo
2018-10-09 11:22:03
2019-08-15 14:12:12
Holy Spirit Movement: Puerto Rico Se Levanta