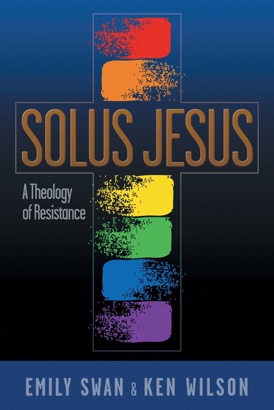 A well-hosted dinner party is a work of diligence and artistry. Even leaving culinary gifts aside, strategy and insight go into cultivating the guest list, arranging seating, introducing new topics of conversation, drawing guests in and lifting up the commonalities and unique expertise around the table. By the end of the evening, all the guests feel well-fed, not just by the content of the meal but by the characters around the table.
In Solus Jesus: A Theology of Resistance, authors Emily Swan and Ken Wilson invite the reader to a sumptuous 3-course feast around a table filled with friends both familiar and yet-to-be-made. First, let me introduce you to our hosts. Emily Swan and Ken Wilson co-pastor Blue Ocean congregation in Ann Arbor, Michigan. Their story of leaving the Vineyard (charismatic, evangelical denomination) congregation where they previously served (a church that Wilson himself planted) folds into the content of the book.
Swan's approach is shaped, in part, by her experiences as a missionary in China, by her wide range of reading interests, particularly theological voices from the margins and by her own story of falling in love and coming out as a queer woman. Wilson's contribution to the text is shaped by his interest in mystics and patristics, his own experience of bereavement in the loss of his wife and by his evolving conviction regarding the full-inclusion of the LGBTQ+ community within his native evangelical Christianity.
In this book, our hosts prepare a three-course meal. First is the premise from which the book derives its title: "It's enough to say a living Jesus is the final authority in Christianity." (15) Rather than the doctrine of "sola Scriptura," what if the church were led — now and always — by Jesus as revealed in Scripture and experience, in other words: "solus Jesus?" To this end, the authors introduce readers to Jewish scholarship, early church and recent church history—especially some of the finest work within their own charismatic, Pentecostal tradition—to prove the validity of experience as a teacher. One wonders if Martin Luther himself might agree with the authors' premise as he never intended Scripture to be interpreted outside the received and living tradition of the church.
The second, most filling, course offers up an opportunity to investigate more recent theological understandings of the work of Jesus Christ on the cross. Rather than penal substitutionary atonement, where the primary work of the cross is to satisfy the wrath of God in God's own son, scapegoat theology teaches that to look to the cross is to see all those who have been cast aside, misunderstood and crucified by our world's insatiable demand for defining who's in and who's out. In a uniquely Christian response to hate, understanding Rene Girard's view of Christ as victim on the cross allows us to gain a new lens by which to value and to stand in solidarity with all those who are victimized in our world — and our churches — today and, in particular, those  LGBTQ+ members of the Christian family.
The third course is the richest option, in which our hosts ask us to act according to the theological convictions laid out in the previous two courses. Again, pulling from a wide range of sources, our hosts ask us to consider this question: "What if we could learn to step away from the magnetic pull of rivalry and learn to be with each other differently?" (321) In a startling last chapter, our hosts leave us to consider the implication of a "non-rivalrous Gospel" amid other world religions.
Throughout each course, our hosts draw out the other guests around the table: their own Pentecostal tradition, Dietrich Bonhoeffer, James Cone, Rene Girard, Jewish midrash, Tibetan Buddhism, Eastern Orthodoxy, inviting each to interact with the hosts' and readers' own stories of faith. In this way, the authors of the text model their own thesis—a wide welcome in solidarity with Christ who identifies himself on the cross with all those who have been excluded from invitation in the past.
If I could be afforded one quibble it would stem from my own Calvinist-Reformed theological conviction, of which the authors write, "It's difficult to picture solus Jesus taking root in churches tied to sola Scriptura as their institutional narratives (the Calvinist-Reformed and Lutheran sectors, in particular.)"  (362) In fact, a notable exclusion from this book's guest list is Karl Barth, the 20th century's greatest Calvinist-Reformed thinker who wrote, precisely, in favor of the centrality of the Word-made-flesh rather than the word of holy writ.
This is why, in many Reformed congregations today, you will hear the reading of Scripture prefaced not by "Listen to the word of the Lord" but, rather, "Listen for the Word of the Lord." Surely there is some collegiality between Barth and the authors of this text. I would have delighted to hear his voice afforded a greater hearing at the table.
It is probably safe to say that this book is not for straight-ticket theological voters. Each voice around the table deserves its own consideration and, whether you are coming from the hosts' own evangelical charismatic background or not, you will have opportunity to re-evaluate your tradition's certainties and to wonder about the wisdom just past the borders of your own theological construct.
I'm struck by both the patience and the impatience of this book — arguing their case with urgency but rarely brushing off those who disagree — struggling to make the circle wider in a way that does not attack but that comes alongside. In this way, it reminds me of another host at another table who invites us to come, to partake, to remember and to believe as part of a community that is not made by our own choosing.
https://media.myworshiptimes31.com/wp-content/uploads/sites/3/2018/11/29165257/solus-jesus-review-nov-2018-featured.jpeg
182
274
Meg Jenista Kuykendall
https://youngclergywomen.org/wp-content/uploads/sites/3/2017/05/YCWILogo_Vert_Black-300x229.png
Meg Jenista Kuykendall
2018-11-13 09:57:45
2018-11-13 11:31:01
Solus Jesus: A Theology of Resistance, A Review