---
Post Author: Diane Kenaston
---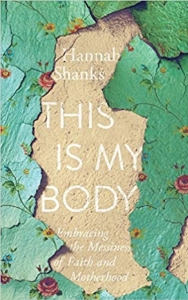 Hannah Shanks' This is My Body came out the same week that I learned I was pregnant. I had already been planning to buy and read the book – the author is a friend – but that pee-saturated stick gave special urgency to my reading. On the first page the author finds out that she is pregnant and immediately "freaks out at life changes." This is familiar!
But don't assume that this book is only for pregnant people or people who have given birth. My college self, for example, could have used the steady insistence that this is my body, holy and good, revealer of God's image. Anyone who struggles with body image will find this book life-giving. And it would be an extraordinary mistake — a mistake born out of patriarchal assumptions — for men to skip this book. The final chapter encapsulates why: "When we are made one [in Christ], our stories are no longer relegated to a genre or niche of 'women's issues'… Though our experiences have been resigned to a market segment… Jesus' story is our story — a birth story" (126-127).
This Is My Body weaves one particular human story into God's unfolding story. Although memories frame the theological reflection, it is not a memoir. Instead, the sacred storytelling of one birth trauma informs the reading and retelling of Scripture. It is therefore an invitation for each one of us to share own own embodied stories: "We are uniquely equipped to witness to something true, and the church is incomplete without that witness" (126). The book acknowledges people who choose not to give birth, people who experience miscarriages or infertility, people who identify outside the gender binary, people who adopt or place a child for adoption, people whose chosen families differ from heteronormative expectations, and people who choose to abort. But ultimately, those embodied stories need to be told and explored by people to whom God has given specific embodied knowledge. This book is an invitation for other people, in other bodies, to share their own sacred stories. I look forward to reading those books, too.
This Is My Body challenges us: how do our bodies reveal our souls? How do we share stories of our embodied faith, and encourage others to tell their soul/body stories? When churches separate soul stories and body stories, we perpetuate the Gnostic "gulf between 'me' and 'my body'" (32). As Christians, we are called instead to the miracle of embodiment. Shank asserts that a bloody, laboring Mary delivers us from a sanitized faith. She relays her fears: "I didn't want to be over-sanctified just because I had a child… I wanted to keep swearing… I wanted children, but I wanted to keep my identity too" (13). Accordingly, she never lets her spiritual exploration of motherhood get trapped in "the church's reductionist version of motherhood." Instead, she expands our vision of both human women and the Divine: "God grew bigger, and so did I" (14). This expansion happens as we name our pain, something that in birth skirts perilously close to death: "Death and life, it seems, are not strangers" (57).
The chapter "Acceptance" opens with a friend's stillbirth and then moves to the author's own preeclampsia hospitalization and introduction to the NICU. As an expectant mother, I wasn't sure I wanted to read about this — but these are the things I'm worrying about anyway. Far better to read about them guided by the author's hard-won "radical acceptance" (100) than to shut my eyes and pretend I'm fearless. Was it my hormones that caused my eyes to well up when I read the following? "No amount of our love or mothering will guarantee that our children will feel whole and safe and cared for" (101). In the midst of writing a birth plan — trying to control the uncontrollable — I pray for God's gift of peace that passes understanding. This peace shows up for the author in unexpected ways, as when she compares the rhythm of nursing to praying the hours. Like a child on our mother's breast, prayer begins with presence — and when we cry out, God-With-Us is closer than we know.
The chapter "Being Consumed" explores the temptation to be a mother-martyr, "open and bleeding for our children" (81). Instead, we are called to life beyond death. "Christlike mothering" means being a "mother who continues to live her life fully after her children are born" (81). Shanks asks, "What if, as an echo of [Jesus'] call, we expect to experience abiding joy and radical self-acceptance… as opposed to only self-sacrifice?" (81-82)
The mystery of autonomy-in-community grows in the following chapter, "Sharing." If marriage, in some mysterious way, is two becoming one, then pregnancy/birth is about one becoming two: "I was never alone. I was two people: a woman and a fetus, a developing body that contained another developing body… Somehow, even when by myself, I was a 'we'" (86). And this sharing of our bodies stands in paradoxical tension with "our hard-fought experience of having rights to our bodies, of learning that we can say no and have that no respected" (88).
I think of Philippians 2's paradox of autonomy and sharing, of independence and self-sacrifice, of selfhood and selflessness. To give oneself up, to share one's self, requires that we have a separate self to begin with. Too often, the church expects women to fully share themselves — while not trusting women with the autonomy of their own decision-making. For example, strangers at coffee shops "question our food choices" while pregnant people "smile politely" (89). This autonomy/sharing tension may leave readers thinking about implications for reproductive justice; if so, I recommend reading this book in conjunction with Killing the Black Body by Dorothy Roberts and Sisters in the Wilderness by Delores Williams.
Ultimately, the beauty of This Is My Body is its particularity. One body's story inspires us to see how each human body reveals the divine. As a white cisgender woman, Hannah embodies one aspect of the diverse divine image. Transgender and genderqueer readers, as well as cis men, and bodies of all shapes and colors and sizes, will hopefully discover through this book how their bodies, too, make visible the invisible God. This is My Body helps to reveal the scandal of particularity: a God beyond human form who chooses to make Godself known by saying, "This is my body." My hope and dream is that each reader will be able to stare in the mirror at our particular bodies and hear the divine affirmation, "This is my body." We'll listen to our bodies' stories. We'll stop separating body from soul. And we'll encounter God in every body.
---
Rev. Diane Kenaston is pastor of University United Methodist Church in St. Louis, Missouri. She graduated from Candler School of Theology at Emory University in Atlanta, Georgia, and has previously served churches in West Virginia, where she is an elder in full connection.
---
Image by:
Upper Room
Used with
permission
https://media.myworshiptimes31.com/wp-content/uploads/sites/3/2018/07/29165413/this-is-my-body-jesus-review-july-2018-featured.jpeg
200
300
Diane Kenaston
https://youngclergywomen.org/wp-content/uploads/sites/3/2017/05/YCWILogo_Vert_Black-300x229.png
Diane Kenaston
2018-07-19 04:00:30
2019-08-15 14:14:50
God Grew Bigger: A Review of This Is My Body