---
Post Author: Heather Godsey
"Our Cloud of Witnesses" is a venue for exchanging the stories of those who surround us with strength and grace.  Some may have gone before us. Some may be journeying right along side us. Some may have spoken to us out of history. Some may be our favorite characters out of a beloved book. Some may be those who are the most unexpected. Tell us who has shed light on your own journey of faith and vocation, and help us to see the many ways we are truly embraced and held up by a great cloud of witnesses. Submissions may be sent to witnesses(dot)ycw(at)gmail(dot)com. 
---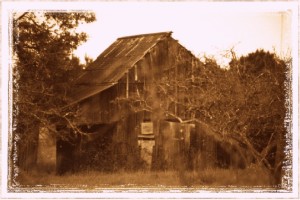 "Preparations were carefully made. All the people who expected to participate were very sure that their feet were already clean and had nice new hose.  White sheets were hung up separating the men from the women. A pan of water was provided for each group and two long towels.  Then one after another looped the towel about his waist, washed another's feet and dried them with the towel until all had been washed.  It was a very solemn occasion, one felt very humble and I have seen the tears streaming down their faces as their feet were being washed.  They were thinking of the time the Savior washed his disciples' feet. "~ From Big Sunday at Friendship Baptist Church, Ola Shields Deckard
 I have a binder; an old black one I pack away carefully in a crate filled with my journals as well as folders of papers I read only when I need a shot of self-confidence.  Every so often I pull the black binder out and leaf through it carefully as though turning pages might cause the papers to crumble.  The pages, type-written years ago on a word processor before computers were prevalent or affordable and rough with perforations from the dot matrix printer, carry the memories in story and poems of my maternal great-grandmother, Ola Shields Deckard.  A school teacher and farmer's wife, Ola raised 6 children, the second-youngest of which was my grandmother.
She passed before I was born of course, but the binder is filled with her recollections of childhood, of raising her family, of travel and of church.  I'm not sure how old I was when I first read these pages, but I have carried them through four states and six different residences and they never fail to make me a bit teary.  They communicate not merely a sense of family history, but also a sense of scripture, as though somehow infused with holiness and speaking revelation.  The stories aren't great masterpieces but they are vivid nonetheless, relating image and smell and texture and feeling in ways that ring true and broaden understanding.  Ola's writings invite me into her world and, in turn, to see mine with her eyes.
At extended family gatherings, one only has to bring up her name to spend the next few hours listening to her grand and great-grand children share their own memories and contest each others' versions of events or portrayals of her character.  For many she was harsh and intimidating, living in the second half of the 20th century but adhering to traditions and attitudes of the first.  My aunt, everyone agrees, was the favorite, somehow turning the strict schoolmarm into an indulgent granny.
It is here, in the midst of these stories that I learned to see the world in story form.
For better or worse I'm a story-teller, interpreting the world around me with a very particular type of structure, looking always for the narrator's biases, for how the tale builds and falls. From sitting quietly listening to family stories, I understood before I could really articulate it that no one narrative is ever complete, that each narrator has a perspective and a purpose.  Ola writes about her father attending church regularly but deciding year after year to resist affirming his faith.  Eventually, he admits that while "the church can get along without me, I can't do without the church any longer" and Ola believes that "no doubt there was rejoicing among the angels in heaven over one sinner coming home."
It makes me wonder how the story would change if told by her father. Is it stage fright that keeps him from publicly declaring his faith that way? Did he simply believe that his faith did not need testimonial, that his life spoke his commitment? Or did he harbor questions and doubts that made him feel somehow unfit to call himself a Christian?  I read Ola's description of a creek-side baptism service and wonder what it looks like through the eyes of the newly baptized or those waiting on the shore to go next.  How does the preacher feel, out there in the center with his arm around the man's back, his hands clasped to his chest, guiding him below the waters and raising him to new life?
Through this I know the questions and fears many people harbor, the uncertainty and suspicion with which the church can be viewed.  I know that all of those things lie within me as well.  And because I know that my grandmother began attending First Christian Church because she wanted to be married in the biggest (and most beautiful, she thought) church in town, I know that it is not only community and security that motivates people to join churches, but also sometimes a self-serving agenda.
In the end, Ola's stories strike me as scriptural because they reflect and bear witness to the true nature of the Biblical text as well.  The scope of scripture reveals the myriad narratives of humanity's relationship to the Divine, to that which feels bigger than ourselves and manifests differently in different times and to different people.  This is how, and why, I fell in love with God's grand story and why I keep trying to tell it again and again with a multitude of voices — one of which I know is Ola's.
"Make up a story…
For our sake and yours forget your name in the street;
tell us what the world has been to you in the dark places and in the light.
Don't tell us what to believe, what to fear.
Show us belief's wide skirt and the stitch that unravels fear's caul."
– Toni Morrison
---
Rev. Heather Godsey is ordained in the Christian Church (Disciples of Christ) and currently serves as Program Director with the Wesley Foundation at the University of Tennessee at Knoxville.  She feeds and chauffeurs an ancient Lhasa Apso named Henry, spends far too much time on the internet, and despairs of ever catching up on her NetFlix queue.
---
https://youngclergywomen.org/wp-content/uploads/sites/3/2017/05/YCWILogo_Vert_Black-300x229.png
0
0
Heather Godsey
https://youngclergywomen.org/wp-content/uploads/sites/3/2017/05/YCWILogo_Vert_Black-300x229.png
Heather Godsey
2014-01-28 09:05:45
2015-08-25 18:34:13
Telling the Old, Old Story