---
Post Author: MaryAnn McKibben Dana
---
When it comes to December, what I call Clergy Superbowl, our very lives are acts of creativity: how will we balance activity and reflection? home stuff with church stuff? the "shoulds" with the "want-tos?" tradition with innovation? It is a constant balancing act:
Some of us cook.
Some of us craft.
Some of us order takeout.
And it's all good.
---
One YCW writes:
I remembered that Ian, my Presbyterian pastor husband, and I are thinking about having a holiday party for our clergy friends. It will be simple–because in this season clergy especially need simplicity!  The gimmick: it will be a religiously-themed wine party. Bring a bottle with a name you can theologize on, and then do.

–Jennifer M. Creswell ministers, cooks, and drinks in Portland, OR.
(Let us know how the party went, Jennifer!)
__________________
As expected, many of our traditions and practices revolve around food. Rebecca Lesley, pastor of Suffolk Presbyterian Church in Suffolk, VA, wrote, My Swiss-German grandmother always makes a stollen and we must, must, must have honeycakes! Oh, and hot buttered rum on Christmas morning.

And Grace Burson, Curate at Grace Episcopal Church in Manchester, NH, shared her Christmas menu: Schnecken (German cinnamon rolls, homemade with enormous effort) for breakfast, along with fruit salad and scrambled eggs. And my family of origin does a big Christmas evening buffet, with homemade bread and cold cuts and cocktail sausages and crudites and millions of cookies.
Oh, and Turkish phyllo rolls called boereks, stuffed with cheese and dill, which were made as a fundraiser by the nursery school we all attended and have become a tradition.

Grace also continues her family's tradition of real candles on the Christmas tree… as well as the traditional placement of the fire extinguisher in a handy place nearby.
__________________
Here's what a YCW in Sweden had to say:
Since I am a semi-vegetarian, a lot of the traditional Swedish Christmas Eve smorgasbord is out. No pig's feet (*shudders*), no ham, no meatballs, no sausages etc. Yes, a Swedish Christmas is a meatfest. Our table is pared down, also because I work like crazy. There is simply no time for cooking. So we rely on pre-fab or pre-prepared things and focus on being together. 
A couple of weeks before Christmas we throw a party instead. My husband is an anglophile, and claims that Christmas pudding actually tastes good.. An acquired taste, apparently. One I have failed to acquire. But we make eggnog, heat that horrid little pudding, hang the mistletoe up and put on a CD (yes, isn't Christmas supposed to be old-fashioned?) with carols and just hang out with our best friends.
But some Swedish things are mandatory, among them glögg (mulled wine with spices), pepparkakor (ginger snaps) and lussekatter ("Lucia cats", saffron buns). Here's how I do them:
You add saffron to any recipe for sweet wheat buns. It tends to make the buns dry, so make sure to also use more butter. Or google "lussekatter Swedish" and you'll find lots of recipes. Traditionally, the dough should be shaped into "S's" or crosses, but I make the buns small and round. A raisin in the middle, and they're perfect party snacks. It also feels less gluttonous when you eat ten of those, than ten of the usual ones…   
–Maria Bergius Krämer is an associate priest in a Church of Sweden (Lutheran) parish in southern Sweden. Christmas is her favorite holiday, and the lack of snow in the south is severely disturbing to her. Though, to be honest, the cold and wet is overrated. Baked goods aren't, though, and only time and money has saved Maria and her whole family from death by yeast. Only the cat refuses Maria's lussekatter.
__________________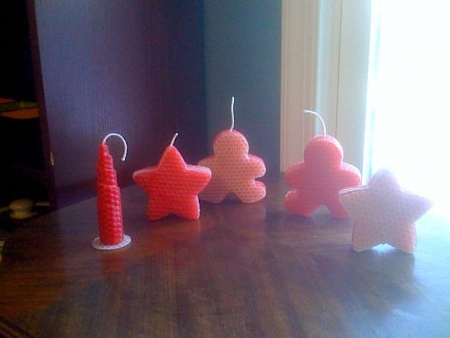 As for me, I actually got a little crafty this year. I've realized that I need to set the bar low in terms of skill level. I do kids crafts–sometimes with my kids, sometimes not. Here are some beeswax candles we made as gifts:
In a season of words–putting together liturgy, writing sermons, and proofing umpteen bulletins–there's something oddly relaxing and satisfying about making something tangible.
Another Dana family tradition is buttermilk pralines, which sound intimidating but really are not hard–and they're good:
Buttermilk Pralines
1 cup brown sugar
2 cups granulated sugar
1 cup buttermilk (low fat is fine; we've never tried fat free and why should you?)
1 tsp baking soda
2 tsp vanilla extract
2 Tbsp butter
1 1/2 cup pecan halves
Line the counter with parchment paper, or wax paper with paper towels underneath (otherwise the pralines will melt the wax paper onto the counter, causing the pralines to break when you pry them up. Of course this causes all the calories to fall out, so do whatcha gotta do.)
Combine all ingredients except the pecans into a 6-qt saucepan using a wooden spoon. Cook to the softball stage (240 degrees), stirring constantly.
Remove from heat and stir in pecans. Keep stirring for a minute or so, then spoon candy onto parchment/wax paper in small puddles.
Honestly, the only tricky part of this recipe is knowing when to pour. Pour too soon and the first few will be sticky caramel. Pour too late and they sugar up in the pan (although they still taste delicious). You basically want to start when the mixture is juuuuuuuust starting to lose its glossy sheen. Another sign is when you drag the spoon across the bottom of the pan, there is a bit of a dry trail left in its wake.
__________________
However we celebrate this busy and important season, it's gotta be authentic. Read this post from a YCW about traditions, and how they can be life-giving, or not. And along that line, here's what my friend Kally Elliott, Campus Minister/Director at the Presbyterian Center at the University of Tennessee , Knoxville (and mother of three boys) says about the holidays:
Does it make me a scrooge or an independent woman if I think that all the cooking/preparing/cleaning that goes into Thanksgiving and Christmas dinner is just not worth it?
I'd rather have pizza and hang out with family and friends than cook,
clean, and prepare.
Whatever gets us through Clergy Superbowl!
Merry Christmas!
---
MaryAnn McKibben Dana is Christ and Creativity Editor for Fidelia.
---
Image by:
KJ Vogelius, MaryAnn McKibben Dana
Used with
permission
https://media.myworshiptimes31.com/wp-content/uploads/sites/3/2009/12/29164905/lussekatter-christ-creativity-dec-2009.jpg
480
640
MaryAnn McKibben Dana
https://youngclergywomen.org/wp-content/uploads/sites/3/2017/05/YCWILogo_Vert_Black-300x229.png
MaryAnn McKibben Dana
2009-12-22 09:59:40
2019-08-28 16:51:32
A Potpourri of Holiday Cheer