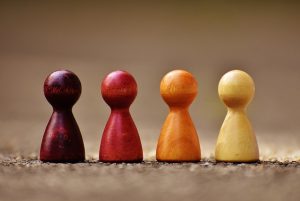 "Oh, but you're one of the good ones."  

I heard this from adults for most of high school. Usually pronounced with bittersweet bewilderment, it would be followed by a conversation about the surprise at my presence. As a teenager I was highly involved in the Church. (My call and ordination maybe shouldn't have been such a surprise to me.) Church was both refuge and fun for me. As a young overachiever who was a bookworm and enjoyed learning, I first heard these words with hope. I wasn't, as I sometimes feared, unpopular because I was unlikeable. If I was exceptional, perhaps I was misunderstood—and what teen doesn't like the idea of being misunderstood.
Too quickly I realized that exceptionalism did not make me less lonely. Whether it was for not being popular or not being ordinary, I was still isolated.  
As my peers and I began to mature, and I found more friends my own age, I gained new appreciation for the slight that had been offered to my equally accomplished and committed peers. It was, I increasingly discovered, easy to surround myself with peers who share my values if not my faith. My knowledge of which did not stop the comments. I kept hearing about my "exceptionalism" for the decade I spent being the youngest. The youngest person at a meeting, the youngest priest in the room and the diocese.
I am no longer the youngest priest in the diocese—though I'm often still the youngest person in the room. But I still hear how "exceptional" I am. Now that it is not rooted in my age, it catches me off guard more often. It sneaks up in conversations as they turn to refugees and immigration. It doesn't start with the bewildered sadness in these conversations. Far more often its confused anger. "Those people" who come here and are a drain on our system, by stealing jobs or tying up resources. I am an immigrant. Read more
https://media.myworshiptimes31.com/wp-content/uploads/sites/3/2018/02/29165526/game-pieces-here-stand-feb-2018.jpg
429
640
Robyn King
https://youngclergywomen.org/wp-content/uploads/sites/3/2017/05/YCWILogo_Vert_Black-300x229.png
Robyn King
2018-02-15 14:33:21
2019-08-15 14:20:15
Exceptional