---
Post Author: Katie Yahns
---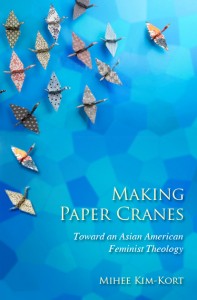 It's not every day you get to read a seminal, formative work in a still-emerging field of theology.  But that is exactly what Making Paper Cranes: Toward an Asian American Feminist Theology by Mihee Kim-Kort is.  If you ever find yourself agreeing with the writer of Ecclesiastes, "There is nothing new under the sun," pick up Making Paper Cranes and see if you can still say that when you are finished.
It's not that feminist theology is brand new.  And while it is relatively new on the scene, this isn't the first volume of theology written from an Asian American perspective.  It's not even the first book to combine the two.
Kim-Kort's work is formative and important to the entire world of theology because the way she pinpoints where her experience and the work of God intersect models the way all of us might undertake embodied theology—theology with meat on its bones. In this way her theology is neither a majority theology or a minority theology—it simply is authentic theology for a Korean American Presbyterian young woman in dialogue with all of the traditions in which she happens to be rooted.  As such, it is a model of how all of us might undertake similar theological pursuits authentic to each one of us as children of God.
Kim-Kort is thorough in her treatment and evaluation of the theological work with which she dialogues.  She devotes chapters to the historical background of Asians immigrating to the United States, the two-edged sword of racism and sexism experienced by Asian American women, the use of compartmentalization and assimilation to navigate these waters, and the work of other theologians, especially other Asian American women and liberation theologians.  In her last few chapters she proposes some new concepts: fragmentation and collision as a way of finding healing, and threshold space as a place where fruitful dialogue can take place in the future.  She is diligent in mapping out the theological terrain around her and gleaning whatever she can find useful in the work that has come before.
My experience reading Making Paper Cranes was surprisingly different between the first half and the second half.  The first half flew by, with Kim-Kort's personal anecdotes sprinkled between important social history that was familiar to me through my own prior studies, although not part of my personal experience.  Her experiences make it clear that being opened to new realities and new frameworks doesn't always happen as you expect.  I especially found the conversation between Kim-Kort and her father touching, where he encourages her to consider becoming an ordained minister, despite her own protests that the Bible forbids women from becoming preachers.  If the book ended there, I would have been satisfied, if perhaps a bit unstretched.
I read the first half while sitting in a comfortable chair at home, surrounded by peace and quiet and a good cup of tea.  But the second half was more difficult to read in that sort of setting.  I found that I had an easier time reading it when I was in places like the mechanic's waiting room or the busy coffee shop, stuck between meetings or appointments for a few minutes of waiting.
This doesn't mean the second half (beginning with chapter 4) was easier or somehow simpler to comprehend.  On the contrary, it pushed me into new territory as Kim-Kort sifted through the work of many theologians and chose which threads she would use to weave her final chapters.  This was new, creative, constructive work, and reading it stretched my brain a lot more.  Maybe that's why it was better to read it when my ears had to do what my brain was also being led to do: cut through the white noise of other distractions and find the pieces that were key for my understanding, just as Kim-Kort sought the pieces that were helpful for her.
One of the most compelling results is that Kim-Kort takes concepts that have previously been considered either non-life-giving or contrary to the Christian tradition, and redefines them in a new way.  I found her treatment of fragmentation and syncretism especially refreshing.  Syncretism is so often treated as a theological dirty word in Christian circles that I loved being challenged to think of it as a tool to work for greater self-integrity, fitting pieces and threads together that once seemed contrary but now complement each other.  Fragmentation carries the connotation of being broken, and yet how can we construct a theology that feels true and life-giving for us if we cannot break away the pieces we have been given that are not helpful?  (Kim-Kort also redefines collision as a positive occurrence, making the point that a collision between stereotypes and reality is often what begins the process of fragmentation.)
It seems fitting that Kim-Kort mentions compartmentalization and assimilation at the start of the book, and yet comes to re-imagine those concepts in healthier ways as fragmentation and syncretism.  I don't know if she did this intentionally, but the image of taking something apart (compartmentalization/fragmentation) and putting it back together (assimilation/syncretism) strikes me as eminently practical and creative at the same time—as well as being intensely personal.  Nobody else will put it together the same exact way you do.  On one hand, compartmentalization and assimilation both sublimate the unique child-of-God identity of each person and strive to establish a static way of being for all time.  In contrast, fragmentation and syncretism are understood as ongoing, Spirit-led processes that happen periodically and continually throughout life, as we seek a fuller and greater understanding of the One who is both shrouded in mystery and revealed in ordinary flesh and blood.
To be completely honest, as a white woman with no real experience of oppression, I was a bit hesitant to review a work of Asian American feminist theology.  I was blessed with a seminary experience that included reading some of the theologians Kim-Kort cites, but the thought of reviewing a work like that (and somehow implying that I had the right to pass judgment on it) gave me pause.  Before I began reading, I reminded myself how important it was to come to this work with an open mind and a closed mouth, ready to listen and learn about a reality different from my own.
But as I read, I found myself both learning about a new world and reflecting on my own.  If you live in any sort of multi-layered culture, there is much to be gained by reading Making Paper Cranes, especially if you have struggled with oppression or wish to stand with those who confront it.  Kim-Kort's work is, of course, formed and influenced by her cultures and her identity, and as such it is irrevocably hers, but in reading about her journey I found myself pondering my own.
As she writes in her conclusion, "Nothing is simply black and white.  While I cannot help but be affected by this system of viewing and expressing race and gender, I, and many others like myself, do not fit easily into this system.  Perhaps no one does." (p. 106)
Perhaps no one does.  Following Kim-Kort's search for an authentic theology she can call her own reminds us that nobody fits into what our society deems "normal."  We all deviate from cultural standards in one way or another.  And if she can carve out a place for herself in theological discourse and contribute in a way that is authentic and life-giving for herself…then perhaps we all can.
---
Katie Yahns serves as the solo pastor of a Lutheran congregation in rural central New York state.  She is excited to dip her toe back into writing for Fidelia's Sisters after serving on the editorial board from 2007 to 2011.
---
https://media.myworshiptimes31.com/wp-content/uploads/sites/3/2013/02/29170856/kim-kort-cover.jpeg
630
414
Katie Yahns
https://youngclergywomen.org/wp-content/uploads/sites/3/2017/05/YCWILogo_Vert_Black-300x229.png
Katie Yahns
2013-02-05 04:00:58
2018-11-13 11:46:17
A Review of Making Paper Cranes: Toward an Asian American Feminist Theology by Mihee Kim-Kort