---
Post Author: Morgan Caruthers
---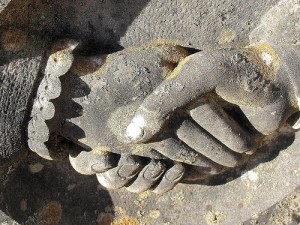 In a parish where it is common to have conversations with lobbyists, state political staff, or city council representatives, discussing politics can be a dangerous act. As a new staff member, it can be a bit intimidating to learn there are public powers filling the pews on any given Sunday morning. Combine that daunting ministry context with the broader setting of working in a state where southern manners do their best to contain all political conversations behind closed doors, and it all leaves a minister wondering how to teach civic engagement from as part of the ongoing spiritual formation her youth group.
Notice I said how to teach, and not whether to teach civic engagement.  It is tempting to leave the civics to teachers in school, to believe that a youth minister is just supposed to concern herself with the spiritual lives of her youth and to leave the formation of young citizens to others.  But if the church is to raise young adults to have a vibrant and active faith that infuses every aspect of their lives, how can civic engagement not be a part of their spiritual formation?
Holding both a Master of Social Work and a Master of Divinity, I have observed firsthand the meaningful work of community organizing within faith institutions, and I believe it is an important lesson to pass along to the young adults who attend our parish. Living in my state's capital, community organizing has a lively existence, but engaging it can be a dangerous line to walk as a minister. In my role as a pastor, it is not my job to dictate what political party my youth should align with, what policies they should believe in, or whom should vote for when they reach voting age. One of my duties as their pastor is to give them safe space to question, wrestle with and engage their faith. When my youth find their beliefs connecting with a particular policy or political issue, I believe that it is my responsibility to help them flesh out those connections, and to ask them how they see those connections taking root in their civic involvement.
With young adults coming from differing perspectives, my role is to assist them in seeing how their civic engagement is intertwined with their formation as disciples, because any passion we have stemming from a biblical principle or lesson connects us to the Divine.  The Spirit uses such experiences to further teach us the life and ministry of Jesus. This is not an easy task since I am a passionate person, especially when it comes to my ethics and my views on how humanity strives to care for one another. Within the framework of helping my youth connect their spiritual formation to their civic involvement I find myself ministering with youth who do not share my expression of ethics, political views, or even an orientation toward formation or civic responsibility. It is in these moments when I am reminded, most clearly, that my calling is not to dictate my beliefs to these young adults but provide them with tools and avenues for expressing their passion, which stems from a biblical principal or lesson, while doing so in loving and merciful ways.
For example, when youth come to me expressing a passion for those who find themselves homeless in our city, a few of them express this passion in finding a way to build more shelters in town, while others want to see what is causing people to be homeless.  In this circumstance, it is not my role to align with one of these groups and direct the others assimilate. Instead, I work with each young adult to help them process why this matters to them, how they could go about addressing their passion, what might be the Church's role in the situation, and how are they able to express this passion with love as they honor the dignity and worth of all persons involved.
As these young adults' pastor, I am responsible for aiding their spiritual development, and in some cases this requires me to set aside my own deeply held beliefs to help them express their beliefs in a loving and merciful way. This particular area of my work often involves me in messy and challenging conversations. As intimidating as a politically astute parish where I find myself in can be, the work of aiding young adults in learning and harnessing biblical principles while helping them to live out their callings through civic engagement is well worth the struggle.  The young adults in our churches receive tools from the church in how to engage their faith in all facets of life; these youth also witness the hope and transformation that such work brings to our cities and communities. If churches are courageous enough to have these tough conversations, both the mundane and the mighty will be changed through the miraculous love that is Jesus Christ.
In the Church, civic engagement ought not be about political parties or a particular issue or policy, but about how, as disciples, we care for the least within our cities, lift the burdens of the oppressed, and bring hope to those who have lost it. The Church possesses a strong and mighty voice for the outcast; we need not be afraid to step into the muddy waters of political conversations and wade through until justice, mercy, and peace take hold. As we do this work may the voices of those who are poor, widowed, and oppressed being our guide, and may Christ be the lens from which we view ourselves, our passions, and desired expression in the realm of civic engagement, no matter if we are a lobbyist, state political staff, city council representative, young adult, or pastor.
---
https://youngclergywomen.org/wp-content/uploads/sites/3/2017/05/YCWILogo_Vert_Black-300x229.png
0
0
Morgan Caruthers
https://youngclergywomen.org/wp-content/uploads/sites/3/2017/05/YCWILogo_Vert_Black-300x229.png
Morgan Caruthers
2012-10-11 04:00:49
2018-11-13 11:46:39
Spiritual Formation through Civic Engagement