---
Post Author: Brenda Lovick
This Advent, join us for a series of articles that reflect on journeys and travel in our lives. Advent reminds us that we're not quite there yet, that getting from point A to point B is a form of waiting. We hope this series of articles will help you find a few moments for quiet respite in the middle of the busy-ness of church life in December.
---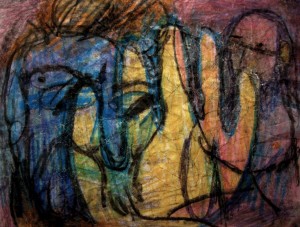 This is the hardest time of the year for me to be a pastor. It's a disheartening time. We have this incredible gem of truth in the coming of Christ while the rest of the world is spinning in the empty promises of Santa Claus. Culture, economics, and politics all rely on the materialism of the season. We've literally bought into it. We spend weeks – months – planning, buying, and baking for Christmas. What for? I shepherd a congregation where the worship attendance for Christmas Eve is lower than the average Sunday worship. That tells me that people don't care to spend an hour to quiet themselves and revere the truth of the season. In times like this, I need to hold on to the promises of Christ.
"Take my yoke upon you, and learn from me, for I am gentle and humble in heart, and you will find rest for your souls. For my yoke is easy, and my burden is light." Matthew 11:29-30
These words from Jesus give me hope in trivial times. They remind me of the depth and wholeness of our faith. They reveal to me the claim that God has on us. They remind me of why I do what I do.
Advent is a beginning of life with God which, honestly, can be scary. One Advent, I witnessed a baptism of a baby boy where the mother of the child began crying, then sobbing, so uncontrollably it was difficult for the pastor to get through the service.
I was moved by her deep emotion that played out in our liturgy. I was also a bit puzzled. I approached the mother after the service while she looked down with shame. In a hug, I congratulated her, but she quickly apologized for her emotional outburst. I said to her that she had nothing to apologize about because I truly believe that tears are one of the most powerful ways that God gives us peace. If you can't cry in church, where on earth can you cry?
"But," I said to her, "I do have a question for you. If your tears could speak, what would they say?" She looked at me with big eyes and said, "Baptism is a mixed bag. It's such a joyous occasion because this child will learn the wonder of belonging to God and God's family. But," she said to me, and her eyes welling up with tears again, her throat choking, "baptism means this child is no longer mine. I will love him and care for him in the way God calls me to do. He is such a blessing to me. I want him to live faithfully, but look at what happened to Jesus when he lived faithfully. He encountered bullies and the most broken people in his world, he was tested and tried and betrayed. He loved so hard. He died on the cross because he lived faithfully. And Momma Mary stood back and watched. Mary had to watch everything her blessed son went through – I am not strong enough. I am glad he's now in God's hands, but I am terrified of what that means for him."
This encounter changed me. It changed my faith. It changed the way I live in Christian community. This mother gets it. She knows that life in faith is difficult. Why would she go through the pain and hardship that following Christ entails?
Because life happens regardless of who we are and whose we are. This Advent, I walk alongside people who have recently learned of scary diagnoses. I watch my community rally around a teenage girl who is dying from an aggressive form of cancer. I drive through neighborhoods that are in burning heaps of bonfires because they have been swept away to piles of rubble by an F4 tornado. I grieve sudden deaths. I learn of broken relationships. I find people struggling with such heavy hearts that they don't know how to function in a healthy way when everything around them tells them to "suck it up" and deal. This is when I feel that mother's hug squeeze me even harder. We live this way because it matters. The kingdom of God is near.
No one ever promised life would be easy. Far from it. Life is hard, scary, even dangerous. Jesus promises he will do whatever it takes to lighten the load. Jesus give us hope and peace to make it through. We wait for Christ at Advent, we celebrate God-with-us at Christmas. We mistakenly wrap everything up, put it away, and feel empty because Christmas is over. But it's not. Advent reminds us that Christ is with us always. If we didn't have that, what would we have?
Nothing. No gift-wrapped presents, fresh-baked cookies, or indulgent family meals can replace the coming of Christ in our lives. When I go to that dark place in my soul, I feel the squeeze of the mother's hug from that Advent in years past. Jesus came to walk with us through the joy and the pain. He came to show us how to do it. Rest, ease of burdens, lightness of heart. He came to give us all that we will ever need: compassion as balm for our indifferent souls.
This season begins a journey that does not end when we put away the Christmas trees. It ends with the Pentecostal flaming tongues. There is no Christmas let-down when the season ends with an empty tomb and the outpouring of the Holy Spirit. Whether we are hurting or whether we are so burned out that we don't care, Christ is there. We are promised the Holy Spirit will do its work.
God promises I will carry on. When I am disheartened, when I wonder if what I do matters, I find someone to hug. And I imagine a post-baptismal hug that brings me home.
---
Rev. Brenda Lovick is the pastor at Trinity Evangelical Lutheran Church in the rural village of Manlius in northern Illinois. She is the chair of the committee that organizes Bureau Valley Buddy Bags for the community's local school district. She graduated from Louisville Presbyterian Theological Seminary with an MDiv and an MAMFT in 2006 and completed coursework at the Lutheran School of Theology at Chicago in 2009. She leads a hobby-less life as she loves church people by day and chases small children by night.
---
Image by:
"Gaudete" by Bill Rogers
Used with
permission
https://youngclergywomen.org/wp-content/uploads/sites/3/2017/05/YCWILogo_Vert_Black-300x229.png
0
0
Brenda Lovick
https://youngclergywomen.org/wp-content/uploads/sites/3/2017/05/YCWILogo_Vert_Black-300x229.png
Brenda Lovick
2013-12-17 04:00:19
2013-12-17 04:00:19
The Advent Yoke