---
Post Author: Emily Peck-McClain
This Advent, join us for a series of articles that reflect on journeys and travel in our lives. Advent reminds us that we're not quite there yet, that getting from point A to point B is a form of waiting. We hope this series of articles will help you find a few moments for quiet respite in the middle of the busy-ness of church life in December.
---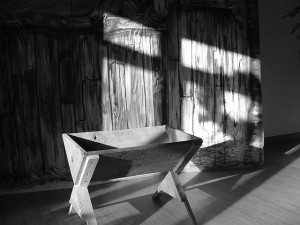 On December 19, 2012, I woke up early, went to the bathroom and crawled back into my warm bed in my dark bedroom. Then I realized that I was bleeding. This normally wouldn't be a shock to a woman of my age – menstrual bleeding is to be expected once every 28 days or so. But several days before that, I had also awakened early and taken a pregnancy test, which showed that coveted "second line." I was pregnant. Having already suffered a miscarriage two and a half years earlier, I greet a positive pregnancy test with a kind of dread. While it's exactly what I want, I also know that unlike the commercials I see on TV, I am not bathed in bright lighting sharing the news that we're going to be new parents in nine months. I am bathed in fear and the real knowledge that I might lose this pregnancy, too. So, on December 19, right before celebrating the birth of Jesus, I was crying in my bed next to my husband wondering why this pregnancy would not result in a joyous birth like Mary's did.
I am one half of a clergy couple. As I was headed to the doctor later that morning, my husband was traveling to another town over an hour away to conduct a funeral for a couple from his church. My partner did not go to the doctor with me. He wasn't home in the evening to help get our 19 month old fed and to sleep so that I could cry and curl up with heating pad. I don't think I've ever felt so lonely. I could see Christmas lights twinkling in the house across the street, but didn't want to turn my own tree on. We celebrate light coming into darkness at Christmas and all I could focus on was the darkness.
I called another young clergywoman serving a town nearby to ask her to come be with me. Perhaps it's ironic, but she was leading a Longest Night service at her church that night. This service is offered around the Winter Solstice, the longest night of the year, to provide a worship space for those who are grieving or struggling during a season where joy is the usual narrative. She asked what I needed and I said that what I really needed was to go to that worship service. Obviously, with a 19 month old sleeping upstairs, I couldn't go. But that clergywoman brought the service to me. When she was done at her church, she came to my home. She brought the bulletin, a candle, and leftovers from the reception they had afterward. She fed me spiritually and physically. While my partner was doing ministry elsewhere, she was doing ministry for me.
That night was the longest night. I was, for the first time, jealous of Mary who had to give birth in a smelly and dirty stable surrounded by animals. When I was in labor with my daughter, I hated every smell. Dealing with the pain was challenging, and I had my own room surrounded with the support of not only my partner but my parents, nurses, and doctors. After 26 hours of pitocin-controlled labor, I ended up with a c-section. After that, whenever I thought of Mary, I thought about how terrifying it must have been to give birth the way she did. But last year, as Advent was coming to its completion, I had never felt so empty in my uterus and my heart. At least Mary got to keep her baby, at least for 33 years anyway.  But the hardest part about the longest night is that the next night is only slightly shorter.
The next day we had a clergy Advent worship for the clergy people in my denomination in the area surrounding me. The worship leader was our district superintendent, who had no idea about our very recent loss.  She was, however, gifted with worship. What normally would have been a lovely Advent worship focused on anticipation, expectation, and hope focused on a baby sent me out the door of the sanctuary in tears. How does one make it through Advent and Christmas in church having lost a(nother) pregnancy? I don't really have an answer. As we drew ever closer to Bethlehem, I just wanted to put the brakes on. Does a donkey have those? I didn't want to celebrate a birth when I was being denied the one for which I had really been praying.
Ready or not, Christmas comes. Advent never has felt long enough to me, anyway. Especially given the busyness of our lives as clergywomen: annual Christmas Open Parsonage, Christmas pageant, Lessons & Carols, extra sermons, hanging of the greens, finding people to light the Advent wreath, and on and on. And that doesn't even take into account decorating the house, baking, wrapping gifts, and trying to have some way to mark the season in our personal and familial lives in addition to our church lives.
So, on December 24, 5 days after losing a pregnancy, I was in a candlelit Christmas Eve worship service, smiling what I feel must have been an obviously fake smile. I tried my best to welcome Christ while secretly resenting his birth. I also knew that I wasn't alone in my suffering while others were gleefully belting out Joy to the World. In a nearby town, a clergywoman colleague was thinking about me. In my husband's pulpit, he nurtured thoughts of me while sharing the words of Christ's birth with his congregation.
By Epiphany, my doctor had discovered that my pregnancy loss wasn't a miscarriage, but an ectopic pregnancy. The baby had implanted and started to develop on one of my fallopian tubes. It wasn't until mid-February that the pregnancy was completely gone and I could breathe easier knowing my tube wasn't going to burst. It wasn't until after that that I really felt ready to celebrate Christmas; just in time for Lent.  I was ready to celebrate that I was healthy and had been given the go ahead to try to get pregnant again. I was ready to make space in my broken heart for the hope of a baby. I was ready to face the anticipation of taking a pregnancy test again. I was ready to be joyful with Mary in that dirty stable. The liturgical year doesn't always match up with our personal calendars.
This year, as I journey toward the pulpit on Christmas Eve, I do so as a pregnant woman. I am due in May, and holding my breath that this baby will make it and be healthy. I approach worship knowing that in my longest night, which ended up lasting for about two months a year ago, I was not alone. The people in my congregation, too, need to know they are not alone. I approach Christmas with new sensitivity to the pain of the people in the pews who may be faking their way through the joy of the season. But isn't that really the way it is for all of us who observe the Christian year? Even as our Advent journey comes to a close at Christmas, we know that right around the corner is Lent. Our journey is beyond the stable and toward the cross. Joy tinged with pain, but also always surrounded above and beneath, behind and before, completely hemmed in by hope.
---
Emily Peck-McClain is an ordained United Methodist pastor serving in the New York Annual Conference. She is also a doctoral student at Duke Divinity School in Christian Education and New Testament. When not writing her dissertation or a sermon, Emily enjoys time with her husband, daughter, and dog, especially if it gets to be time playing outside in the snow.
---
Image by:
Pastor John
Used with
permission
https://media.myworshiptimes31.com/wp-content/uploads/sites/3/2013/12/29170644/Dec-2013-Empty-Manger-and-Cross.jpg
480
640
Emily Peck-McClain
https://youngclergywomen.org/wp-content/uploads/sites/3/2017/05/YCWILogo_Vert_Black-300x229.png
Emily Peck-McClain
2013-12-19 04:00:57
2018-07-25 19:16:45
Wanting the Manger to Stay Empty