---
Post Author: Robyn Fickes
---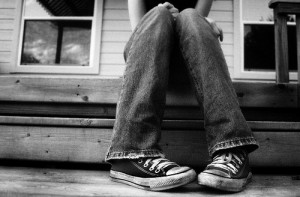 I knew they had to be there.  Reaching to the depths of my drawer, my fingers blindly searched for those frayed edges.  My "Mission Trip Jeans" were needed for ministry today and I couldn't find them.  Since I no longer work directly with youth my need for these jeans has decreased; however, I have held onto my many seasons of grubby cloths for just such an occasion.  Today, instead of donning my usual office garb, my jeans and I would find church-of-another-sorts at our annual area Disciples Habitat for Humanity build.  Like most other young female clergy, dressing myself for work is usually a nightmare.  Trying to find the right outfit that conveys ministerial authority, pastoral credentials, a rejection of all things shoulder "padded," all the while balancing the masculine nature of professional clothes  results in piles of cloths strewn around the room and rushing late (and sweaty) to my first appointment because of the frenzied fashion show.  But this morning, I had nothing to worry about.
My Mission Trip Jeans are splattered in paint and coated in countless trips worth of washer resistant dirt.  These jeans have traveled as close as down the street and as far away as Africa.  These jeans have witnessed radio accompanied, paintbrush microphone concerts, and families sorting through the rubble of what was their home.  There are times I've worn these jeans for days on end, or just a few brief hours.  I've found that the ministry done in these jeans far outlasts the time they're worn.  While I am not confident in my home repair; my ministry is most confident in these jeans.
Many parents argue with their children over what to wear on Sunday mornings and I will never cease to evoke both awe and disdain over my Sunday morning selection (this why a clergy robe is a girl's best friend); but I don't think any of that really matters.  Yes we are to bring out our finest to worship God; but that definition of "finest" might need to be tweaked.  I do some of my finest work when I remember that I am called to live with and love all of God's people; which is sometimes dirty work.  I do some of my finest work when I am not the "expert," but the volunteer.  I do some of my best work when I'm standing side-by-side with people and together, we lift walls of homes, eat meals with the storm devastated, and see the face of God in a stranger.
I'm not getting rid of my favorite peep-toe heels, nor am I going to sport my Mission Trip Jeans in the pulpit; however, I am going to bring some of that grit into my daily practice of ministry.  We can polish an almost perfect sermon or prayer, but we can't polish the lives of the broken hearted.  Walking with people and recalling God in the process requires our finest, our dirtiest, and our everything.  In a culture that tells women "you're not enough" until you fit into this, or that; and a church world that asks just one more thing of its pastors, I will try to reach for these jeans, remembering that no matter how we come, no matter who we are, God calls all people to love one another and to work together.  God calls us to dredge up the far reaches of our souls, so we might dust off what we've hidden, so we might share a treasure with others.  This gritty work can leave lasting stains and marks, but it can also build a place for all people; a place for God in our clean and cozy lives.
---
Robyn Fickes is the Minister of Growth at Crestwood Christian Church, in Lexington KY.  Ministry with the church and world are her passions, and running with her fiancé Jordan, and golden retriever Stella the Wonder Pup are her delights.
---
Image by:
Katlin Lewis
Used with
permission
https://media.myworshiptimes31.com/wp-content/uploads/sites/3/2012/07/29171020/jeans.jpg
328
500
Robyn Fickes
https://youngclergywomen.org/wp-content/uploads/sites/3/2017/05/YCWILogo_Vert_Black-300x229.png
Robyn Fickes
2012-07-12 03:00:15
2019-06-08 12:12:58
Mission Trip Jeans