---
Post Author: Collette Broady
---
Necessity is the mother of invention, as the saying goes. But there really should be another saying: Motherhood necessitates invention. Especially when you are both a mother and a pastor.
I started a new job when my son was five weeks old, a half-time position as intentional interim pastor in a church that had had conflict with its previous pastor. Most of my job was leading a congregational self-assessment and study as well as leading worship and preaching on Sunday mornings. With the help of my then-husband, a very nice babysitter, and a tremendously easy-going baby, I made it work.
Except for the visitation part of being a pastor. I have always struggled with this part of ministry, since I am a major introvert, and it has always fallen to the bottom of my legion to-do lists. But now with a baby, it seemed doubly impossible that I should get around to visit the homebound members on my roster. My pastor guilt and my mother guilt were at war.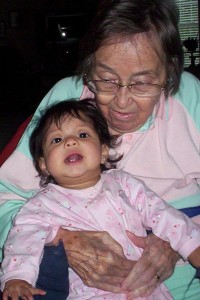 Then one morning when I was in the office, baby in tow, a homebound member, Donna, called to say that her grandson had just died and could I please come and see her right away. You can't refuse a request like that. So, I packed up the diaper bag, breast pump, and my work bag, buckled baby in his car seat and we went. The three hours I spent with Donna that afternoon I remember fondly as one of the best visits I've ever made.
What I didn't know was that the little one I was viewing as an obstacle to the work I was supposed to be doing was in fact an entry into deeper conversation with a fellow mother, a balm for the grief of a grandmother who had just lost a beloved grandson, and a gurgling, giggling reminder that there is life even in the midst of death. She cuddled my son and talked about what a wonderful gift family is, but also how much being a parent and grandparent breaks your heart. As he played on the floor, she talked about her memories of the grandson she had cared for when he was a baby.
Fast forward to a few months ago, when I had all but forgotten about this experience. My son is in daycare now and I have more time to go and visit without him along. Though I am now divorced, between daycare and careful scheduling of my weekends, I am usually able to fit my work into times when my son is being cared for by another. Unless someone dies. Then everything goes to you-know-where in a hurry.
One of my homebound members had been languishing in hospice for several weeks, hanging on to the last bit of life despite not eating and drinking. Then Saturday morning her daughter called to say I'd better come right away. I looked at my son playing with his trucks, and I must have hesitated, because the woman said, "Oh, do you have your son with you? Just bring him along." So I did.
And it happened again, a beautiful visit with women of faith. But this time there was a difference: the visit not only opened up the conversation with those for whom I was caring. It opened up conversation with my son too. I explained, as best you can to a three year old, that the woman we were going to see was very sick, that we would be praying with her and reading the bible, and that she probably would be asleep most of the time.
He wanted to know why she was sick, and when she would get better. When I explained that she wouldn't get better, we started a conversation about death that is still going in bits and pieces these months later. He now understands that sometimes people die, and he is simultaneously fearful that he will get so sick that he doesn't get better, and hopeful because he knows that sometimes people that die come back to life ("like Jesus, Mommy!" he says).
He is developing a compassionate for others that is astounding to me. About a week after we visited the dying woman, he turned to me after our bedtime prayers. "Mommy," he said, "What about that girl we visited? Did she get better?" He routinely reminds me to pray for those I've forgotten about, and asks that we pray for his friends who fell down and got scrapes on the playground that day.
By complete accident, out of necessity, I discovered that one of the best ways to teach my son to practice faith is by taking him with me as I practice mine. This means that I take him not just to church on Sunday morning, but into the everyday (sometime) drudgery of pastoring. I'm thankful for the conversations this accident has opened up, both with members of the congregations I serve, and with my son. It's now part of my ministry to pick him up early from daycare once a week and take him to visit a homebound member.
Except when his nose is running neon green. Then he stays at daycare.
---
---
Image by:
Alex Hendrickson
Used with
permission
https://media.myworshiptimes31.com/wp-content/uploads/sites/3/2013/05/29170819/100_0498.jpg
871
580
Collette Broady
https://youngclergywomen.org/wp-content/uploads/sites/3/2017/05/YCWILogo_Vert_Black-300x229.png
Collette Broady
2013-05-23 04:00:01
2018-11-13 11:45:30
An Inadvertent Invention: Pastoral Visits with a Preschooler