---
Post Author: Diana Carroll
---

The Rev. Dr. Margaret Aymer was keynote speaker at the Text in Context conference, hosted by The Young Clergy Wom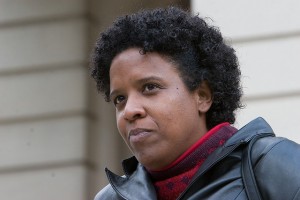 en Project this July in Austin, Texas. She taught for many years at the Interdenominational Theological Center in Atlanta, Georgia, before becoming Associate Professor of New Testament at Austin Presbyterian Theological Seminary. Professor Aymer is ordained as a Teaching Elder in the Presbyterian Church (USA). "Our Cloud of Witnesses" editor Diana Carroll sat down with her during the conference to learn more about her life and ministry.
What are some of the challenges that you have faced in your ministry?
Some of the challenges have included things like working in places where I was not making a lot of money and not having the money to participate more broadly in the life of the church. The first few times I was asked to preach in a conference after I was ordained, I actually had to have them buy me the ticket, because I could not afford to buy a ticket and have them reimburse me.
It was challenging teaching in a seminary in which one of the six seminaries didn't recognize my ordination, because I was female. I was working with male students who knew I had power, because I was giving the grades, but didn't recognize my ordination. Also, getting paid less than some of the men. That happened to me up to two years ago. People often think that we're being catty or mean-spirited when we say things like that, but I was being paid less than a junior member of my faculty, and I was tenured, and I was his chair. So I'm not asking for much. Just parity.
I think some of the challenges, too, had to do with the ways in which our churches are so segregated that we don't really know or talk to each other. I started to do some decent and faithful work in the Presbyterian Church. My students who were AME and CME and Baptist didn't either get it or honor it particularly, because it wasn't their context. I was rarely, if ever, invited to preach in anyone else's pulpit. When I would be invited, it would be for Women's Day. And then, of course, when I was invited in a lot of white contexts, it would be for King Day. I can preach about something other than race and gender. I really, really can.
Tell me a little about how you got into contextual bible study.
It must have been while I was doing my doctoral studies, because we read a lot about located hermeneutics. Gerald West, who's one of the founders of contextual bible studies in South Africa at the University of KwaZulu-Natal, has written quite a bit. I don't remember when I actually found the manual [that he put together], but the minute I found it, I was like, "This is a tool that will be so helpful to the northern church."
There are some things that American Christianity always finds itself hamstrung around. One of which is community. We're very individualistic. People can be coming to the same church for thirty years and never have a conversation. And we have a tendency to professionalize the clergy as the "professional Christian" in the room. The question of discipleship, particularly among the progressive wing of the church, we tend to relegate that to the pastor. The conservative wing of the church, I think, gets it right, in that it's everybody's job to be a disciple. We haven't yet figured out how that translates to the progressive wing of the church.
So [contextual bible study has] been a helpful tool to help folks do that, and it's also a helpful tool to give folks back their voice and their power. When you cede your voice and your power to the one person in the room with the degree, then you're just a recipient. You're no longer a participant in the process. You're no longer a disciple; you're a voyeur. And we're not called to raise voyeurs. We're called to raise disciples.
What grounds you personally in your faith?
Music. Hymnody. Singing. Even if my mind has wandered off during the sermon, or if my two-year-old's mind has wandered off, or my two year old has just wandered off (which is often the case), singing grounds me. I am an old-school liturgical hymn geek. When I say old-school, I'm talking English hymns. I grew up in the British Methodist Church in the Caribbean. The hymns of the church speak to our faith, speak to who we are, speak to what we believe, speak to us in languages that get past the brain in ways that are sneaky. I mean, they involve the brain. You have to have your brain on to sing. But they get past the left brain analytical and go straight to the heart in ways that I find very helpful, very centering. 
How do you deal with criticism in ministry?
Depends on the day. Some days I deal with it really well, and some days I deal with it really poorly, like everybody else. It depends on the kind of criticism. If it's criticism about the way I'm formulating an argument for academic research, and it's well meant, and it's helpful criticism, then I deal with it really well. There's also ad hominem attacks, and I don't deal with those well after a time. I'm always baffled when somebody decides to make an ad hominem attack, especially one that they think is going to be hurtful. I was saying in a church once that the church has a lot to answer for in terms of HIV and AIDS, because of the way it has not dealt with sexuality. Which seems to me self-evident. And the pastor of the church proceeded to call me a lesbian, as if that was an insult. Which was funny to me. But for him, I was being outside of my gender norms, because I was challenging him as pastor. Since he knew he could not take me on in terms of the argument, he decided to take on my person. And that is a little annoying to me. It's annoying because it discounts my humanity and it discounts your ability to think.
The thing that is interesting to me is that the response to my being able to think clearly is, "You are being male. You are acting outside of your gender norm." It's exactly the same thing that comes up when people say Obama's not black. Because we have a normative understanding of what it means to be black, and he's not falling into that normative understanding. The same thing is true when people say I'm not being black. I have to remind them that I am number five of six Professor Aymers in my immediate family. So in my black family, this is what being black looks like. You need to rethink what you mean by that.
You've got to know what the kind of criticism is and what the criticism is actually about. It's easier in a seminary, because you don't have a permanent group of people. That's one of the things you've got to remember when you're talking to folks who teach at seminaries as opposed to folks who pastor churches. We have a transient population. If you don't like me, you'll be out of here in three years. Four at the most. If I'm pastoring a congregation, I may still have to bury you. It's a different dynamic. It's a different kind of ministry. A lot of times, when you're a professor, the students who wouldn't talk to you when they left seminary will come back three years later and thank you.
What advice would you give to a young woman who is starting in ministry?
Be patient with your congregation. The biggest thing I think seminarians lack when they're coming out of seminary is patience. We're full of enthusiasm. We've got all of this wonderful stuff. We are on fire for God, we're on fire for the church, we're dying to go give it all away. Folks aren't there yet. So being patient with your congregation is the hardest thing. Thinking in terms of 20 year transitions instead of one year transitions. Even if you're not going to be there 20 years later to see it.
Call people to discipleship. Don't worry about how old they are. Do not underestimate anybody's ability to be a disciple of Jesus Christ. If they can't walk, have them write something. If they can't write, have them tell stories. Find a way to help them continue to be disciples. I think we give up too easily on the old. We are convinced the church must be young people. It would be lovely if the church had young people. But in our paranoia about the change in the community, we have forgotten to equip the disciples we do have. And those disciples are the generation that changed this country forever. We forget that. The people who are 30 or 40 years older than me made it possible for me to be here.
Is there anything else you'd like to share with our readers?
One of the most important things that young clergy women can be about the process of doing with one another and for one another, and as a result leading their congregations to do, is engaging in acts of dismantling power. Particularly race and racism, classicism, sexism, and heterosexism. In other words, having the hard conversations. And having the hard conversations within the racially monolithic communities you're in. Don't go looking for black people to teach you about racism. Go find the anti-racism sites. Pick up the material and teach yourselves. You can learn this stuff. I honestly think the #blacklivesmatter hashtag right now counts as what the reform church would call a status confessionis. It's something that we as a church need to say because it's critical to the Gospel of Jesus Christ. The world needs to hear the church say this. Out loud. The church can be about the change the community needs.
---
Diana Carroll is in her second year on the Board of The Young Clergy Women Project and recently became TYCWP's first Development Coordinator. A graduate of Yale Divinity School, she is the Rector of St. Luke's Episcopal Church in Annapolis, Maryland, and also spends a few hours each week as Chaplain at St. Anne's School of Annapolis.
---
Image by:
RussellReno
Used with
permission
https://media.myworshiptimes31.com/wp-content/uploads/sites/3/2015/09/29170131/OurCloudImageSept.jpg
427
640
Diana Carroll
https://youngclergywomen.org/wp-content/uploads/sites/3/2017/05/YCWILogo_Vert_Black-300x229.png
Diana Carroll
2015-09-22 04:00:39
2018-11-13 11:38:08
An Interview with Margaret Aymer