---
Post Author: Rev. Kelly Boubel Shriver
---
Between the World and Me
Ta-Nehisi Coates
152 pp. Spiegel & Grau.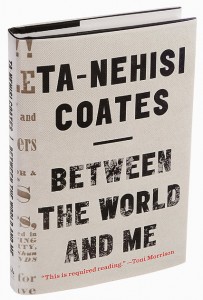 When my son Moses was baptized I wrote him a letter about what baptism means for me. It was very much a letter from a pastor-mom to her son, touching on both the personal and theological, each in their turn. I read the letter that morning in lieu of a sermon, inviting the congregation to "eavesdrop" on my conversation with Moses, my baptism gift to him.
As I began reading Ta-Nehisi Coates' Between the World and Me, I was reminded of my baptism letter. Coates wrote this book as a letter to his son, and the book is an invitation to eavesdrop on that father-son conversation. That invitation is a tremendous gift to anyone who picks up this small, but powerful, memoir. Coates invites the reader into his experiences as a black man in America, and offers a perspective I was stretched in experiencing. Coates is well known in the journalistic community for taking strong and often controversial positions on issues of race. Several days later, I'm still mulling over this book, and wondering what changes it may have wrought in me.
Coates' writing hovers somewhere in the vague, liminal space between poetry and prose, and his stories read with great detail and depth considering his compact use of language. He traces his life from the streets of Baltimore, through Howard University, to New York, Paris, and beyond. He sketches quick pictures of women he has loved, friends he has lost, and the ever-present companion of fear. He struggles to make sense of the void that exists "between the world and me," a quest that seems to have driven much of his intellectual life.
At its core, Between the World and Me is a book about racial injustice: the unbelievable whim by which a single racist action can destroy a black body. And Coates is supremely interested in "the black body"; it's probably the most oft repeated phrase in his book (the insecurity of the black body in America, the beauty of the black body, the variety and breadth of the black body in society). With the deaths of Eric Garner, Trayvon Martin, the nine souls murdered at Mother Emmanuel AME, and countless others, the black body isn't by any means an abstraction. It is, fundamentally, the center of a conversation we must have, in our homes, our churches, and our country. Coates' book articulates a distinct perspective and a unique entre into this conversation, an invitation for which I am thankful.
Christians who read Coates' book may find his theological perspective at odds with their own. Coates is an avowed atheist, seeing life as the beginning and end of our existence. That perspective leaves much of this book with rather bleak answers to hard questions. I don't need Coates to believe in God or change his theology, and I don't need nice, easy-to-digest answers. However, it is my own assertion that resurrection exists in this world, and part of me kept hoping Coates would see that in some small way. In the end, Coates acknowledges that he may have "missed something […] some wisdom beyond my mean physical perception of the world, something beyond the body" (page 139) because he cannot explain the hope carried by one of the women he interacts with. I wanted a bit more hope, but that's not Coates' story, and so I will sit with him in these words, and let some of their harshness challenge my own comfortable perspective.
Overall, this was a hard, beautiful, and important little book, well worth the investment of your intellectual and emotional time and energy. I might go so far as to say it should be required reading for pastors. As a minister, I think it is vital that I read and experience stories which are not my own, to imagine life from another perspective. This letter challenged some of my notions of race and asked me, as a reader, to sit in those uncomfortable spaces and listen to this story. Coates has invited us to eavesdrop as he tells his story, and it's a story that may have the power to change us.
---
Kelly Boubel Shriver currently serves as Head of Staff to Peoples Presbyterian Church in Milan, MI. When she's not pastoring, Kelly enjoys spending time with her three sons, husband, dog, and four ducks, exploring all the fun Southeast Michigan has to offer.
---
Image by:
Sonny Figueroa
Used with
permission
https://media.myworshiptimes31.com/wp-content/uploads/sites/3/2015/09/29170126/TNC-book-cover.jpg
630
427
Rev. Kelly Boubel Shriver
https://youngclergywomen.org/wp-content/uploads/sites/3/2017/05/YCWILogo_Vert_Black-300x229.png
Rev. Kelly Boubel Shriver
2015-09-24 04:00:43
2018-11-13 11:38:08
Invited into 'Between the World and Me'