---
Post Author: Jody Stowell
---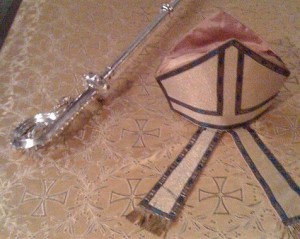 In November 2012, I watched from the public gallery as our General Synod in the Church of England (CofE) voted to reject the legislation that would allow women to become bishops. I was just over a year into my own ordained ministry in a context that I loved, in a place that had all the usual stresses and brokenness and fracture, as well as the joys and blessings and surprises of ministry, but in which I did not encounter explicit rejection of my ministry simply because of my gender.
It was a shock. Even though I am well used to the vagaries of gender politics in the CofE, my emotional reaction was to feel shame. Suddenly, my dog collar did not fit quite so well.
Just over 18 months later, then, it was utterly astonishing that the CofE had done a complete U-turn and worked through some of its 'issues'—though by no means all of them! Once again in the public gallery, I was a witness to the historic vote which enabled women to become bishops in my beloved church.
July 2014 was a mark in the sand. The CofE was moving to being a credible voice, not simply in the internal justice politics of its own institution, but more importantly, in the global landscape of violence against women, which we inhabit and which we must stand against in our mission to build God's Kingdom.
Fast forward through an even shorter timeframe: between December 2014 and March 2015, the CofE has appointed three women to be bishops, one of whom is our first female Diocesan bishop. Our first female bishop was consecrated on 26th January 2015.
Some are surprised by the seemingly fast-paced journey we have taken. And yes, it does seem fast-paced in one sense. However, I see the consecration of women who are called to lead and shepherd us as bishops as simply a visible mark of an old story, which we had forgotten to tell. In reality, it is an old story that some have actively rejected. It is both new and very, very old. It is a 'surprise' and yet entirely normal: an unsurprising normality, which brings us back to our first love story.
This is the story found in Genesis of a dustling made from the dust of the Earth. Created out of intimacy and love, the touch and breath of God, which bring the dustling to life. And the dustling should not live alone, but must be found in the face of another. So the dustling lies down to sleep, and in sleep is re-created. The dustling wakes to find that he is 'he.' He is different, and he only knows who he is in the face of the 'she:' 'bone of my bone, flesh of my flesh.' A beautiful love story of the shared humanity from which, and for which, we are made.
The re-creation of men and women today is both an old story and a fresh revitalised truth.
Looking at the women who are becoming our first female bishops—Libby Lane (Bishop of Stockport), Alison White (appointed as Bishop of Hull), and Rachel Treweek (appointed as Diocesan Bishop of Gloucester)—it is a delight to notice each individual woman. They are distinct human beings. Amongst them there are many different experiences. They are visibly from different church traditions and backgrounds. It is a delight to see their particular distinctiveness, as well as their connectedness in sharing a female humanity.
Between them they bring the experiences of active parish ministry, as well as cathedral ministry and wider diocesan roles. They will share these, together with the experiences of the men whom they serve alongside, to be our 'Pastors of Pastors' in the CofE. In doing so, they will look to re-create what it means to be the particular type of human we call 'bishop,' so that it is more faithful to the old story from which even that humanity draws its meaning.
And what will this mean to those of us who watch this re-creation?
Labour pains will be felt. Creation is something that is both instant and painfully slow. Conception is an instant change in status. Change is visible, even if it is microscopic! Yet the full creation of a human being is a lifelong journey. Being human is to be continually in the throes of being created.
There will be pain, and yet, as is (generally) true with labour, there will also be the joy of birth, life, and a changed world.
In the re-creation of our episcopacy, we who are members of the CofE—as laity, deacons, priests, and bishops—might best understand ourselves as both the mothers and midwives of this new thing that is happening amongst us. Rather than being onlookers or vaguely interested bystanders, we are actively part of the growing, labouring, and birthing.
A new episcopacy is the endeavour of the whole people.
Some make much of the need to be able to 'see' in order for us to 'be.' There is of course a great rejoicing in being able to see those who look like 'us' in all the spaces in which humanity should be present. This goes for gender, ethnicity, and all the other diversities of humanity who find themselves marginalised. To see 'someone like me' in a space where previously that has not been acceptable is to reawaken our internal imagination. We are invited to remember the possibilities that were always there.
However, we must be careful not to simply be observers of creation. To be passive as our women take their place would be potentially death-dealing. There is a reason that we wait for mothers to be in 'active' labour in order to bring their babies into the world!
So as we in the CofE look with joy at this Old, New, Unsurprising Surprise being birthed in our generation, my prayer is that, as a people, we will actively be a part of this exciting re-creation. The mission of God is no longer hampered by our rejection of our first birth story in Genesis, and instead bears the fruit that is inevitable when men and women face each other and claim, 'bone of my bone, flesh of my flesh.'
---
The Reverend Jody Stowell is the Vicar of St Michael and All Angels', Harrow Weald in London, UK. She was part of the social media campaigning group Yes 2 Women Bishops, which gladly disbanded when the first woman was consecrated. She has been on the national committee of Women and the Church (WATCH), a campaigning group for gender justice in the Church of England, since 2013. You can follow her on Twitter @RevJodyStowell.
---
Image by:
rethought
Used with
permission
https://media.myworshiptimes31.com/wp-content/uploads/sites/3/2015/05/29170213/OurCloudImage.jpg
380
476
Jody Stowell
https://youngclergywomen.org/wp-content/uploads/sites/3/2017/05/YCWILogo_Vert_Black-300x229.png
Jody Stowell
2015-06-23 04:00:06
2018-11-13 11:38:34
An Old, New, Unsurprising Surprise