---
Post Author: Elizabeth A. B. Tesi
---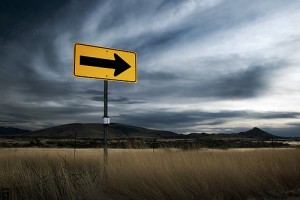 I sat on the bed, listening to the shower. At my feet there was a massive pile of laundry, mostly my husband's clothes. He was packing a large suitcase and moving to the East coast for a job. For the second time in 12 months, we were going to be separated.
When we first met, we were graduate students. In our blind optimism, we assumed that we would work hard, get good grades, and find work anywhere. We had no idea that the Great Recession was months away from crashing down upon us, and we had no inkling that a prestigious, demanding school which is well-recognized in the East would carry zero weight in the West. He graduated with distinction in Connecticut. Two years later, his job hunt has been fruitless in Oregon. In desperation, he accepted a position in Harper's Ferry National Historic Park, and we separated for the first time a little over a year ago.
A two career couple has been a very difficult thing in ministry. I find it has been a constant dance of discernment, opportunity, and choice. On one hand, I love that he has different, non-church work. He keeps me real. Sometimes I wish that he was a nurse or a dentist or some other highly transportable profession, but the reality is that he is gifted with artifacts. But one of us (me) believes that God is in charge of my career path. And it was dawning on me that Oregon, the beautiful breezy place where I thought we had found our dream, left him with a choice between living  here and taking a job cleaning out dog kennels, or living apart and having a professional job. I couldn't ask my spouse to make that sacrifice. But I also couldn't believe that God would bring two people together, only to split them up. How could God ask that, even of a priest?
There have been ways to cope. We prioritized face-to-face communication. We Skype every night and have "happy hour dates". (We each make a drink and call each other.) We text constantly – his early morning messages arrive while I sleep.  But we spent Thanksgiving apart, he eating oysters with his brother in Maryland, me sharing stuffing with a coworker in Eugene. Every night, we sleep alone. I snuggle his pillow and negotiate space with his cats, who spent last week sulking in his closet, buried under the clothes he left behind. We used an app called Couple to share secrets.
Unbidden, negative emotions have roiled. I became jealous that he could spend Sundays watching football on his best friend's couch, knowing I would come home to a dirty cat box and a cold kitchen after a grueling day. I panicked when I couldn't reach him, so we decided to install "Find My Friends" app which we call "iPhone Stalker" so we can tell if the non-answering person is on the road. He gets frustrated when I email a dozen articles overnight during my frequent insomnia bouts. Trash talking via text message leads to fast misunderstandings when he threatens to pick up Tom Brady as his fantasy quarterback against my strident objections. Sometimes, it feels like we spend most of our time apologizing to each other.
Good friends saved my bacon. Time after time, friends talked me off my ledge when I had convinced myself it was the end.  They shared so many stories of breakups, separations, reconciliations. They told me of the bruises in their own loves, and reminded me to see the best in my spouse. Friends convinced me to see a counselor at my lowest point.
Deciding whether love or career won out was agony. As a priest, my life is so public. Parishioners worried, knowing he was gone. Why had such a happy couple split up? One person suggested that, since we had no children, a divorce would be easy. What kind of couple would choose to live apart? I can point to Gabrielle Giffords and her astronaut husband Mark Kelly, or to military couples, but the reality is that those couples have resources and innate support systems than I did.  We honestly questioned: was this really the end? Did God call me here to show me that my calling as a priest was more important than any relationship out there – spouse, family, friends? For one horrible week, we talked about divorce.
I loved my job, my people, my town. I thought this was my dream. Yet the dream hadn't accounted for distance from family and friends. I missed major East Coast milestones. My dream was killing my spouse's spirit. I couldn't bear to disappoint or hurt anyone – I imagined waves of anger and disappointment flooding towards me no matter what.
The reality is that church work is tight. The reality is that it's difficult for women. Changing jobs can be a political dance. Was it the right time to leave? Would it be a bad career move?  Would a future church look down on my moving? Could I take the time to seek a job I truly felt called to, or should I just choose the first option that would bring me back? Logically, I knew we weren't alone. During this year, at least five other couples in my circle of friends moved away from our small town. Who was being the selfish one in our little twosome – him for taking fellowship offers, or me for sitting on our deck looking out over the rolling hills and not wanting to move? Was I just paralyzed by fear of disappointing people?
Finally, the financial stress was unbelievable. We have always been a fairly frugal couple. But after years of grad school, then a major car repair, then a year of unemployment, followed by another car crisis, my once-healthy emergency fund was screaming for relief. We needed more money, money that wasn't going to be found in my paralysis.
Making the choice to leave the parish has been the hardest one I have ever made. How could I get so involved in people's lives, only to leave when my own got tough? People were in love; I wanted to watch them get married. People were pregnant with babies or waiting for adoption matches; I wanted to be there when the babies were baptized. We were getting ready to remodel our kitchen and parish hall; I wanted to walk the new labyrinth and sit in the center.
At the end of the day, I hadn't actually taken vows to the parish, yet I was treating it as though it had more claim on my love and care than the actual husband. We had always said that the place that was right for one of us was the place that was right for both of us. My heart broke as I finally admitted my parish wasn't it.
After I dropped him off at the airport and returned home, I opened up the Transition Ministry Newsletters and began emailing my information to open churches. For the sake of love, it was time to leave.
---
Elizabeth A. B. Tesi is an Episcopal priest, currently serving a beloved parish in Oregon. Her professional passions are faith formation, emergency work, and sharing in the leadership of a beloved community. When not at church, she participates in triathlons, and eats her way around various cities with her beloved.
---
Image by:
mike brown
Used with
permission
https://media.myworshiptimes31.com/wp-content/uploads/sites/3/2013/09/29170726/medium_388065054.jpg
333
500
Elizabeth A. B. Tesi
https://youngclergywomen.org/wp-content/uploads/sites/3/2017/05/YCWILogo_Vert_Black-300x229.png
Elizabeth A. B. Tesi
2013-09-19 04:00:14
2018-11-13 11:44:19
Job Hunting for the Two Career Couple: When the Right Call Is Not the Church