---
Post Author: Askie, with guest expert Karen Ware Jackson
---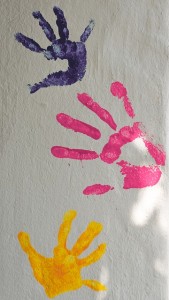 Dear Askie,
Recently, our church has seen an increase in young children attending worship. Now, I love children very much, and I know that young families are a wonderful addition to our congregation. However, the noise and commotion can be very disruptive, and really detracts from my (and others') worship experience. Our congregation offers childcare, but I guess some parents aren't comfortable with that.
Another problem is that as these children get older, they feel right at home in the church building, and can often be seen running around with little or no supervision. This can be dangerous for the children and for the unlucky folks in their path. How can our church address these problems without chasing the families away?
Sincerely,
Concerned about Children
Dear Concerned about Children,
It sounds like you realize that this is a good problem to have! To help sort through the issues of setting expectations and addressing children's behavior at church while making children and their families feel welcome in God's house, Askie reached out to the Rev. Karen Ware Jackson. A PC(USA) pastor serving in Greensboro, North Carolina, Karen speaks, writes, and consults on topics including intergenerational worship and worshiping with children. Karen writes:
Start by gathering a small group to build consensus on expectations of children in worship and in other church spaces. Make sure to include the pastor, staff and/or volunteers who work on family ministry, parents, and other interested adults. You may decide that dancing in the sanctuary aisle is fine during music, but discouraged during the sermon. Or you might designate a special adult or "worship mentor" to provide support if families need help or kids need redirection.
Make sure to communicate your work to the congregation in a positive and loving way. When children receive consistent messages, they learn appropriate behavior more quickly, but nobody wants to see the "church rules" listed like it's a public swimming pool. Try a card detailing all the wonderful things you encourage children to do during the service. Note special accommodations for families, like an interactive worship space, a worship mentor, or even a conveniently located door if a quick exit is necessary. Good communication reduces anxiety for families fretting over every little noise their child makes and allows them to worship freely and without fear of doing something "wrong." Furthermore, clear expectations help the congregation understand what to embrace as typical, "lively" worship with kids, as well as when they might offer support to children learning how to worship in community.
When you do need to step in, remember, your goal is to problem solve, not punish. A child or parent who feels scolded will be defensive and hurt. Here are some tips for how you can be kind and supportive as you help children change their behavior:
If a kid gets particularly restless during a quiet moment,try using a silent cue to help the child calm down. A certain amount of noise and movement is normal for children and part of their worship presence. Running in the aisles might not work for your church, but find ways for kids to worship with movement.
It is also important for children to learn when to be quiet and still. It is vital that the gesture be both silent and, if you feel comfortable, a gentle hand on a shoulder or moving to sit closer can help a child calm down and be still.
Redirection is a great way to quickly change a behavior. If your main concern is a Hunger Games cookie cornucopia during coffee hour, you might redirect the children with a special job. Instead of rushing to be the first to grab those yummy brownies, they could work together to serve the lemonade. Kids who try the run the gauntlet of 90-year-olds with canes might find purpose as a greeter, a door holder, or a "special escort" for their senior friends. By giving kids a job, you give them a role and a place within the community. You give them the chance to serve others, just like Jesus! This can be a powerful moment for the child and for the church. If you're struggling with little ones wandering up onto the altar during the sermon, try one of these tips to keep a child engaged in a worship service.
If you must call out to stop a particularly dangerous behavior, use the words for the action you wish to see. Say, "walk" instead of "don't run." "Stop" as opposed to "don't light your friend's hair on fire!"
As in any other situation, eye contact = connection. If your body will allow it, sit or crouch down to the child's eye level so that you can interact in a way that feels less threatening.
Speak quietly and calmly. If you are too angry to speak kindly, you are not the person to intervene. Get help.
Use the child's name and state your concern: "Sarah, I'm worried you might hurt yourself or someone else." Then, redirect: "Can you draw me a picture of you jumping? Later, we'll ask your grown-ups if I can take you and your friends to the playground."
​Remember that each child, each family, and each situation is unique. Supporting children as they learn how to interact in a cross-generational community is never simple or easy. There are a host of reasons why a child may behave in a certain way, from a sensory processing disorder to a fitful night's sleep. Make sure to connect with the whole family, and seek to be a friend. Play, laugh, and talk to the kids, so if you need to offer direction to create a safer or more considerate space, they will welcome your support.
Many thanks to Karen Ware Jackson for her wise counsel! If you'd like to read more of her advice for worshiping with families with young children, do check out her blog. Prayers for you, Concerned about Children, and for your growing congregation! I hope your faith community helps to form the faith of children for years to come. And I hope that they form your faith as well.
Blessings,
Askie
---
Karen Ware Jackson pastors and leads worship accessible for all ages at Faith Presbyterian Church (PCUSA), a small, dynamic congregation in Greensboro, NC. As the mother of two preschoolers who worship front and center, she knows firsthand the joys and challenges of parenting a child while leading an inter-generational congregation. She blogs about parenting, pastoring, and engaging all ages in worship at www.karenwarejackson.com.
---
Image by:
Taken
Used with
permission
https://media.myworshiptimes31.com/wp-content/uploads/sites/3/2016/04/29170002/paint-1098041_640.jpg
640
360
Askie, with guest expert Karen Ware Jackson
https://youngclergywomen.org/wp-content/uploads/sites/3/2017/05/YCWILogo_Vert_Black-300x229.png
Askie, with guest expert Karen Ware Jackson
2016-04-19 04:00:16
2018-11-13 11:36:22
Ask a Young Clergy Woman: Running Down the Aisles Edition