---
Post Author: Brenda Lovick
---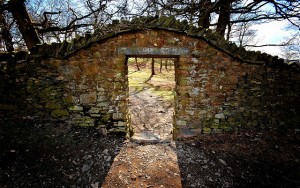 When my partner Steve and I met, we learned quickly that our family cultures would collide. I was studying in seminary; he studied science in college and worked in sales.  I spoke the spooky Minnesota "oh's"; he spoke a southern drawl.  I devoted my life to the church; he was not a churchgoer and frankly didn't care to be a churchgoer.  We often found ourselves caught in the middle of his family's Southern gentility and my family's Northern brusqueness.
Two months after we started dating, we went out for dinner. He drove me home and left. In my solitude, I launched my computer to start a search on WebMD. I had felt pain behind my knee for about four weeks, and I started thinking that it wasn't merely a strained muscle. I called my doctor and was advised to go to the emergency room.  ASAP.  Sure enough, it was a blood clot.  It was urgent.  I didn't leave the hospital that night.  I also didn't call Steve.  He had led me to believe that he had one of the most important meetings of the year that next morning.  It was midnight – too late to call anybody.  I didn't call my family.  They lived eight hours away from me, and I didn't want them to wake and drive in the middle of the night. I was safe, I wasn't going anywhere, and I didn't want to risk their safety.  I called them early the next morning.  I called Steve during his lunch hour, after his important meeting.
Steve was outraged that I didn't call him. Certainly a blood clot trumped a business meeting! He burned to question me upon entering the hospital room, but my parents were already there. Yes – my future husband and my parents met over my hospital bed! It was awkward, and the culture clash made it more so. Our relationship was new and we were still adapting to that while simultaneously my parents were forced to deal with my illness and this stranger in their midst. Soon the conversation fell silent between the four of us. I was in and out of queasiness from the pain meds.  We were fishing for things to do. My parents and I tried to show Steve the card game euchre. We failed miserably. Not because Steve didn't show any interest or want to learn, but because we were too good at playing cards and too bad at teaching. Then I puked.
I spent five nights in the hospital.  Two days later, it was Christmas.  Our Christmas was a mish-mashed mess of mixed family traditions. It was filled with uncomfortable introductions and last-minute gift purchasing.  There were many quiet moments because I needed to rest while everyone else hung out, almost twiddling their thumbs at one another.
These days were exasperating.  New people and situations, uncertainties, insecurities, and misunderstandings seemed to be a whirlwind that lasted two weeks.  When everyone went home, I finally had the chance to process the craziness that had transpired.  I realized the differences that I found so challenging in Steve and his family were exactly the reasons that I knew I would be with him forever.
We've made many interesting memories since that hospital Advent in our relationship.  Our Southern family is astounded at the ambiguous gender roles we exhibit.  Our Northern family sometimes shrugs their shoulders.  Some people see our relationship as challenge.  We see it as opportunity.
What would our world be like if we saw differences as opportunity?  Jesus loved Samaritans; Paul welcomed Gentiles.  Could the church be so bold?  We build stone walls between one another in so many ways.  These walls often birth the ugliest parts of humanity: sexism, racism, ethnocentrism, classism, ageism, etc.  I easily see my family differences as opportunity; it's harder to see when looking at my congregation, my community, or at the larger context of today's world.
I try – sometimes well, most times wretchedly – to express difference as opportunity.  I often feel as though I am the one behind a stone wall, desperately trying to find a door to open. It took me nine years to get through a four-year process for ministry candidacy and ordination.  I am one of the youngest adult members in my congregation and my rural community. God has called me to be the first female (sometimes pregnant) pastor of my congregation.
I bring an unusual liveliness to ministerial meetings simply because of who I am. For example, when a conservative pastor shares a generalizing opinion about Christianity or what "we" believe, I tactfully remind him that there are Christian people outside of his ideology.  That's not generally popular.  Some believe this may give people more fervor to say that women shouldn't be pastors.  Many pastors loathe participating in this kind of conversation. I feel strongly that we need to plant conversational seeds that ask, "Who is this Jesus that we follow?  How do we faithfully follow together? How do we stop building stone walls? In our differences, how is God opening doors for new life?"
Eight years into our marriage, Steve still does not define himself as a churchgoer. He comes to church because it's important for me and our family. He made the promise at our children's baptisms that he would.  It's not easy to be a single parent in the pews.  He supports me wholeheartedly; and when not wrestling with a toddler, he can listen to my sermons.  Steve gives excellent feedback.  He'll say, "This didn't make any sense; too much jargon.  Real people sit in the pews, not theologians. Talk to us in real language."  Every once and awhile, we dig deeper in conversation.  He asks me why I believe the "silly myth" that I believe.  I challenge him to think anew about life lived in Christian community. We have conversation that helps us understand one another and our differences and binds us together as we discover new similarities.  People struggle opening themselves to those who are different.  I struggle with it too.  But living with someone who is so different from me opens all kinds of doors for us to learn more about ourselves and one another.
Steve and I have learned together that we can build doors into those walls our society puts between us.  This helps make our relationship authentic.
We keep hearing from the blogosphere that people in the postmodern, post-Christendom church want a reformed, authentic church. We lose authenticity when we ignore the truth that everyone is fundamentally the same. Differences can overwhelm the similarities; they keep us from seeing that we have the same basic goals: love, security, dignity, legacy, wholeness. When you tear down those fractious walls, our diversity becomes beautiful and we can actualize our common humanity.
I crave that people in our church dig deep into uncharted horizons where we love, honor, and invite different people to join our table. I want to see conversation that is tender yet challenging and visionary.  I hope to find doors built into our defensive walls so that "different" is no longer taboo heresy.  I long for the day when, rather than blaming someone for being offensively different, we embrace one another for our common humanity.  I yearn that one Christian learn from another's human experience as if it was her own.  I pray to God with Jesus, "that they may be one as we are one." (John 17:11b, NIV)  My dream for Christ's church is that it's an open door, as bright as a skylight in the dark, thick walls, connecting two divided sides.  It's an illuminating place where all God's saints can peaceably abide together.
Photo by Victor Bayon, http://www.flickr.com/photos/formalfallacy/2367382622/, August 13, 2013.  Used by Creative Commons License.
---
https://media.myworshiptimes31.com/wp-content/uploads/sites/3/2013/08/29170739/2367382622_010b1869e3_z.jpg
401
640
Brenda Lovick
https://youngclergywomen.org/wp-content/uploads/sites/3/2017/05/YCWILogo_Vert_Black-300x229.png
Brenda Lovick
2013-08-15 04:00:45
2015-02-17 20:29:44
Difference: Stone Walls or Open Doors?