---
Post Author: Rachel Kessler
---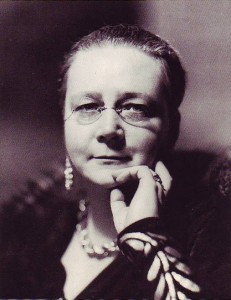 "So long as the Church continues to teach the [humanity] of God and to celebrate the sacraments of the Eucharist and of marriage, no living man should dare to say that matter and the body are not sacred to her. She must insist strongly that the whole material universe is an expression and incarnation of the creative energy of God."
Dorothy L. Sayers, "Creed or Chaos?"
Although I am an American, this month, I passed my 10-year mark living in Canada. Certainly, much has happened in my life in a decade. (Producing a tiny human being for one!) But the biggest shock in that time was stepping off the path toward an academic career and discovering a vocation in the church. As I ponder that transition, I realize it would not be a stretch to say that I might not be a priest today—or even an Anglican—if I had never encountered the work of Dorothy L. Sayers. Ok, that's probably not fair. I am quite confident the Holy Spirit would have found some other way to get through my thick skull. Yet Sayers' reflections on the creative mind of God and the drama inherent to the Christian story salvaged my faith at a particularly vulnerable time in my life.
These days, if anyone is familiar with the work of Dorothy Sayers at all, they know her through the adventures of her aristocratic sleuth, Lord Peter Wimsey. I have never been much of a murder mystery fan, but I am enough of an academic nerd to appreciate a series in which the protagonist finally convinces the love of his life to marry him by proposing to her in Latin, thereby signaling their intellectual equality. Not bad for the 1940s! But Sayers was far more than a mystery writer. She was among the first women to graduate from Oxford (in 1915), as well as a close associate of the famous Inklings literary group. Being barred from academic pursuits, Sayers earned her keep writing copy for an advertisement firm for several years—a forerunner of Mad Men's Peggy Olsen. This afforded her a keener eye for cultural commentary than her male colleagues, like C.S. Lewis.
At the time when I first encountered her work, I was entering the second year of my PhD program, and honestly, I was feeling a bit burned out. I was also ripe for spiritual renewal, after moving away from the Baptist  faith tradition of my childhood, which had never been the right place for me. On the recommendation of a friend, I picked up a copy of Sayers' essays compiled under the title Letters to a Diminished Church.
Sayers spoke to me in a way no Christian writer had before. Yes, she is unapologetic in her defense of Christian doctrine, but not out of reactionary "defensiveness." As she often says, "the dogma is the drama"—the "terrifying drama of which God is both victim and hero." Her essays introduced me to the passion and the joy of the Christian story. Through her words, I met a God who is first and foremost a creator, and specifically, the creator that came and inhabited his own creation. I encountered a valuing of God's material world that made me finally able to embrace the activity of God in the church's sacramental life. Not to mention, the woman is just able to have fun with her faith. How can you not love someone who titles a collection of essays The Whimsical Christian?
It was particularly in Sayers' reflections on the sacraments that I found what I can only describe as the missing link in my spiritual journey up to that point. I had never resonated with an expression of Christianity that seem so resistant to any physical elements of faith. When I read her words about the sacraments (quoted at the top), it was as if a light went on in my head. Of course God can work through material elements like bread, wine, and water! Of course our bodies are as redeemable as our souls! Our belief in the Incarnation must have ramifications for how we value all of creation. Not long after, I found myself sitting in the rector's office discussing not just confirmation, but also ordination.
In the near decade that has passed since then, Sayers has been a faithful guide on my spiritual journey. I return to her when I need to be reminded of the joy I take in my faith. The more I learn of Sayers' life, the more I find her an inspiring Christian witness. I appreciate her struggle to be taken seriously as a scholar. She had a son out of wedlock in her youth, whom she kept hidden from even her closest family, until she adopted him later in life. Sayers remains an example of humility and strength that encapsulates the Christian life at its best.
We might be a bit behind the ideal season for summer reading. But if you find a moment, pick up a copy of Gaudy Night (the finest of the Peter Wimsey mysteries), Sayers' translation of Dante's Divine Comedy, or her exploration of the creative activity of the Trinity in The Mind of the Maker. Dorothy L. Sayers may be an obscure spiritual foremother, but she is one well worth getting to know.
---
The Rev. Dr. Rachel Kessler is the associate priest at Grace Church on-the-Hill in Toronto, Ontario (Anglican Church of Canada). She is married to Leeman, an actor and stay-at-home dad, and they have an almost one-year-old daughter named Amanda. Rachel blogs at www.gracechurchonthehill.ca/rachelsblog.html
---
Image by:
Tellmewhat
Used with
permission
https://media.myworshiptimes31.com/wp-content/uploads/sites/3/2014/09/29170440/Sayers-e1411326601528.jpg
542
417
Rachel Kessler
https://youngclergywomen.org/wp-content/uploads/sites/3/2017/05/YCWILogo_Vert_Black-300x229.png
Rachel Kessler
2014-09-23 04:00:51
2015-08-25 18:20:48
How Dorothy L. Sayers Made Me an Anglican