---
Post Author: Rev. Katie Voigt
---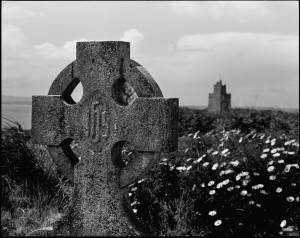 In the first year of serving my first church, I decided to wander through the village cemetery for the first time. I was on a mission to find a famous person's headstone. After I had found Jane Addams' burial place (she founded Hull House in Chicago, a settlement house, in 1889), I wandered around the rest of the cemetery. I don't remember whether or not I had officiated a funeral yet, but I recall walking down a new row and being jarred to a complete stop. There, in front of me, was a stone that had a couple's names etched on it. The wife had died already; the husband was a man I visited in the nursing home. I stood there, stunned, for minutes, knowing that I would be the pastor who laid the husband to rest behind that stone.
I had never faced that surety before. It was one of those moments when I knew I was a pastor. The man was frail in body, but passionate in mind. He loved to chat about what was happening in his church and retelling the history of the village. Upon meeting him, I quickly learned that my congregation would lose a huge knowledge base when he left this world. (He had been in town when Jane Addams' body was returned for burial, he had heard Helen Keller speak, and he had touched Abraham Lincoln's nose – the one on Mount Rushmore!). In this moment, I grieved that his body would give out long before his mind did. Two years after my moment in the cemetery, I did bury this man. I was honored and privileged to be able to be a part of his life.
Now, I am eleven years into my ministry. My mind flashes back to this today when I am in a different cemetery, looking for the plot where I will bury another faithful saint tomorrow. It's my first year in this current church, and as I drive around the cemetery I see three headstones with familiar names of living people I have already come to love. I get out of my car and stand at the stone for each name, observing the final resting places of the people my parishioners and I love.
I am struck by how different my physical and emotional responses are. As I stand in a similar place today, there is no fear in what I will be called to do. I can love my people in the here and now. I know that if and when their time comes while I am still their pastor, I will stand at those gravesides and help lay them to rest. After many funerals and families thanking me for words of comfort, I know that I will, to the best of my ability and with God's help, lay these people to rest with dignity, respect, and the promise of hope in the midst of grief.
Years of experience have calmed me. While I still am in awe that I am allowed into people's lives during these difficult times of loss and grief, the fear from years' past isn't there. I know that with God's help and strength I am up to the task. I know that my job at a funeral is to speak the words of hopeful reassurance that death does not have the last word. Our faith tells us that this is the best place to be. I am honored to be the one who calls to remembrance the promises of Christ: we are not abandoned, we have a place prepared for us, we live with assurance of something more, and we serve a God who conquered even death.
These promises keep me grounded and passionate for ministry. They are etched deeper in my heart than those names are etched in stone. The walks through the cemeteries are becoming a spiritual practice for me. I am grateful for new learning and deep theological reflection that are necessary for clergy yet can seem to be luxuries amid the tasks of ministry. I know there will be other cemeteries to walk through, other names to see etched on headstones, and other parishioners to love.
I trust that God continues to guide me in walking with families into the promise of the resurrection. I pray that the next time something in ministry catches me unaware, the next time I stop in my tracks to notice this difficult task in front of me, I can trust that God has called me into this place. I know God will equip me with every tool necessary for the task, just as God has always done.
---
Katie Voigt is an Elder in the United Methodist Church. She gratefully serves the church in Northern Illinois while maintaining loyalty to Wisconsin sports teams. There is still some debate over where her etched headstone will be found.
---
Image by:
nahlinse
Used with
permission
https://media.myworshiptimes31.com/wp-content/uploads/sites/3/2014/09/29170446/13934149385_697e2ac089_b.jpg
812
1024
Rev. Katie Voigt
https://youngclergywomen.org/wp-content/uploads/sites/3/2017/05/YCWILogo_Vert_Black-300x229.png
Rev. Katie Voigt
2014-09-11 04:00:01
2019-08-15 17:10:51
Etched in Stone