---
Post Author: April Berends
---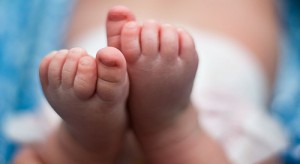 The parish Christmas pageant took place today.  My nine-month-old son was slated to play the baby Jesus.  There was no competition for that role this year, despite my efforts to recruit a few of my not-so-churchy friends who had recently had babies.
Usually, the parents of the infant playing baby Jesus also play the roles of Mary and Joseph.  I opted out of this, as I am the church's only priest, and had to preside at the Eucharist following the pageant.  Besides, my "Joseph" was thirty-five miles away at his own parish, leading the Eucharist there.  A nice graduate student couple, recently engaged, filled out the rest of the Holy Family.
On Sunday morning, we arrived early, a lot earlier than I am used to getting to church these days.  I thought I would feed my son and lay him down for a nap in the playpen in my office.  He had awakened an hour earlier than usual that morning and was in need of a nap by 8:30.  This, of course, was not to happen.  He does not spend a lot of time in my office.  He kept looking around, crazy stimulated.
I took him upstairs where the other kids were getting ready.  His eyes grew wide as he took in the sparkly angels, the rag-tag shepherds, the kings in their shimmery eight-year-old splendor, and the star swinging from a pole held by a five year old swathed in gold lamé.
A dad from the Sunday school walked around snapping pictures.  Another one held a video camera.  My son just took it all in, two fingers in his mouth, his sign for "I'm tired."  It was going to be a long morning.
I went to change his diaper right before the service started.  A golden fountain erupted.  He peed all over his costume.  The zipper got stuck on the bunting that he was wearing.  And then he started to scream.  I am sure that I am not the only parent who has cursed while getting her child into a Christmas pageant costume, and I am sure that I will not be the last.
I cleaned up the pee, used the last of the wipes to mop off my son's skin, dressed him in a clean onesie, handed him to a middle school student who was about to assume the role of an innkeeper, and rushed to the sacristy to put on my own vestments.
I returned to the parish hall to say a prayer with the pageant cast, the choir, and the acolytes before the service.  Right before I started the prayer, a rather precocious wise man pulled on my sleeve.  "I have a question for you.  Is it true that a donkey can also be called an ass?"  I glanced over at the kid playing the donkey.   "Yes, that is true," I said, "but today we are going to use the term 'donkey.'"
The pageant went off without a hitch.  God showed up once again.  People love to hear that story, especially when it is told by cute children wearing crazy get-ups.  My son sat there on a twenty-something philosophy student's lap, bouncing up and down and sucking his two fingers.
I whispered a prayer, "You are some crazy God, to come in to all this."
After church, we had a lovely lunch hosted by our hardworking kitchen crew who already volunteer for way too much stuff.   A bunch of dads sawed away at the Christmas trees, two of which go in the front of the church, and one of which goes in the parish hall.  The kids made ornaments.  Moms sorted costumes.  People ate and were generally merry.  About fifty people asked me questions about stuff.
I plopped my son in a highchair and spilled some Cheerios on the tray.  He started picking them up one by one.
One of my regulars showed up.  He is a man who struggles with severe mental illness who frequently stops by for help with his medication co-pays and other things.  I have been very clear with him, and with other people who regularly seek financial assistance from the church, that he is welcome to join us for worship, but that he has to come during business hours for help with other things.  Today, though, all bets were off.  His father had just died.  He could barely speak.  I looked at my son, picking up cereal off of his tray.  I grabbed a parishioner in passing and asked her to keep an eye on him, and I just left him there, sleepy and cranky and surrounded by the bustle.
I was so torn, torn between this man with his desperation and his sometimes deviousness and his sorrow, and my son, who was so tired, and sweet, and so mine.   And for a moment, I longed to have a normal day at church with my family just once, a day where we could sit together and sing and listen and I wouldn't have to be in charge, where I could change my kid's diaper without someone knocking at my door, where I could walk through the parish hall without ten people stopping me for this, that and the other thing.
And then, I thought to myself, my son will be okay.  These people will take care of him.  He is mine, but they will look out for him.
My son came home smelling like other people, as he often does on Sunday mornings.  I'm guessing that the real Baby Jesus, once he grew up, often smelled like other people at the end of the day, too.  He was always touching and being touched.  He was just that kind of guy.  He was just that kind of God.
I tucked my son into bed, his eyes dark in the dim light of his bedroom.  He is so small, so dependent, and yet so beautiful.  As I set him down in his crib, he slipped those two fingers back into his mouth and gazed back at me while I sang him to sleep.  "Away in a manger, no crib for a bed…"
Photo by Paul Hocksenar, http://www.flickr.com/photos/[email protected]/2807927059/, December 25, 2013, Used by Creative Commons License.
---
https://media.myworshiptimes31.com/wp-content/uploads/sites/3/2013/12/29170641/2807927059_0453890fb4.jpg
273
500
April Berends
https://youngclergywomen.org/wp-content/uploads/sites/3/2017/05/YCWILogo_Vert_Black-300x229.png
April Berends
2013-12-25 21:03:44
2018-11-13 11:43:42
Diapering "Baby Jesus"