---
Post Author: Name Withheld
---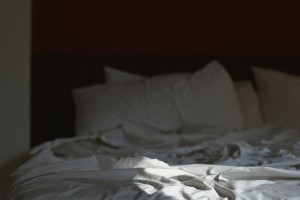 The first time I had sex outside of marriage, I was 35.
I'm honestly not sure how I managed to grow up thinking that I had to save myself for my future husband. My progressive, Episcopalian, east coast upbringing certainly didn't push any such agenda. But in my teens and early twenties, I clung to the romantic fantasy of the Perfect Wedding Night, and insisted on marrying my college boyfriend when we were both 23 and had never seen each other (or any other unrelated adults of the opposite sex) naked.
There were many reasons for our divorce a decade later, but the fact that our sexual relationship was never more than mediocre was certainly one of them. As I was wrestling, personally and theologically, with the death of my marriage, I realized that my refusal to explore this aspect of our relationship before marriage had actually contributed to its failure. No matter what the nuances of one's approach to the subject, I think most Christians can agree that divorce is a greater evil than premarital sex.
That was the beginning of a deeply unsettling, but ultimately freeing, revision of my personal sexual ethic. As a divorcée, pastor, and single mother, I was navigating choppy waters, to be sure. My denomination is a hierarchical one, so my ordination vows included promises to "respect and be guided by" my bishop and to "pattern your life and that of your family in accordance with the teachings of Christ, so that you may be a wholesome example to your people."
In a very real sense, my personal life is public, and it's part of my bishop's job to know how that personal life is going. Nevertheless, I came to the conclusion that what would ultimately be best for my family, for the congregations I serve, and for any future relationships, would be for me to be fully, responsibly, authentically myself in this new and unexpected dimension of my life – dating and (possibly) mating in my 30s.
I had a long time to think about it. I didn't meet anyone I was actually interested in becoming intimate with until I had been divorced for more than two years. By the time I did, I was clear in my own mind that I would consider it criminally irresponsible to commit again to the intention of a lifelong relationship with a man, without having experienced physical intimacy with him.
Letting go of the conviction that "sex within marriage = good, all other sex = bad" meant I had to discern new, more nuanced criteria. Although there are many details on which I disagree with St. Paul, I do think he hits on a very important truth when he asserts that any sexual relationship, even a one-night stand, creates a lifelong bond. To sleep with someone is, in effect, to consent to carry them around with you for the rest of your life, even if you never see them again. That's a pretty high standard to meet, when you think about it.
I articulated this for myself as the basis of my new ethic, and supplemented it with the idea that in order for a sexual relationship to be sound and life-giving, I would need to be able to get up from lying in bed beside my partner and go directly to my prayers, without feeling that there was anything I wanted to hide from, or confess to, God.
I had the chance to put my new ethic into practice when I met J. As it turned out, the decision was hardly a decision at all. (The hardest part may have been figuring out how to give my bishop the heads-up; mercifully, the bishop is a sane and sympathetic one, and I serve in a part of the country where gossiping about whose car is parked overnight in the pastor's driveway is considered to be in poor taste. Still, it takes some careful wordsmithing to send an email informing the person in ecclesiastical authority over you that you're planning to sleep with your boyfriend.)
J.'s intelligence and caring, and the respect with which he treated me, made it clear that this was someone with whom I was safe being both literally and spiritually naked, and with whom I would be proud to be connected forever, regardless of the outcome of the relationship. And the quality of the experience, after my tepid marriage, was a revelation of just how profound the possibilities for blessing are, in this embodied life that God has bestowed on us.
Sadly, despite mutual love, desire, and goodwill, my relationship with J. came to an end. I have not yet found a lifelong partner. I have sometimes skirted closer to the edge of my own boundaries than I really like to admit; loneliness and physical longing are powerful things, and I have had my moments of regret. But overall, the way I live my life now feels truer, to myself and to my understanding of God's desire for God's creation, than the repression and willful ignorance of my teens and twenties. Dating is still hard. Sex is unquestionably full of vulnerability and risk as well as pleasure, beauty, and connection. But isn't that true of all of life, especially a life deeply informed by an incarnational faith?
---
Image by:
Al Ibrahim
Used with
permission
https://media.myworshiptimes31.com/wp-content/uploads/sites/3/2016/04/29170005/9386889596_4686713edc_z.jpg
427
640
Name Withheld
https://youngclergywomen.org/wp-content/uploads/sites/3/2017/05/YCWILogo_Vert_Black-300x229.png
Name Withheld
2016-04-07 04:00:28
2018-11-13 11:36:22
Faith in the Flesh