---
Post Author: Lisa Marchal
---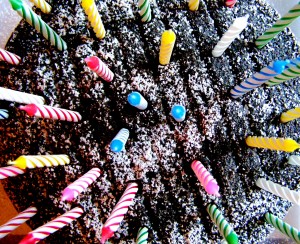 I had braced myself for a while. I came to the Project in my mid‐thirties, so I knew I'd want to make the very most of each year I had with the fabulous women I was coming to know. But that wasn't all. Let me be frank. Victor Hugo said, "Forty is the old age of youth," and it was freaking me out. I was lucky: I grew up in a family of women who didn't have age issues, so I hadn't had any of that projected onto me. No, I came up with the age issues all on my own.
My journey with The Young Clergy Women Project (TYCWP) and my experience on the utterly fabulous board were intertwined. I joined the board and the Project at the same time, and the way it fell, I was only in the Project one year after leaving the board before ageing out completely. I felt the triple whammy: saying good‐bye to the board in which I'd invested so much time, saying good‐bye to the circle of sisters on the whole, and saying hello to feeling like the best was behind me. I was dreading it, and the people close to me knew it.
Then I woke up the day after my birthday, and what do you know? I didn't feel compelled to crumble into a corner.
In fact, my forties have been fairly cool. I recommend turning forty to any woman. I've been able to move into a new place, complete a leadership program at Duke Divinity, start working with a personal trainer, hit a couple of modest financial goals, and have a heck of a lot of fun. And do you know what else? My sisters didn't go anywhere. Yes, it's been different not engaging on a less frequent basis, both online and offline, and I feel a sharp pang of sadness each year when conference time comes around (my gosh, those were fun). Even as I continue to live into this new way of being a clergywoman, it's nice to stand in a spot where I can lean on a measure of wisdom and knowledge that only arrives when you've been in ministry for fifteen years or so. I'm enjoying chatting with new faces and old in the YCW Alumnae Group that's slowly been forming online. I remain grateful for all those sisters who just kept right on staying in touch. How silly of me – where did I think they would go?
I remember the evening I officially stepped out of TYCWP. It was some time the week of my fortieth birthday. Wonderful messages had been showing up all day from my clergy sisters as Facebook informed them both that it was my birthday and that my time was up. I was a bit overwhelmed by the kind words, and I captured all of them so I could read them whenever I wanted. Crafted the best response my heart could offer, posted it, took a deep breath, clicked on "Leave group," and quietly said an "amen."
I will never not be a part of The Young Clergy Women Project. It's part of my breath and body, a deeply treasured part of my story, and a way that God clearly and specifically showed grace and love to me during a tender and tough phase of my life. But I like the chapter that I'm in now, and I take everything I gained with me into this new thing God is doing – whatever that turns out to be.
---
Rev. Lisa Marchal is Senior Global Grassroots Associate and has been on the RESULTS/REF staff since March 2008. She her work focuses on supporting all aspects of the advocacy done by RESULTS US  groups  who  work  on  global  poverty campaigns.  Before  joining  staff,  she  interned  as  a  Global Grassroots  Organizer  from  July  2007  until  March  2008.  She  was  ordained  as  an  elder  in  The  United Methodist Church in 2004 and served local churches in Indiana, Ohio, and London in various capacities beginning in 1994. She earned her B.A. in speech communication from Indiana University in 1996 and her M.Div. from Methodist Theological School in Ohio in 1999. She has also done graduate‐level studies in human rights at the Institute of Commonwealth Studies, University of London.
---
Image by:
Shelley Brunt
Used with
permission
https://media.myworshiptimes31.com/wp-content/uploads/sites/3/2015/04/29170244/2698358778_b5cecee94f_o.jpg
2304
2828
Lisa Marchal
https://youngclergywomen.org/wp-content/uploads/sites/3/2017/05/YCWILogo_Vert_Black-300x229.png
Lisa Marchal
2015-04-09 04:00:39
2018-11-13 11:39:15
Forty: Ageing Out of TYCWP