---
Post Author: Julie Jensen
---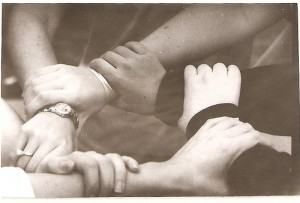 It didn't start out as an intentional project.  I didn't sit down one day and say, "I need a tribe", and then set out to collect various individuals to gather around me as I moved through life.  It just sort of happened.  I read the book, Tribal Church: Ministering to the Missing Generation by Carol Howard Merritt, and saw myself in it.  Not as pastor, but as person.  She defines tribe as, "a term for subculture, a network of relationships, or a group of people who care for each other in the most basic ways" (8).  I am in my 30's and friends and family are as close as next door and as far away as halfway around the world.
I have learned over the years that when you are far from biological family, you tend to create another kind of family – the group I call my tribe.  I am "aunt" to some children in our church, and have been invited to school plays and sports events.  There are others who will come at a moment's notice to help fix whatever I've broken or help me hang plants.  My local friends and I share hobbies, good food, and a love of Doctor Who.  I have folks who cheer me on from far away states when I run yet another 5K.
And I reciprocate.  Having a tribe is not "what can they do for me", but how do we support each other?  This year I ordered Girl Scout cookies from Virginia and bought some from down the street.  Prayers are lifted daily for folks I have not seen in years, and a phone call closes the mileage gaps quickly.  Being part of a tribe means pet sitting and errand running, and walking on the beach and traveling to one another, even if it takes longer to get there than it does for the visit.
The winter of 2012 brought a series of deaths to the congregation I serve.  It seemed that every week between mid-November and New Year's we had a death and a funeral.  The news just kept coming.  One Monday our staff came into the office having received the word of a sudden death and we were numb.  It soon came to be lunchtime and we ordered pizza and sat in an office and ate and were just there for one another.  I still remember sitting on the floor, a greasy slice of pepperoni in my hand, looking around those faces of people I had only known for a year and seeing a group that was, in that moment, family.  We still are like family – and all that comes with that, good and bad.  We are a tribe.
I did not intend to gather a tribe that has doctors and pastors and teachers and trainers.  I did not intend to gather a tribe that swaps pet sitting duties, passes the Kleenex when a good cry is in order, celebrates the successes and joys of life, or speaks the truth in love.  Rather, I looked up one day and saw the richness of the relationships I have with others, and I give thanks for them.
---
Rev. Julie Jensen is Associate Pastor at First Presbyterian Church, in Cartersville, GA.  She also serves as a member of the TYCWP Community Board.
---
Image by:
MaryScheirer
Used with
permission
https://media.myworshiptimes31.com/wp-content/uploads/sites/3/2013/05/29170821/hands-linked.jpg
339
500
Julie Jensen
https://youngclergywomen.org/wp-content/uploads/sites/3/2017/05/YCWILogo_Vert_Black-300x229.png
Julie Jensen
2013-05-16 04:00:27
2018-11-13 11:45:30
Gathering a Tribe