---
Post Author: Emily M. Brown
---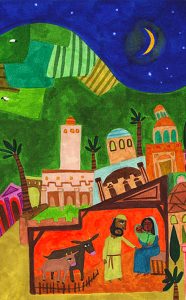 Everyone imagines themselves as the hero of their own story. Especially every child — and I was a child. They all imagine themselves as heroes. That's not a new thing; it's like that here in your twenty-first century American lives, but it was like that where I lived, in Nazareth two thousand years ago, as well. Your boys and girls have the heroes that they imagine: Wonder Woman, Iron Man, PJ Masks, Moana, GI Joe, Harry Potter. They're inundated with them: hundreds of heroes, on television screens and in movie theaters, in newspaper comics and novels. Watch the children sometime, and see how they play: averting global disasters at the playground, setting up elaborate Lego battlefields, going on daring adventures through their back yards, covering themselves with temporary tattoos. They all want to be heroes.
So did I, but our heroes were a little bit different.
You have to understand that those Roman soldiers could do anything. There was no due process, no body cameras, no professional code of ethics — not that those things always make a difference for you, but even those flawed safeguards were not there for us. Rome had conquered my town and those soldiers could do anything they wanted.
So we would go to our religious services, passed off to the authorities as innocuous. They respected things that were ancient, and our faith was as ancient as they come: ancient stories, ancient scrolls, ancient traditions. They thought our religion kept us busy, kept us industrious, kept us docile. But every little child, boy or girl, wants to be a hero, and that's what I was. So I learned the stories of our heroes. Moses, who led the people out of slavery in Egypt, who stood in the presence of God on Sinai. David, who as a boy stood fearless with his slingshot and felled the giant Goliath. Jeremiah, who heard the voice of God in his boyhood and fearlessly reprimanded the wicked and faithless. And there were other heroes, too: Ruth and Naomi, left widowed and making their way in the world. Jael, deceiving and impaling Siserah, Esther, risking everything to advocate for her people to the king.
Those were the stories that shaped me and formed me as a child. Those were the games I played with little dollies of stick and stone and scraps of cloth, the stories I acted out in the fields or the roads while my parents talked and worked and traded. Every child wants to be a hero, and every hero needs a catch phrase. Among our people, there was a catch phrase for our heroes: the words that someone says when God calls him to be a prophet. It's just one word, actually: hinneni. It means something like "this is me," or "I'm right here," or "I'm game," but that doesn't quite sound solemn enough for scripture, so you usually translate it this way: "here I am." When God calls Moses from the burning bush, Moses responds, "Here I am." When God calls the boy Samuel to be a prophet, Samuel responds, "Here I am." When God says to Isaiah, "Whom shall I send, and who will go for us," Isaiah responds, "Here I am, send me!" It means that you don't know what danger or adventure might lie in front of you, but you are good for it. You are willing to be brave, to take risks, to lay down your life if you must, to be part of God's plan, and to be one of the heroes in God's story.
Every child wants to be a hero, but by the time I was engaged, it was getting to be time to put aside childish things. Games of Israelite and Philistine were a distant memory, my hours of play with sticks and stones had vanished as I took on more of the household chores, and my hero fantasies happened mostly in daydreams while I washed clothes and kneaded dough and fetched water from the town well.
To be honest, on that day that changed everything, I was immersed in one of those day dreams — a day dream of saving my people from the wicked kings and armies that reigned over us — when it happened. I was at the well, drawing water, when I felt someone watching me. I was in that dangerous time when a girl no longer looks like a little child, but is not old enough to marry, and my parents sent me to the well with trepidation, preferring to keep me at home and away from the eyes of Roman centurions and so on. They had made arrangements for me to marry Joseph, and my status as a betrothed young woman was supposed to provide some additional safety, but the Romans didn't always care about that. So that sensation of a presence behind me, watching me, was familiar and uncomfortable, a bit frightening. I finished drawing water and turned to see who was there. It was nothing human. I can't quite describe it — a radiant something, like a man but not quite like a man. "Greetings, favored one," he said, "The Lord is with you." Nobody else seemed to see this breath-taking, luminescent messenger that stood before me. The other women and girls were going about their business, drawing water, chit-chatting. I looked around to see if any of them saw what was happening. As I realized that I was the only one who saw him, a jolt of fear and excitement tingled through my body.
"Do not be afraid, Mary," the messenger said. "You have found favor with God. You will conceive in your womb and bear a son, and you will name him Jesus. He will be great, and will be called the Son of the Most High and the Lord God will give him the throne of his ancestor David. He will reign over the house of Jacob, and of his kingdom there will be no end." I'd heard stories before of divine messengers promising babies, but it was always to married women in the stories I knew. And I wasn't a married woman yet, but I knew where babies came from. "How can that possibly be?" I asked. "I haven't been with any man." The messenger responded, "The Holy Spirit will come to you, and the power of God will enfold you; therefore the child to be born will be called holy; he will be the son of God." The messenger told me that my elderly, infertile cousin Elizabeth was in her sixth month of pregnancy with a son! "Nothing is impossible with God," he said. And then he looked at me, and waited.
Every child wants to be a hero. I knew what he was waiting for: God calls, but God does not force. Everyone whom God calls gets a chance to say yes or no.
Looking back, I had no real idea what I was agreeing to. I knew some of it, yes. I knew how quick people would be to shame and condemn a young woman with a baby in her belly. I knew that whether they thought the father was Joseph or a Roman centurion or a boy from the neighborhood, I would be the one to bear the shame and the cruelty and the penalty. I knew that it wouldn't matter what I said had happened. I knew all of that.
I knew I was agreeing to an extraordinary life, and maybe a dangerous one. Telling me that my son will sit on the throne of David is a terrifying promise when Caesar reigns.
But there were other things I did not know: the day I would watch my boy head resolutely into the desert. Forty days and nights of worry, wringing my hands and watching the horizon, and finally the day that he came trudging back, all skin and bones. The days following along behind him, watching his influence grow, seeing his message spread, all with a note of fear in my heart: "he will sit on the throne of David," I would remember, as religious and civil authorities appraised him and his followers. Then, finally, that awful day on Golgotha. I watched him take his first breath; it was too much to see him take his last. I didn't know I was agreeing to that. I don't know if I would have been brave enough to say yes, if I had known.
Maybe none of us ever really know what we're agreeing to when God asks us to be part of something bigger. Maybe we can only see the step in front of us because we would run away in terror if we saw the whole path. But nothing will be impossible with God. Step by step by step, an illuminated path to God's reign. He will sit on the throne of David, and reign over the house of Jacob, and of his kingdom there will be no end.
Every child wants to be a hero. And so I took a deep breath, and I said the words: the words that you say when God asks you to do something: "Hinneni. Here I am: God's servant. Let it be with me just as you said."
Not everyone sees an angel. Not everyone has to agree to what I agreed to, or bear what I have borne. But over the years, I have started to think that every person, every day, has a chance to say those words. Not just as part of pretend play, but to say them for real: Here I am, a servant of the Lord. Here I am, to love my neighbors. Here I am, to preach the good news. Here I am, to feed the hungry. Here I am, to resist oppression. Here I am, to practice forgiveness. Here I am, to serve God.
Every child wants to be a hero. Maybe every person wants to be a hero. Here's the good news: God is calling each of us. When God asks you to be part of God's reign, what will you do? What will you say?
---
The Rev. Emily M. Brown is ordained in the UCC and serving as Pastor of First Reformed Church in Hastings-on-Hudson, New York. She received her bachelor's degree from Harvard University and her MDiv from Union Theological Seminary. She was the 2010 recipient of the David H. C. Read Memorial Preacher/Scholar Award, given annually by Madison Avenue Presbyterian Church, as well as Union Theological Seminary's Kneeland Award for excellence in preaching. She serves on the UCC New York Metro Association Board of Directors and on the Board of Young Clergy Women International, and is the Managing Co-Editor of Fidelia. Stepmom to one child and mom to two more, she enjoys exploring great restaurants and bakeries, reading memoirs and graphic novels, choral singing, and playing in a competitive online trivia league. 
---
Image by:
Kate Cosgrove
Used with
permission
https://media.myworshiptimes31.com/wp-content/uploads/sites/3/2017/12/29165548/nativity-kate-cosgrove-from-editors-dec-2017-featured.jpeg
200
300
Emily M. Brown
https://youngclergywomen.org/wp-content/uploads/sites/3/2017/05/YCWILogo_Vert_Black-300x229.png
Emily M. Brown
2017-12-26 11:45:35
2018-11-13 11:33:05
Hero