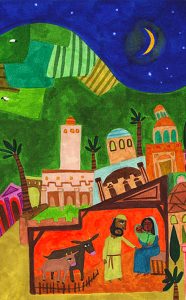 Everyone imagines themselves as the hero of their own story. Especially every child — and I was a child. They all imagine themselves as heroes. That's not a new thing; it's like that here in your twenty-first century American lives, but it was like that where I lived, in Nazareth two thousand years ago, as well. Your boys and girls have the heroes that they imagine: Wonder Woman, Iron Man, PJ Masks, Moana, GI Joe, Harry Potter. They're inundated with them: hundreds of heroes, on television screens and in movie theaters, in newspaper comics and novels. Watch the children sometime, and see how they play: averting global disasters at the playground, setting up elaborate Lego battlefields, going on daring adventures through their back yards, covering themselves with temporary tattoos. They all want to be heroes.
So did I, but our heroes were a little bit different.
You have to understand that those Roman soldiers could do anything. There was no due process, no body cameras, no professional code of ethics — not that those things always make a difference for you, but even those flawed safeguards were not there for us. Rome had conquered my town and those soldiers could do anything they wanted.
So we would go to our religious services, passed off to the authorities as innocuous. They respected things that were ancient, and our faith was as ancient as they come: ancient stories, ancient scrolls, ancient traditions. They thought our religion kept us busy, kept us industrious, kept us docile. But every little child, boy or girl, wants to be a hero, and that's what I was. So I learned the stories of our heroes. Moses, who led the people out of slavery in Egypt, who stood in the presence of God on Sinai. David, who as a boy stood fearless with his slingshot and felled the giant Goliath. Jeremiah, who heard the voice of God in his boyhood and fearlessly reprimanded the wicked and faithless. And there were other heroes, too: Ruth and Naomi, left widowed and making their way in the world. Jael, deceiving and impaling Siserah, Esther, risking everything to advocate for her people to the king.
Those were the stories that shaped me and formed me as a child. Read more
https://media.myworshiptimes31.com/wp-content/uploads/sites/3/2017/12/29165548/nativity-kate-cosgrove-from-editors-dec-2017-featured.jpeg
200
300
Emily M. Brown
https://youngclergywomen.org/wp-content/uploads/sites/3/2017/05/YCWILogo_Vert_Black-300x229.png
Emily M. Brown
2017-12-26 11:45:35
2018-11-13 11:33:05
Hero