---
Post Author: Kassie Smith McKee and Heidi S. De Jonge
As pastors, we get to observe marriages. Each one is constructed a little differently. There may be  some basic parameters to a partnership, but everyone works it out uniquely. When you and your significant other are both pastors, though, one of the biggest questions for your relationship is this: will you be co-pastors? We asked two women (Kassie Smith Mc Kee and Heidi De Jonge) to give us their reasons: why they do; and why they don't.
---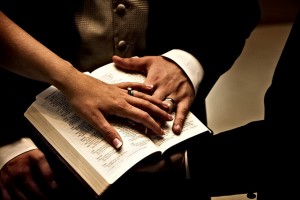 Kassie
The Church has always been central to my relationship with my husband, Travis. We were both in seminary when we met at the Christian Church (Disciples of Christ) General Assembly in 2009. We immediately clicked over our similar theologies and love of church camp.
When we started dating in the fall of 2010, we quickly realized that this was something we "didn't want to screw up," (Travis' words, not mine) and began dreaming what our future could be like. Before we were even engaged, we talked about co-pastoring. We agreed that if we were ever able to serve together, we would be equals working alongside each other.
Last spring when I was getting ready to graduate and planning my ordination, we found an opportunity to serve together as Co-Associate Pastors in a small town in Kansas an hour north of Kansas City. We fell in love with the congregation and accepted the call. I started working at the church in June, and Travis joined me in August after spending all summer at church camp. We got married in October.
Right now, we are sharing one position and have split up responsibilities in ways that work for us. Travis is also finishing seminary (he will graduate in December!), so I work two-thirds time and he works one-thirds time. Most of Travis' time is spent working with the two youth praise bands our congregations has, helping lead worship on Sundays, and helping lead youth group on Sunday evenings. After all of that, he usually only has time to spend a few hours in the office, so I do a lot of our organizational work. I oversee our Christian Education programs (with some help from Travis and WONDERFUL lay leaders), am working on how to start a small groups ministry, and help lead worship on Sundays with our Senior Minister and Travis.
And this really works for us. Sometimes it is difficult. There are times when we realize we're talking about work too much at home, or Travis handles something differently than how I would, or I forget to tell Travis about something that happened at a meeting he couldn't attend. But for us, the benefits outweigh the frustration. I can see us co-pastoring for a long time.
The moment that I realized exactly how blessed I was to work with my husband was on Christmas Eve. Toward the end of the service, he lit his candle off of mine while we were singing "Joy to the World" and a tear came to my eye and I leaned over to him to whisper, "How lucky are we?!" It was the first time we had ever worshiped together on Christmas Eve. In the three Christmases we'd been together, it was the first Christmas Eve we'd been able to eat dinner together and go to church together. So many pastor couples don't get to worship together on Christmas Eve. I felt blessed because I got to be with my husband, even though it was a "working holiday" for us.
Heidi
When people meet me for the first time and I mention that my husband, Tim, is also an ordained pastor in our denomination, their first guess is that we pastor a church together. Their second guess comes quickly after the first: that we each pastor our own congregation. The most common assumptions are the two situations that we have decided not to pursue, and so far, in our 18 years of combined ministry, we have managed to avoid both of them.
We do not pastor two different churches, because we are committed to worshiping together on a weekly basis with our young family (we have 3 daughters). Also, the prospect of getting to know two communities with equal vigor is daunting.
We do not pastor a church together for a couple of reasons. First of all, our denomination has only been ordaining women for just under 20 years and it is still rare for women to be lead or sole pastors of congregations. If Tim and I were to pastor a church together, the temptation (for some members) would be to see Tim as the lead, and me as the associate, even if our roles were coequal. In order for me to develop my gifts for shepherding a congregation and in order to help the denomination adjust to having women in lead roles, we think it is important for me to pastor without Tim. Additionally, we find having separate ministry contexts good for our emotional life. When church life is tough, it is refreshing for me to be with Tim, knowing that he is not immersed in the same network of relationships.
Ever since Tim was ordained in 2003, we have committed to only one of us has being in parish ministry at a time. Last year, while I was serving my first congregation and Tim was flourishing in hospice chaplaincy, it became clear that we needed to look for what was next. We opened ourselves up to all options – a shared position in a seminary, mission work abroad, church planting. God's good call brought us to Kingston, Ontario, where I am the pastor of a congregation and where Tim has just finished his second unit of CPE (while also staying at home with our youngest daughter and looking for a part-time chaplaincy position).
Twice now, Tim has left a job that he loves to make way for my call to parish ministry. If that's not loving me like Christ loved the church and gave himself up for her, I don't know what is.
Our preferred arrangement allows us to use our best gifts for the kingdom and to be emotionally available to each other.
That said, Tim is going to be preaching eight straight weeks at a church in town (filling in for a sabbatical), so we'll get a taste of the double-church life. And I daydream now and then about how Tim and I really would make a good team. Between us, we have a pretty broad range of pastoral gifts. As our marriage and our denomination age, we all may be increasingly ready for a co-pastorate. In the meantime, we are grateful that our plan has fit into God's plan.
---
Kassie Smith McKee and her husband Travis are the Co-Associate Pastors of First Christian Church (Disciples of Christ) in Atchison, Kansas. Their dogs are adorable and always smile for the camera. Heidi De Jonge is the Pastor of Westside Fellowship Christian Reformed Church in Kingston, Ontario. She and husband, Tim, have three daughters who are as theologically insightful as they are beautiful.
---
Image by:
Greg Kendall-Ball
Used with
permission
https://media.myworshiptimes31.com/wp-content/uploads/sites/3/2013/04/29170832/552440766_03b843016d_z.jpg
427
640
Kassie Smith McKee and Heidi S. De Jonge
https://youngclergywomen.org/wp-content/uploads/sites/3/2017/05/YCWILogo_Vert_Black-300x229.png
Kassie Smith McKee and Heidi S. De Jonge
2013-04-04 06:00:56
2019-08-20 16:49:33
I Do; I Don't: Two Takes on Co-Pastoring