---
Post Author: Name Withheld
---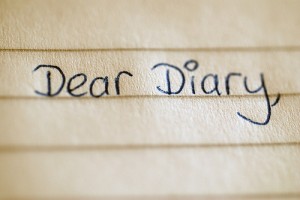 A few weeks ago, I found my old diary.  I had not opened it since sometime during my high school years, and reading through each entry was like going back in time.  Secrets were shared.  Relationships were started, lost, and then started again.  Dreams and ambitions were recorded for posterity's sake. 
As I read through the pages of my childhood, I came across an entry that I had completely forgotten that I had ever written.  It was a list that named those things that my 13 year-old-self believed I must accomplish if I were to ever be considered successful in life.  This is the list:
  Go to college (and grad school).

  Have an awesome job.

  Get married.

  Have kids (at least 1, but maybe 2 or 3).

  Have a dog (no cats unless my husband wants one).
The title that I gave to my list: What I Should Do Before I'm 30.
I am 33. 
I sat on the floor of my home office, measuring myself against the list that I penned 20 years in the past.  The words I had written stuck in my brain, and they scratched at my heart.  "I am a failure," I thought. 
Yes, I have a college degree.  I have a graduate school degree.  I have a job.  (Some days, it is and awesome job. Other days…not so much.  Ministry is like that, and I'm used to it by now.)  I must admit, however, that I am fairly certain that my 13 year old self would not have considered "Pastor" to be an "awesome job".  But that – according to the list – is the end of my success.  I am not married.  I do not have any kids.  I do not have a dog (or a cat, or even a goldfish). 
I put the diary back in the box, but my head and my heart kept a firm grip on that list.  Day after day, it gnawed away at me – draining me of my energy and passion.  Suddenly, every Facebook post that announced the engagement of a friend seemed intentionally designed to mock my un-married status.  I found myself feeling resentful of friends who were expecting their first, second, or third child.  Every commercial on television seemed to be about pet food, engagement rings, or family planning. 
Perhaps it is not wise to go digging through your diary at the start of Holy Week…
And yet… Holy Week may have been the perfect time for me to deal with this.  With that list still nibbling away at my sanity, I read and studied the lectionary texts for Easter Sunday.  I walked with the women, carrying their expectations to the tomb.  I wondered with the women about how the stone had been rolled away from the grave.  I listened with the women to the words of the figures who asked, "Why do you seek the living among the dead?"  I experienced new life with the women as they put down their expectations and realized the Resurrection.
I am not sure when it happened late that week, but I let go of the list.  I had picked up the expectations of a 13 year-old girl and carried them around with me for days, but they serve no purpose in the future God is creating for me.  The stumbling block of belief that success only comes when you are married with 2.5 children and a puppy was rolled away.  I could hear the Spirit asking me, "Why do you seek validation from your 13 year-old-self, when you have grown so much since then and have so much ahead of you?"  The list could only define me if I chose to hold onto it; so I let it go to embrace the promise of things yet to come.
There are still blank pages in my old diary, and I am tempted to write a new list.  The new list would be shorter, and have a slightly different title.  But maybe it should be recorded for posterity's sake…
What I Should Do Before I Die:
Love God.

Love all others.

Live (one day at a time).
Photo by Philippa Wilitts, http://www.flickr.com/photos/hippie/2475835909/,April, 8, 2013. Used by Creative Common License.
---
https://media.myworshiptimes31.com/wp-content/uploads/sites/3/2013/04/29170829/Dear-Diary.jpg
334
500
Name Withheld
https://youngclergywomen.org/wp-content/uploads/sites/3/2017/05/YCWILogo_Vert_Black-300x229.png
Name Withheld
2013-04-09 04:00:10
2018-11-13 11:45:56
For Posterity's Sake