---
Post Author: Sarah Moore
---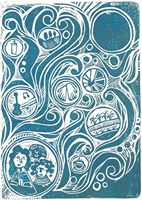 I'd like to introduce you all to my colleague, Ruth Harvey. Ruth is a person who stretches my mind and my soul whenever our paths cross.
Back last summer when The Young Clergy Women Project's Conference Committee met in a classroom at Vanderbilt Divinity School to dream and to imagine and to make tentative plans for our 2014 Minneapolis conference, we discerned a need to explore together how we nurture ourselves as pastors. How and where and with whom do we plumb the depths and listen and feel and smell and taste and see for the movement of the Holy Spirit in our busy lives? Where do we find that still small voice, that presence that is closer to us than our breathing, who has numbered all the grains of sand that exist within creation and who knows every hair on our heads? We spoke together about how hard discernment is. How we hear (or feel that we don't hear sometimes) God's call on our lives, the lives of our loved ones, friends, family and the communities we serve. We noticed how time and time again we witnessed our TYCWP sisters wrestling with these questions, and we wondered who might be able to honestly and deeply wrestle with us as our keynote speaker for our next conference.
I thought of my colleague Ruth. In fact, I felt that our embryonic ideas for the 2014 conference had Ruth's name written all over them. Ruth juggles being a member of the Iona Community, a wife, a Church of Scotland Minister, a mother, and a Quaker. She engages in reconciliation and peacemaking, fosters a passion for Church Unity, and fills the roles of friend, sister, and daughter, among other things. I have seen Ruth bear witness to the struggle and complexity of discernment within the Christian journey. She is unafraid to ask and be asked hard questions.
The Conference Committee prayed and thought and prayed a little more, and our conference title, Out of the Deep: Pastoring in Creative Space, emerged.
We have a great conference planned for our time together in Minneapolis this July 7-10th, and there's still time to register. Here is a preview of Ruth's keynote sessions.
Session 1: 'Who am I: moving into the deep as a process of discernment'
Beginning with 'who am I before God?', we will ask: how do we discern God's call, God's will for us as individuals, as leaders, as church, and as community? To what is God calling us, and how do we know? Drawing on experiences of the Religious Society of Friends, we will explore what is meant by discernment and the notion of 'waiting on God' as experienced in Quaker Meeting for Worship.
Session 2: 'Who are we: discerning God's call in community, in church, together'
Moving from 'who am I?'to 'who are we?' this day will explore some creative resources to nourish small and larger groups as we seek to 'pastor in creative space.' We will explore collective discernment models, drawing on a variety of experiential models, including Place for Hope, large and small group "Community Dialogues" about difficult issues, mediation and conflict transformation tools in the context of church and community life, Quaker discernment through "Meetings for Clearness," and the collective discernment of three churches "Growing Together" in Cumbria.
The conference will also include workshops, breakout sessions, worship and time for fellowship and building community together.
TYCWP conferences are a highlight of my year. Minneapolis will be my fourth. They are a time when I realise that I'm not the only one, and it is refreshing and life giving to be with other people who live and understand the crazy world of what it is to be a young clergy woman in the Church today.
Come join us in Minneapolis! Registration for Out of the Deep: Pastoring in Creative Space is open until June 1st, 2014.
---
https://youngclergywomen.org/wp-content/uploads/sites/3/2017/05/YCWILogo_Vert_Black-300x229.png
0
0
Sarah Moore
https://youngclergywomen.org/wp-content/uploads/sites/3/2017/05/YCWILogo_Vert_Black-300x229.png
Sarah Moore
2014-05-16 11:47:12
2019-08-19 19:53:06
Introducing Ruth Harvey: Conference 2014