---
Post Author: Mindi Welton Mitchell, Lauren Evans, Kristen Wall-Love
---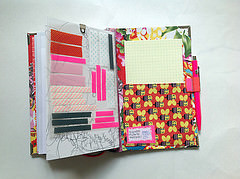 A good calendar is the best friend of any busy professional, and for clergy, the art of scheduling has a few unique dimensions: weekends are busier (and therefore require more space); hours are unusual; there must be a balance of blocks of time alone for writing and planning, at the same time that there are blocks of time when one must be available to people and scheduled appointments.
Some of us work with an administrator who assists with our scheduling, but many of us manage, all on our own, schedules that would make a corporate executive's head swim. We often work with an assortment of staff and volunteers with their own crazy schedules. So what's the best way to stay on task and keep track of everything? Fidelia asked three young clergywomen to tell us about the method that works best for them: Mindi Welton-Mitchell on using Google Calendar, Kristen Wall-Love on using a denominational calendar, and Lauren Evans on using a designer paper planner.
Mindi
In the first six months after I graduated from seminary, I remember looking at my day planner to see not what was coming up, but what I had missed. For Christmas, I was given a Palm Pilot (remember those?) and from then on I used an electric calendar, syncing it to my Microsoft Outlook. That was 2002. In 2008, when I was eight months pregnant, my husband scheduled a meeting at the same time as an ultrasound appointment for the third time. Our dry-erase home calendar was no longer cutting it. We went to Google Calendar and there was no turning back.
Each of us has our own Google Calendar that we use for our own personal appointments and reminders of other meetings, and we share ours with each other. In addition, each of the three churches we serve has a Google Calendar in which board meetings, special worship events and other activities are noted. Each calendar is assigned a different color. I use blue for my personal calendar, green for my husband's, orange for my church, red for his. I set reminders for certain meetings and appointments so they don't catch me off guard.
Google Calendar and Microsoft Office sync together: when someone sends a meeting date invitation from Office, I can click yes and have it go right on my calendar. I can also use the Notes application on my phone and have it sync my to-do lists and reminders to Google. I can even use voice commands to say, "Ok Google. Now, remind me to call so-and-so in the morning." Using an electronic calendar means I am never looking back to see what I have missed: I stay organized and looking forward.
Kristen
For the last three years I have used the United Methodist Calendar and Workbook as my life planner. I use technology, but cannot seem to switch over to a calendar on my phone. I need to be able to easily flip back to view the past (for instance, when I need to update my mileage log), and effortlessly look forward to the coming weeks. I like the feel of a book in my hands.
I started using this specific planner because that is what my colleagues used. Sundays have more space to write than any other day, which I need for worship planning and all the other events scheduled on Sundays. Special Sundays for the denomination are highlighted, and each Sunday has its lectionary readings listed. The church year and appropriate liturgical colors are noted as well.The daily entries are marked with lines, which work well for my large handwriting and tendency toward wordiness. I'm a United Methodist pastor, and the United Methodist planner feels like it was designed for me.
Lauren
I am a serious Type B, naturally-disorganized personality, whose failed attempts at organization included writing to-do lists on any conceivable surface (including my bathroom mirror) and frequently losing them. When I started a small-church solo pastorate two years ago, I discovered that my style of organization really wasn't going to cut it. I needed a single location in which to keep everything in my world straight and orderly. I'm tech savvy, but paper-based at heart, and find it much faster to scribble down a note in a single location than to open an app, enter the details, and set an alarm.
I found that single location in the Erin Condren planner. It has space for every conceivable to-do list, from monthly goals on the month-view calendar page to weekly goals and daily goals, plus add-ons that track everything from your meals to your budget. It acts like a magnet, pulling my scattered self into one place. The vertical layout splits each day into three sections. This lets me see, at a glance, if I'm overworking, which helps me take appropriate comp time as necessary. It's also filled to the brim with bright colors, cheerful designs, and inspirational quotes that make even rough days a little more whimsical.
---
Mindi Welton-Mitchell is married to J.C. Mitchell. They are both clergy (with three churches between the two of them), parents, and heavily involved in the community, and without Google Calendar they would be lost.
Kristen Wall-Love is adventuring through her fourth year in full-time ministry as a United Methodist pastor in Central Pennsylvania, along with her husband and two children. She enjoys singing, writing, and really any form of being creative.
Rev. Lauren Evans is the solo pastor of a small church in Central Florida. She has yet to see an alligator in the wild and believes they may, in fact, be a myth.
---
Image by:
Danyeela
Used with
permission
https://media.myworshiptimes31.com/wp-content/uploads/sites/3/2015/08/29170138/15573899782_f8142c8525_m.jpg
179
240
Mindi Welton Mitchell, Lauren Evans, Kristen Wall-Love
https://youngclergywomen.org/wp-content/uploads/sites/3/2017/05/YCWILogo_Vert_Black-300x229.png
Mindi Welton Mitchell, Lauren Evans, Kristen Wall-Love
2015-09-01 04:00:33
2019-08-30 17:02:02
Keeping Track of it All: Calendars for the Young Clergywoman