---
Post Author: Mariclair Partee Carlsen
---
"While they were there, the time came for her to deliver her child. And she gave birth to her firstborn son and wrapped him in bands of cloth, and laid him in a manger, because there was no place for them in the inn."               Luke 2:6-7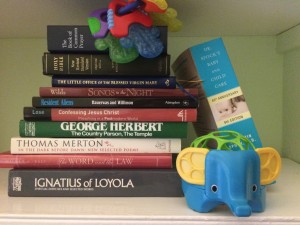 I discovered I was pregnant one early autumn morning. We had longed for this child, prayed for this child, and my husband and I glowed together with the knowledge that we would welcome a new member of our family some time in the spring.
Like most parish pastors, I have long known how important my own spiritual practice is to a whole and healthy life, while simultaneously feeling as though I never have quite enough time for the spiritual life that I want. I found myself in the parochial paradox: professionally religious, but between worship planning, pastoral visits, administrative work, and the odd light plumbing repair in my small church, my time was spent providing for everyone's spiritual needs but my own. Despite eight years' experience as an ordained person, the pattern of curacy, assistant work, and then being called as a rector meant I hadn't been in any one place long enough for a sabbatical, and I was feeling a little threadbare and in need of renewal.
I was certain the coming of a new child would change all of that. My denomination is one of the (shamefully) few that provide for parental leave. I would be given the gift of time, and I wasn't going to let that time be wasted by simply healing from giving birth and acclimating to life with a baby.
Oh, no. I was going to have a baby-batical.
I spoke with my spiritual director about my hopes for this child growing in my body, but also about my plans for the time that I would be on maternity leave. With nothing to do but take care of my new child, this would be my chance to recapture the rhythm of those golden seminary days of study bookended by chapel services. I pictured myself spending all of my extra time praying the daily office, reading all the tomes I hadn't managed to quite get through during seminary, and making notes in that prayer journal I started three years ago. I'd heard that I'd be up at all hours anyway, so maybe I'd go with the old monastic office and pray matins, lauds, terce, sext, none, vespers, and compline at the original hours. I dreamed that this daily discipline might even become the basis of a book proposal.
This is where having a monk for a spiritual director was not helpful. He encouraged me to be gentle with myself but, not having children of his own, he didn't actually laugh in my face.
I started collecting books around the time I first heard my baby's heartbeat. I stacked them up in the nursery being assembled in my home. I pictured myself waking up each morning to the coos of my infant, changing a diaper, then settling into the bright dawn light with a cup of coffee, prayer book, and bible, reading the morning psalms as my child nursed peacefully at my breast.
I should have begun to glimpse the flaws in my plan during Advent, as I settled into my second trimester. Instead of feeling compelled by the beauty of my changing body to write a collection of daily meditations on the Incarnation from the perspective of Mary, I just felt tired. And hungry. As Lent approached, my Ash Wednesday penitence reached new levels as I struggled to stand for more than 20 minutes, ankles swelling steadily over three services. Shortly thereafter I hid a stool in the pulpit in case I swooned mid-sermon. By the time Easter rolled around, I was wearing borrowed vestments to cover the wealth of my midsection, and black yoga pants had become appropriate Sunday attire.
None of this stymied me. It didn't matter that in my daily life of ministry I felt like an elephant trying to hike up a mountain while wearing Spanx; my eyes were on the prize. In a month I would give birth and gaze into the miracle of my baby's eyes. After that I would luxuriate in my leave time, just me, my infant, and Jesus—along with assorted mystics and theologians spanning the last two millennia, and perhaps an ethicist or two, as well.
I woke up early the day my daughter was born. My mother's intuition told me that the time of transition was near, and by "mother's intuition," I mean the feeling that someone had grasped a fistful of my intestines and was squeezing with the strength of five men.
That night my daughter came into the world, and it truly was a miracle. I will never forget hearing her first cry. I was euphoric from helping to bring this new living being into the world, and full of wonder—surely this was like what my Creator had felt, upon first gazing at the oceans and heavens and man and woman. The drugs helped.
Two months went by.
I seriously have no idea what happened to those two months.
My days looked something like this: startle awake at a cry, grab baby from sleeper, change diaper while half asleep, put breast in baby's mouth, change diaper, put breast in baby's mouth, stare adoringly at this perfect beautiful tiny person and weep at the glory of it all, change diaper, get urinated on, change onesie, wonder when the last time was that I took a shower, breast, diaper, is that poop on the ceiling, wonder how it could possibly be night time again already, diaper, breast, repeat. I don't recall that any prayer books were opened.
The stacks of books, once so hopefully placed, were pushed away from the rocking chair; they provided a nice a side table for the ever-present water bottle of a nursing mother. The pile eventually collapsed, after which a helpful relative quietly moved them to a spare bedroom. Many prayers were offered up to God during those first weeks, but the content of the prayers mostly involved supplications for the baby to please, please, please sleep for more than two hours.
I did manage to read Evening Prayer, though. Once. I prayed while waiting for a late appointment in the pediatrician's office, reading the liturgy for the service on my phone. The opening verses of Psalm 141 shook me out of my new mother haze briefly, and gave me a foundation on which to stand in the midst of the swirling frenzy of my new world of parenthood:
I call upon you, O Lord; come quickly to me;
     give ear to my voice when I call to you.
Let my prayer be counted as incense before you,
     and the lifting up of my hands as an evening sacrifice.
It was the first thing, besides a Facebook status, that I had managed to read from start to finish in weeks.
---
The Rev. Mariclair Partee Carlsen is a priest living in Philadelphia with her husband and baby daughter. She is the rector of St. Mary's, Hamilton Village, and Episcopal chaplain to the University of Pennsylvania. Her spiritual life is a lot healthier than this essay makes it sound.
---
Image by:
Mariclair Partee Carlsen
Used with
permission
https://media.myworshiptimes31.com/wp-content/uploads/sites/3/2015/07/29170145/MomsImageAugust.jpg
2448
3264
Mariclair Partee Carlsen
https://youngclergywomen.org/wp-content/uploads/sites/3/2017/05/YCWILogo_Vert_Black-300x229.png
Mariclair Partee Carlsen
2015-08-27 04:00:35
2018-11-13 11:38:08
Stumbling Towards Bethlehem