---
Post Author: Katelyn B. Macrae
---
Editor's Note: Submissions are welcomed and should be sent to alongtheway(dot)ycw(at)gmail(dot)com.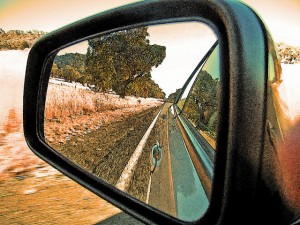 As the tears rolled down my face, Abby whispered, "The last piece, dear Katelyn, is learning to love yourself as God loves you." My tears were a mix of relief, thanks and fear at saying "yes" to my first ministerial position. The tears came easily as I sat in the office, meeting with Abby and Doug, my home church pastors, to review my ministry contract for my new position.
For the past year I've been immersed in the Search and Call process, seeking a call to be an ordained minister in the United Church of Christ. I've heard the process compared to dating, or a roller coaster ride. In my experience the dating analogy is more accurate. A roller coaster ride, while full of ups and downs, is usually over in two minutes. In contrast, the Search Process typically takes between twelve and eighteen months. I remember hearing this in UCC Polity class. But hearing it is different than experiencing it.
Like dating, the Search Process is emotionally involved. I've had unrequited love at least twice, where I thought I'd found "the church," only to be rejected. There were some potential admirers who showed far more interest in me than I did them. We talked and had a meal, but it didn't go much beyond a first date. Some churches never called back, and others sent rejection e-mails when they should have called.
The Search Process was lonely, exhausting, and frustrating. I doubted my call and myself. I pushed the patience of family, friends and coworkers. I prayed for God's guidance but heard God's silence. My faith was tested as I tried to believe the words of the prophet Jeremiah, "For surely I know the plans I have for you, says the Lord, plans for your welfare and not for harm." Jeremiah 29:11
But as hard as it has been, the Search Process is also fun, exciting, and invigorating. I traveled around the country, met interesting people, and was briefly invited into their lives as I listened for how God was working through them and in their local communities. I learned that congregations do ministry very differently. I tried to imagine myself working in each unique setting. Sometimes I stood in the pulpit to see how it felt.
Finally, after a year of applications, interviews, and rejections, I was fortunate to have two good suitors to choose from.
The churches were a study in opposites. They had different geographies – rural versus urban; different levels of responsibility – solo versus associate; and different types of ministry – settled versus interim.
What ultimately helped my decision was asking whether I could bring my full self to ministry in each congregation. But before I could say yes to a church, I had to say yes to myself, and yes to God.
I came to my decision on a Saturday morning in December, while sitting on my couch crying. The previous Wednesday I was offered a call to the church I initially felt more drawn to. On Thursday and Friday, I had honest, yet challenging conversations with the chair of the Search Committee which revealed that while this congregation had GLBTQ members, it was more of a "Don't Ask, Don't Tell" environment. By Saturday morning I realized that I had to be able to bring my full self to ministry and I probably could not do that there.
I identify as bisexual and want to serve a congregation where I can be a "prophetic activist" on any number of issues. I realized this rural congregation would be challenged to fully welcome a prophetic young, single, openly GLBTQ pastor. I had no intention of going back in the closet in order to do ministry, nor was I willing to take on such a challenge as a solo pastor in my first call. Furthermore, I don't think it would be the most responsible thing to do to this congregation. They were lovely people, and their church had a healthy budget, strong lay leadership, and a recently renovated building. I was flattered to be offered a call to such a congregation. This made saying "no thank you" a lot harder. Afterwards, I needed time to grieve before I was able to consider saying yes to the other church.
Which brings us back to my pastor's office…
Abby told me Max Lucado's story of the Wemmecks with their gold stars and grey dots. Gold stars were rewarded for talent, and grey dots given for lack thereof. One Wemmeck, Lucia, didn't have any stars or dots. She visited the Wood Carver each day, who reminded her of her intrinsic worth. She needed neither stars nor dots to define her. As the tears rolled down my face, Abby whispered, "The last piece, dear Katelyn, is learning to love yourself as God loves you."
In saying "yes" to ministry at a UCC church near Washington, DC, I affirmed my love for myself and God's love for me and my sense of what setting would help me to be most successful as I begin ministry.
While reaching the point of saying "yes" was not easy, the congregation I will soon be serving is fabulous. I believe that I can bring my prophetic and energetic self to ministry here. The church is Open and Affirming. I will have an opportunity to work with children and youth, and learn with an experienced senior pastor.
They say that hindsight is 20/20. I know this to be true when I look back on the events of my life through the lens of faith. I see more clearly how God has led me to this place in my Search Process where things feel good, solid, and exciting.
While I often wish it were easier to find the lens of faith in a moment of doubt, I am grateful for times like this where I can pause and look back. Looking through the lens of faith, even when looking backwards, helps me believe in a God who has lovingly and uniquely made me, and has plans for my welfare, and not for harm. Revising my vision helps me take another step forward in faith – even if I'm not fully sure where I am going until I get there.
Photo Credit: Tim J Keegan
Are you an ordained woman under the age of 40? Email youngclergywomen (at) gmail (dot) com to become a member of the Young Clergy Women Project! Members receive access to a password protected online community, monthly e-newsletters, and advance notice of upcoming conferences and events.
---
https://media.myworshiptimes31.com/wp-content/uploads/sites/3/2012/03/29171113/hindsight.jpg
480
640
Katelyn B. Macrae
https://youngclergywomen.org/wp-content/uploads/sites/3/2017/05/YCWILogo_Vert_Black-300x229.png
Katelyn B. Macrae
2012-02-28 04:12:14
2018-11-13 11:48:11
Lens of Faith