---
Post Author: Ann Langford Duncan
---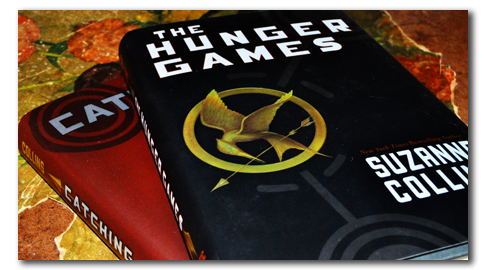 My husband and I were running errands one Saturday when we stopped at a local bookstore.  I noticed a display of books in the center aisle and realized I had never heard of them.  The covers were decorated with solid, bold colors and a large bird.
"The Hunger Games?  What's that?" I asked my husband.
"Oh, The Hunger Games," he replied.  "All of my students at the high school are reading them.  They can't seem to put them down.  They walk down the hallways with their noses buried in the books and when I ask them a question, they tell me to wait so they can finish the paragraph!"
"Really?" I replied.  "Well, then they must be good."
I was enraptured by the Harry Potter series and recently finished The Twilight Saga, so I was anxious to read another great young person's series.  So I bought the first book in what isThe Hunger Games trilogy.  I read it in two days.  And two days later, I bought the other two books.  I finished all three of them in one week.  They are well-written, intensely violent, page-turning thrillers.  Plus they have a great female protagonist.  Not the stuff of the Bible, right?
Well, I shared them with my father, who is also a pastor.  He read them in four days.  And when we discussed them during dinner one night, I proposed the idea of writing a theological reflection on them.  I had spent a year as a youth minister, and I knew if teens were reading them, then perhaps we as Christian adults should be reading and responding to them as well.  In seminary, I wrote similar reflections for various theology classes.  The Hunger Gamestrilogy proved to be not only an enjoyable challenge, but a fruitful theological exercise as well.
Within this Trilogy there are a number of parallels – including the character of Katniss – with classic Jewish and Christian figures and theology.  However, The Hunger Games trilogy is not an overt Christian allegory, like Bunyan's Pilgrim's Progress.  Religion is never mentioned in the book.  Rather, Collins acknowledges her debt primarily to the Greek myth of King Minos, who sends youth to battle the Minotaur in a labyrinth.  She also remembers her father fighting in the Vietnam War and wrote the book out of concern for modern youth's desensitization towards violence.
Nevertheless, throughout the three books, parallels to basic biblical characters and themes are noted.  As within the Bible, key figures become part of a narrative beyond themselves.  Katniss, for example, is similar to Moses and Jesus.  All three come from marginalized towns and people, receive their power from a greater source, lead a people yearning for restoration, and ultimately defy opposition for a triumphant end.  In Collins' Trilogy, as in the Bible, suffering and loss do not have the final say, and sacrificial love transforms families and societies.  In the end, Collins offers a vision of a new reality in which everyone's stomach and soul are filled.
The first movie of the Trilogy opens on March 23.  The movie's release presents an exceptional opportunity for us clergy to connect core biblical narratives with contemporary culture.  Pastors and teachers can use this movie to engage students and members in their congregation in reflecting on basic theological themes.  It is an occasion to speak with youth and young adults who are disaffected by the current reality of modern society and who have fears about the future.  The books parallel the reality experienced by many young people today.  They witness daily violence on television, environmental abuse, lack of connection between political leaders and ordinary people, a rising gap between the rich and the poor, and loss of hope for the future.  For a younger generation familiar with video games and reality television shows, the novels take their experiences to a thought-provoking level.
The young audience of The Hunger Games trilogy is looking for a hero to arise from among them.  As Time magazine noted when it named "The Protestor" as the "2011 Person of the Year," there is worldwide passion, especially among the young, to change the direction of the future before the world becomes as dismal and desperate as the one in the Trilogy.  Katniss Everdeen, the hero of the book, becomes a leader her audiences can follow – a leader who offers love and hope through sacrifice.  I admire Hermione and Bella, but I'm casting my vote for Katniss.
Photo Credit: GoodNCrazy
Are you an ordained woman under the age of 40? Email youngclergywomen (at) gmail (dot) com to become a member of the Young Clergy Women Project! Members receive access to a password protected online community, monthly e-newsletters, and advance notice of upcoming conferences and events.There's a place for future young clergy women, too! If you're on the way to being ordained, email ycwwaiting (at) gmail (dot) com to join.
---
https://media.myworshiptimes31.com/wp-content/uploads/sites/3/2012/03/29171107/hunger-games.jpg
270
486
Ann Langford Duncan
https://youngclergywomen.org/wp-content/uploads/sites/3/2017/05/YCWILogo_Vert_Black-300x229.png
Ann Langford Duncan
2012-03-06 02:00:23
2018-11-13 11:48:11
May the Odds Be Ever in Your Favor