---
Post Author: The Rev. Danáe Ashley
---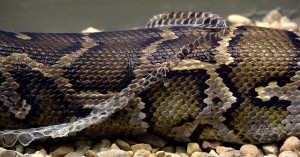 "Do you see this jagged pattern here?" my acupuncturist asked me, pointing to the chart of my menstrual cycle. I nodded yes. It matched the cuts on my heart from not being able to carry a baby past eight weeks. She looked at me with concern and continued, "That's a sign of ongoing stress and is not helping your fertility." I sighed and was not surprised. Her explanation confirmed what I already knew: I needed to leave my parish. But how? How could I leave wisely—taking care of myself and my family—and also leave the parish well?
I have been grappling with these questions since my first miscarriage in 2012. I was in my third call and it was my first time as a solo priest. Like many of my female colleagues, I had to take on a parish that was small and had many problems, including the previous priest attempting suicide. I was a solid priest with good experience. In the end, I was really good for this parish — but they were not good for me.
Being in a parish was never my dream when I went through the ordination process. I was definitely called to be a priest, but I thought I would be good in other settings. I ended up in the parish by default because I was in my early 30s, single, and had an atrocious amount of credit card and student loan debt from seminary. A parish job was the easiest way for me to have insurance and take care of the bills.
My first call out of seminary was as an Associate Rector, which was a terrific experience because I got to explore the parts of ministry that I loved, and I was in a parish that was loving. I was not in charge of the overall running of the parish and had the time and ease to pray, create new programs, use my creativity, and do pastoral counseling. When I had to leave, it was because they could not afford an Associate Rector any longer. It took me awhile to find a new position and, in the meantime, I met and married my husband who is a professional musician.
My husband and I adore each other and are extremely happy in our relationship. However, musicians and ministers do not a financially lucrative marriage make. My husband works hard and is successful, but does not provide a consistently reliable income like I do at the church with its payroll schedule and benefits. So, here we are. My job keeps us insured and keeps a steady income — but it is killing me inside. I spend so much time managing the conflict and anxiety of a changing church that I rarely have space to be creative or be a priest as I understand the legacy of the role. There are many other ways this happens — but those stories are best shared elsewhere, with good food and perhaps a daiquiri or two.
My husband is supportive of me quitting, but then, we wonder, how will we pay off our credit card debt and student loans? How will we have insurance for a potential baby? How will we be able to save for our move that will finally take us to the West Coast where we want to live? These questions lead me to wonder how long I can let the church drain me spiritually, emotionally, and physically in order to get what I need?  The last may seem like a callous question, but it is the one that keeps coming back. I wonder how many other clergy are in the same position? We are called to be ministers of God's love in a world that has less and less respect for what we do. We go through expensive training at great and worthy cost—financial, emotional, and intellectual—and come out with high debt levels and low projected salaries, not forgetting the emotional impact our work has on us. How long can the church continue this system that cripples the ones it raises up? Perhaps we need to revise our expectations? The world is changing and is calling new types of ministers that we may become, but it is scary for us to think about, since many of us, by being part of it, perpetuate the old system. And like me, many are anxious about making a leap to being something different.
This particular call has sucked me dry despite all of my precautions. I go to a Jungian analyst each week; I go to a spiritual director; I am part of group spiritual direction; I get a massage every other week; I have terrific colleagues; a Bishop that knows the situation and wants to help; a great family (that lives a thousand miles away); and am married to the most remarkable and supportive man I know. I am very well supported and yet I am still exhibiting signs of extreme stress. My analyst reminded me that sometimes life is just like that—even with your best efforts, it is still difficult. It is only a season and not forever.
As part of my self-care last year, I began a Marriage and Family Therapy graduate program. It was something I had wanted to do for a long time, and finally had the time and was living in a location with a choice of schools to do it. The classes are made for people who work full-time, so it works well with my schedule and I enjoy them. I am able to accrue internship hours through the pastoral counseling and pre-marital counseling I do through the church. One of the ways I feel affirmed that this is where God is calling me in my life is that I find those times to be the most rewarding. My parish knows that I do this and, as long as it does not interfere with what they need from me, they are fine and I am grateful. In the end, though, I know that one day my hokey-pokey dance with the church will be done and I will need to put my whole self out of the church (or at least most of myself) and be able to go into something else.
God is still transforming me, but I'm not there yet. I still have to finish a year of school, debt to pay off, and a baby to hopefully welcome one day. My group spiritual director asked me, "If this time of your life is a chapter in a book, what would you name it?" I knew immediately: The Molting Season. My old skin is being outgrown, but my new one is still tender and not fully revealed.
In the meantime, the molting process is painful. I hurt because I do not want to be in my current position and resent that I feel I need to remain there because of financial issues. As my heart has grown with compassion through suffering two pregnancy losses, I fear that fertility issues will continue until my stress level is down. While my intellect and understanding of others grows because of work and school, I have to forgo a lot of things that bring me joy, even though I know the long-term payoff will be good. My new skin is tender and still foreign. I'm not the person I was and I'm not the person I will be at the end of this process.
This molting season, however painful, is necessary. I already see  the layers of my new skin coming together as I look back on the past couple of years. Even though I'm not through it quite yet, I am reminded of another molting season–one that comforts me beyond my bones: Jesus lived, died, and was resurrected. And I will be, too.
Photo by Scott Ableman, http://www.flickr.com/photos/ableman/979979379, Accessed Janurary 14, 2014.  Used by Creative Common License.
---
https://media.myworshiptimes31.com/wp-content/uploads/sites/3/2014/01/29170634/Jan-2014-Snake-Molting.jpg
334
640
The Rev. Danáe Ashley
https://youngclergywomen.org/wp-content/uploads/sites/3/2017/05/YCWILogo_Vert_Black-300x229.png
The Rev. Danáe Ashley
2014-01-16 04:00:34
2015-08-25 18:34:45
The Molting Season