---
Post Author: Laura Stephens-Reed
---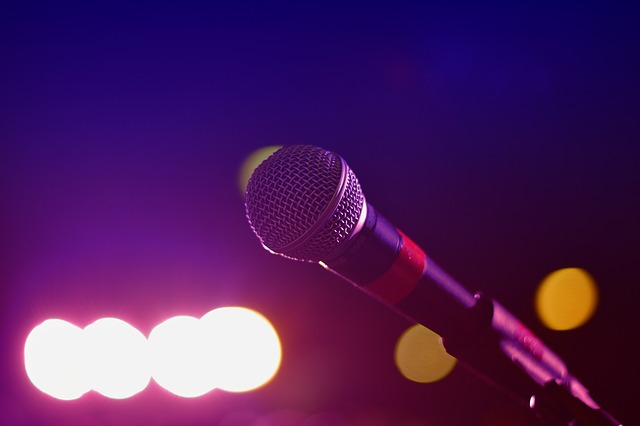 That was a Wednesday night in May 2000, and for the next two years I was a weekly fixture for karaoke unless I was out of town. Stomach bug? I'd take my saltines with me. Paper due at 8:00am the next morning? I'd get it done ahead of time. I joked that karaoke was my spiritual discipline. At the very least, it was a sacred ritual. At first glance, my devotion was out of character for me. For one, I never have been a partier. I am actually an extreme introvert. And I am not a singer, not in the car when others are with me, not even in a choir, where my flat voice would be drowned out by much more ear-pleasing ones. For goodness' sake, as a child I lip synced for the elementary school talent show.
Yet the elbows of trusted friends convinced me to pick up the mic that first night, and I guess you could say I caught the fever (The Spirit blows where it wills…). After a few weeks the DJ started choosing songs for me, and I would occasionally get requests to sing someone's favorite number. This was due to my willingness to put a little hip into the routine, not to a miraculous shoring up of my voice. I had a signature song and competed in monthly contests. I was part of a community of regulars who encouraged my dramatic side. I enjoyed a "Norm!" moment every week when I walked into that hallowed space.
As crazy as it sounds, I believe that my karaoke experience has made me a better pastor. I learned about presence and being comfortable with myself in front of a crowd, which I am every week in worship. I got used to the pitch and drawl of my young, female voice – amplified – which is a big help in preaching. I finally learned how to stop and take care of myself, even when there were more books to be read and papers to write, because I loved the atmosphere and the music (I need to be that diligent about carving out time for myself now!).
But more than these things, I began to develop a practical theology of "home," which for me is not a place but a people with whom you can be your whole self and still be loved. It was at karaoke that I learned to integrate the pastor-in-training and the "real person." The regulars would ask me a spiritual question one moment and send me up on stage to sing Meatloaf the next. Members of my mentoring committee for ordination, wanting to know more about me as a human being, requested permission to join me for karaoke one Wednesday. Their positive response to that field trip reaffirmed that my fun side was an important part of my ministry, not a secret alter ego. That meant I needed to find a place to serve–to call my spiritual home–that embraced my inner diva.
Not only did I get a better sense of what home means to me, I learned what it looks like for others as I met and came to care about men and women of every stripe. As we grew to know and be known by each other, it started to click why the people in church pews are so eager to find home. It's soul-nourishing. It gives us the energy and courage to make our mark in a sometimes-hostile world. My experience of community also helped me grasp why there is such grief when home is ripped out from underneath us by circumstance, why many spend so much time looking for the road back to a home that no longer exists.
Though I am now retired from my karaoke career, those two years behind the mic hold a key to my understanding of my role as pastor. They showed me that the church should be a place where people find home, where they are able to bring their deepest vulnerabilities and hopes to a community that bears them up. That cheers for them and kicks them in the pants to use their gifts. That gives them hugs when they limp in at the end of a particularly discouraging day. In our freedom to be real with each other and God we can begin to find wholeness. We can see the first rays of the kingdom of God seeping in.
But first things first: the church has to be a safe space to risk the encounter. That's where my job comes in. I swing those loving elbows of challenge and encouragement like my friends did that first karaoke night. I hold hands, give high-fives, and put my arms around shoulders. I listen to the questions, and sometimes I give voice to them when no one else will. And then, whether we are dancing or mourning, we open our hymnals and join in the sacred ritual of worshiping God in song.
---
Rev. Laura Stephens-Reed, a graduate of Candler School of Theology in Atlanta, is a chaplain, supply preacher, and program consultant in Huntsville, Alabama. She occasionally has to fight the urge to grab random microphones and burst into a Reba McEntire song.
---
Image by:
Pexels
Used with
permission
https://media.myworshiptimes31.com/wp-content/uploads/sites/3/2008/04/29165005/microphone-called-sent-apr-2008.jpg
426
640
Laura Stephens-Reed
https://youngclergywomen.org/wp-content/uploads/sites/3/2017/05/YCWILogo_Vert_Black-300x229.png
Laura Stephens-Reed
2008-04-10 06:00:00
2019-08-23 12:06:12
My Elective in Musical Outreach