---
Post Author: Rev. Emily Ann Davis
---
On Sunday, September 15, Emily's church had the first of three active-shooter trainings in the midst of its worship services. Members and friends were told about the training in advance.
On the day we had an active shooter drill, our community awoke to thunderstorms. Rain-soaked shoes dampened our carpets, squeaked on the hardwood, and worshippers raced into the sanctuary right as the prelude was ending, just like they always do.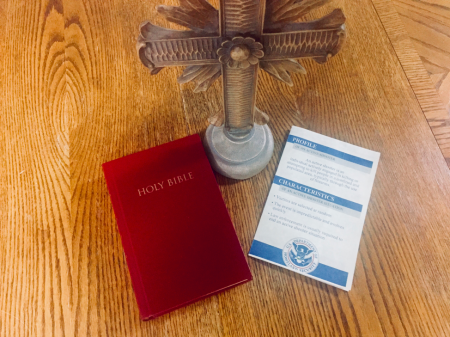 On the day we had an active shooter drill, our worship didn't seem to mind. The congregation sang about laughter; the choir about loudest praises. The scripture promised that new life was coming. The preacher spoke about abandoning cynicism for hope; and those gathered seemed—mostly—to agree.
On the day we had an active shooter drill, we baptized a new believer in faith with tearful, heartfelt ritual. We gathered around God's table to share the promise and the feast.
And then the drill got started.
We put three old words into new context: Run. Hide. Fight.
Congregants shuddered and cried in our most sacred of spaces. The pews beneath them strained and creaked, trying hard to hold all that restlessness, all that discomfort, all that weight.
At least one person grew angry, and stormed out once we finished. Another said: There's no one that dangerous around here. Observing our mostly white congregation, I thought: We are the dangerous ones.
When it was over, a pastor acknowledged the swirling emotions, thanking all who gathered for taking time to think about such awful things. It's easier to turn away our hearts and heads and eyes.
Together, we prayed for broken hearts, and asked for God to use them. Move us, we prayed, into action. May our sadness become compassion. May our  tiredness become advocacy. May our anger inspire us  to—finally—make a change.
Somehow, when we left, the sun was shining. Inexplicably. On the day we had an active shooter drill.
---
Emily is a pastor in the United Church of Christ, currently serving at the First Congregational Church of Crystal Lake, Illinois. She shares a home in the northwest Chicago suburbs with her husband Ryan, their miniature schnauzer Reinhold; they own more books than they do furniture.
---
Image by:
Emily Davis
Used with
permission
https://media.myworshiptimes31.com/wp-content/uploads/sites/3/2019/10/29164753/shooterdrill.png
729
974
Rev. Emily Ann Davis
https://youngclergywomen.org/wp-content/uploads/sites/3/2017/05/YCWILogo_Vert_Black-300x229.png
Rev. Emily Ann Davis
2019-10-24 04:00:02
2019-10-22 09:50:24
On the day we had an active shooter drill…