---
Post Author: Karen Ware Jackson
---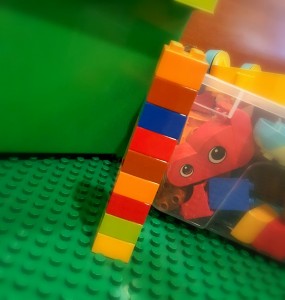 A deafening rumble filled the sanctuary. Bricks cascaded against one another and ricocheted off the walls. Towers smashed to the ground and rose from the rubble as playful fingers reveled in order and chaos. It was marvelous mayhem, but very slowly and very loudly, a glorious dwelling began to emerge.
Our text for worship was the story of Solomon building the temple, so I encouraged the children to work together to build a house for God out of Legos. It was a great idea! Who knew that tiny plastic bricks could be so LOUD?
I raised my voice until I was practically yelling into the microphone, my gut twisting as I watched the faces of my congregation. Most strained to hear and stay focused. A few gave up listening to the sermon, but seemed perfectly happy watching the kids build. And of course, some sat arms crossed, eyes rolling, lips pursed, huffing with annoyance at each new crash. (Why is the perfect piece always at the bottom of the bin?)
Now you are the body of Christ and individually members of it. – 1 Corinthians 12: 27
In our small but mighty church, we are committed to worshipping as one body—young and old, silent and speaking, calm and fidgeting. We try to welcome and engage everyone because we believe we worship more fully together.
We have a vision of lips singing as only lips can sing while hands lift, grasp, and carry as is their strength. We imagine minds blossoming with wisdom and ears straining for understanding. We see wild, unkempt hair bouncing in the wind of the Spirit and hearts beating in time, pumping the life-blood through this fully engaged body of worship. And it is unspeakably beautiful. And it is terribly hard.
We don't always enjoy the gifts of other members of the body – especially when they differ so vastly from our own. An ear is not made for dancing, so when she listens to the soft thuds and heavy breathing of a body in motion, she doesn't grasp its joy. A foot is not designed to see, so he doesn't recognize the glorious interplay of light and shadow through which he walks. But that doesn't mean we don't need each other. It doesn't mean we aren't part of the same body. It just means we are different—and that's okay!
If the whole body were an elder with a penchant for tradition, where would the sense of adventure be? If the whole body were a frazzled family just trying to get it all done, where would the sense of peace and patience reside? If the whole body were a toddler waving his arms in joy one minute and weeping with frustration the other, God save us.
But as it is, God arranged the members in the body, each one of them, as GOD chose. If all were a single member, where would the body be? As it is, there are many members, yet one body. The eye cannot say to the hand, "I have no need of you," nor again the head to the feet, "I have no need of you." (1 Cor 12:18-20) 
We need each other – not just to worship but to survive. As much as we idolize the power of the individual, our society is built around our common work and care for one another. A doctor needs a farmer to grow food. A farmer needs a politician to legislate good agricultural policy. A politician needs a teenager to speak truth and make passionate pleas to remember her true calling—to serve the body.
Church is one of the few spaces left where all of these folks stand side by side, where we speak in unison and sing in harmony, where we unite into one body. If we don't hear, see, touch, and even smell each other, how can we ever hope to connect and experience each other's gifts? If we don't share one sanctuary, how can we be knit together by one Spirit?
I love the song "One" by U2, but when I looked up the lyrics I realized I was blissfully belting out the wrong words for a key phrase. I sang: "We're one but we're not the same. We've got to carry each other" – like it's a burden or a charge we must accept.
I sang this line as a call to action, which has its place, but that's not the lyric. One small word makes all the difference: "We're one but we're not the same. We get to carry each other."
It's not a burden, it's a gift.
To carry another's heart and to offer yours in turn is a gift.
To depend on one another is a blessing.
To misunderstand and even grumble, but still love one another is sacred.
To join many members in becoming one body is holy.
We get to carry each other until that day, that glorious day, when we are truly One.
As I offered the charge and benediction to the worshiping body, I held the house the children built for God—a patchwork of color and size, towers and windows, flowers and lions and dinosaurs and people joined into one sacred whole. It didn't come together silently or easily, but it was beautiful and holy. I looked at faces filling the sanctuary: some radiant, a few disgruntled, all beloved, all connected. We are building a dwelling place of the Holy One not out of Legos or cinderblocks, but out of worship and service, out of tears and laughter, out of love for one another and for the world. We are the body of Christ, the church.
Thanks be to God.
---
Karen Ware Jackson  pastors and leads worship accessible for all ages at Faith Presbyterian Church (PCUSA), a small, dynamic congregation in Greensboro, NC. As the mother of two preschoolers who worship front and center, she knows firsthand the joys and challenges of parenting a child while leading an inter-generational congregation. She blogs about parenting, pastoring, and engaging all ages in worship at www.karenwarejackson.com.
---
Image by:
Karen Ware Jackson
Used with
permission
https://media.myworshiptimes31.com/wp-content/uploads/sites/3/2015/11/29170049/lego-tower-draft.jpg
911
864
Karen Ware Jackson
https://youngclergywomen.org/wp-content/uploads/sites/3/2017/05/YCWILogo_Vert_Black-300x229.png
Karen Ware Jackson
2015-11-17 04:00:38
2019-08-15 14:49:26
One Body