---
Post Author: Corein Brown
---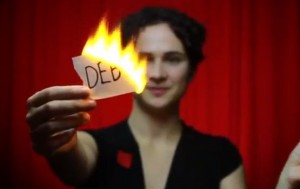 Everyone knows where we aren't, that is the 30 somethings and under.  We aren't Christians and consequently we aren't at church and we never even tried bowling (once our parents started to do it alone I think it lost some of its appeal).  But thanks to the Pew Forum, we at least have a name, we are the "nones," illusive, worrisome, a symbol of a shifting church or perhaps, a dying church.  We have left the building and the only way to understand us now is to state who, where and what we are not.
But even with all those negations on our identity, the questions continue to be posed, where are we, why did we leave and will we come back?  I am exhausted by these questions – both when they are placed on me as the token young adult in the church hall and when the latest stats come out and I get this odd feeling that the whole church is talking about me like I'm not in the room, when clearly I am standing right in front of them.
But if I'm honest, my frustration and my anger is not because of the old church ladies or the prolific researchers but because I don't have the answer.  While my generation was leaving the church, I poured the money I had, and did not have, into a seminary education to lead these emptying pews.  The looming questions, along with the inability to pin down, understand, or entice the "nones" has a lot more weight when you are simultaneously one and not one of them and your looming debt, hazy professional career and sense of call all lay on the line.
A few weeks ago, with ear-buds in, Facebook and Twitter feed rolling, insecure, unknown future (both for me and the Church) looming, I added up my student loans from seminary. I do this every once in a while, when I need an extra shot of sobering reality. I calculate how much I've paid and how little dent my payments make toward the exponentially increasing interest.
Feeling trapped by my debt and my call, my eyes sought escape and distraction in my Twitter feed.  And there I discovered the Rolling Jubilee, a remnant of Occupy Wall Street that is raising funds to purchase and abolish defaulted debt – debt that banks sell to debt buyers for pennies on the dollar who then try to collect the full loan amount from debtors. Intrigued by the group's creative engagement in the selling and buying of loans, I tuned into their live-stream launch party/telethon on November 15th commemorating the one year anniversary of Occupy' s eviction from Zuccotti Park in New York City.
I was skeptical, and remain skeptical, about the success of this movement, though to their credit they have raised nearly half a million dollars and small offshoots seem to be springing up around the country, much like the initial Occupy movement.  But regardless of their success or my skepticism, my real concern is that no one is paying attention to them – particularly the church.
The live-stream launch party began with the host, dressed in a tuxedo with a rotary phone back drop to complete the 1960's telethon look, shouting to an already inebriated crowd, "Do you know what a jubilee is!?"  A hazy, "No" was shouted back (increasing my suspicion that most of the attendees were there more so for a party than a movement).  The host went on to explain the biblical, Abrahamic roots of the jubilee claiming that abolishing debt and freeing slaves was a "human impulse," and that the Rolling Jubilee was taking this ancient tradition and updating it for modern times.
And after this, the first of many Sunday school lessons that evening, the host shouted, "So we got to sanctify this place!"
The crowd cheered and welcomed the first act, a local Gospel choir, complete with a pastor who coaxed the crowd to shout back lines of the Lord's Prayer.
"Say this with me," the Rev. Jackie shouted, "Give us this day our daily bread and forgive us our debt."  "Come on," she jeered the crowd, "say it with me."
"GIVE US THIS DAY OUR DAILY BREAD AND FORGIVE US OUR DEBT!" the crowd returned.
The evening was filled with a mix of interesting (to say the least) musical acts, magicians, poets and more reference to gin and tonics than most church services (along with significantly more expletives), but over and over again, Rev. Jackie, other pastors, and a few Catholic nuns took center stage continually drawing on the Lord's Prayer and cajoling the rowdy crowd to shout it back.
"How many of you find it hard to pray?" Rev. Jackie shouted to the crowd, "We pray, give us this day – don't give us what we need for 20 years, don't give us to hoard.  Give us today and forgive us our debt.  The person that many of us think of as the son of God said, forgive us our debt, he asked for a year of jubilation, for everything to be wiped clean – this is what God wants, freedom and liberation.  To be entrapped by debt keeps us from finding our way.  A lot of us have been told a lot of things about sin but what sin really means is to miss the mark – the mark we are aiming at is justice, freedom and liberation from debt.  God wants us to be free!"
"GIVE US THIS DAY OUR DAILY BREAD AND FORGIVE US OUR DEBT."
Rev. Stephen, took the stage shouting that same line and rhyming, "We are drunk, drunk on a whine, drunk on a line, 'What's mine is mine."  With the crowd's attention he preached, "You may not have a religious faith but you have a faith, you believe we are one people.  This is what our religious traditions say when they aren't lying and hiding.  THIS IS OUR CALL!  THIS IS OUR TIME! LET'S STRIKE THE DEBT."
As the evening progressed and the already lively crowd got unrulier I watched "the nones," my generation and the one coming up, shout back the language of our childhood faiths and perhaps, in some small but real and significant way reclaim the prayers of our fathers.
The "nones," a generation of negations, a generation that will largely be absent from the pews on Christmas morning and the weeks that follow are also the generation born into unfathomable debt, into a volatile and deeply divided nation and church, and are daily forced to navigate the extremes of unimaginable poverty, wealth and consumerism.
And as I watched them (turning the volume low during obligatory Occupy-style drum circles) I couldn't help but think that we are failing them.  That many have named where they are not but few have been willing to risk to go where they are, save a couple pastors and a handful of nuns.  That we have imprisoned the language of their faith, the prayers on their lips to empty pews.  And that they are consequently led to believe that their childhood faith is simply that, something to be left among other forgotten toys in their parents attics and not something powerful, active and grounding that might lead them to proclaim liberty to the bound and truly announce a year favorably to the Lord.
GIVE US THIS DAY OUR DAILY BREAD AND FORGIVE US OUR DEBT.
Illustration is a still from a promotional video by Rolling Jubilee.
---
https://media.myworshiptimes31.com/wp-content/uploads/sites/3/2012/12/29170920/image_large.jpeg
350
555
Corein Brown
https://youngclergywomen.org/wp-content/uploads/sites/3/2017/05/YCWILogo_Vert_Black-300x229.png
Corein Brown
2012-12-04 04:00:00
2018-11-13 11:46:38
Forgive Us Our Debt: The Rolling Jubilee and the "Nones"