---
Post Author: Jenn Moland-Kovash
---
Collection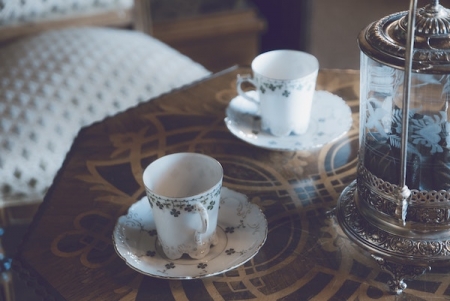 Deep purple, nearly black splotches
Mottle her arms and hands:
She laughs and tells me it took the nurses
Nine tries before getting the needle
Right in her small, wobbly veins.
She remembers when her doctor
took two samples from her husband
instead of trying to get one from her.
She's amused by her veins.
The stories make me weak.
She's proud that she's eaten half
her bowl of now-cold creamed cereal,
though I can barely see a dent.
She tells me suddenly
she wants me to take something
from her china cabinet
the next time I visit her at her place,
anything except the plate
her son has claimed.
My ministry, a collection
of tea cups filled
with stories of dying women.
Then we pray, her hand resting in mine.
She doesn't echo my, "Amen."
Is she praying? Has she fallen asleep…?
I hold my breath, then she begins
"Our Father, who art in heaven…"
and my own voice, suddenly caught,
joins hers to another, final "Amen."
A Way to Tell Time
I know it's been a long week
(or month)
when I notice and (really) don't care
that the coffee in my cups
has grown
cold then stale and now
a thin (ok, not-so thin)
layer of green.
A collection of them gathers
as if for prayer
on the edge of my desk.
My only prayer these days:
Please don't let their
furry contents
spill onto anything important,
like the freshly lettered
baptismal certificates.
I count them instead of cleaning:
Five, six, seven, plus the one-way
travel mugs.
It's been a long week
(and month).
---
Jenn Moland-Kovash is an ELCA pastor in the Chicago suburbs where she serves a congregation with her husband, Seth.
---
Image by:
Daniel von Appen
Used with
permission
https://media.myworshiptimes31.com/wp-content/uploads/sites/3/2011/07/29164846/tea-cups-daniel-von-appen-christ-creativity-july-2011.jpg
401
600
Jenn Moland-Kovash
https://youngclergywomen.org/wp-content/uploads/sites/3/2017/05/YCWILogo_Vert_Black-300x229.png
Jenn Moland-Kovash
2011-07-26 11:12:55
2019-08-29 19:50:44
Pastor/Poet