---
Post Author: Askie
---
Dear Askie,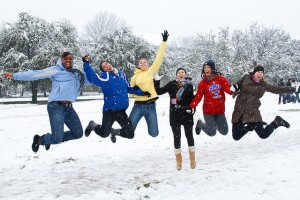 How do we make friends as YCW?  Growing up, I made friends at church and school.  Now, I keep hearing that you can't / shouldn't be friends with parishioners, but I'm not meeting many people outside of my congregation.  I know I'm a better pastor when I have friends outside of my church, but how do I meet them?  Help!
Feeling Lonely.
Dear Feeling Lonely,
This is a great question!  Having friends outside of work is something all people should think about, not just pastors.  Now, there are some who will passionately disagree with the statement that you can't/shouldn't be friends with members of your congregation.  Askie has found that it is possible, and even life giving, if everyone has good, clear boundaries.  These can be tricky waters to navigate, and (in my humble opinion) these friendships can be good, but only if you have other friendships as well.  One or two particular church families should not be the entirety of your social life.  In traditions where the pastor/minister/priest moves frequently, making friends with church members may be a little easier as there is no expectation of you staying forever.
So, where else do we go to make friends?  What are your hobbies?  Askie knows a knitter who found a knitting group at the local yarn shop.  Do you enjoy photography, sewing, cooking, painting, or writing?  Perhaps going back to school is the answer!  Shops may offer classes or workshops that will enable you to grow your skill set as well as make new friends.  Be willing to try different experiences, and go back – if at first you don't succeed…..
Do you have kids?  Their schools may be the answer.  You don't have to go back and sit in the classroom, but can make friends with the parents of their friends.  If you can, chaperone the fieldtrips or attend the class parties and make it a point to interact with the other grownups.  The mom you shyly said hello to on the first day of kindergarten may end up being your BFF that you sob with at high school graduation.  No kids?  Do you have significant other?  If so, attend his or her work functions with joy rather than dread.  A glass of wine may lead to good conversation with Jean from accounting about your mutual love of Hoarders or Say Yes to the Dress.
Civic clubs may be another place to make friends with mutual interests.  The Junior League, Rotary, Kiwanas, etc. might be a good place where you can serve outside the church and meet people.  Volunteering in general (without the meetings!) may be a great way to find new friends.  Spend a morning planting trees or walking dogs.  Often, the local newspaper will have a list of community events where you can find opportunities.
If you live in a rural place where everyone in town is almost a church member, related to a church member, or is best friends with a church member, it may be important for you to plan time to drive to the nearest city.  Sometimes that can add a lot of time and energy, but it can often be worth it to discover an awesome drum circle or meditation group or speed dating group that is far removed from your small town and the constant pressure of living in the fish bowl of public life.  Also, if you live in rural place, virtual friendships can become especially important.
Don't forget online friends!  While it's not the same as movie night, many a YCW has made lifelong friends through the Young Clergy Women Project.  Make friends on the boards, PM someone if they say something that you agree with or want to talk more about.  Come to the conference – Askie went one year not knowing a soul and met some really great people she now considers friends. (For more info click here.  Registration opens on January 15, 2014.) 
This year, the Project is also helping you meet new people near you!  The week of Feb. 16-22 is regional meet up week.  All across the country YCW's will gather for a meal to meet one another and share the joys and challenges of being a YCW.  If you are feeling really brave, host a meal in your area – pick a date, time, and restaurant (you don't have to invite people over to see your house!) and make the reservation.*  We will be coordinating on the Facebook page, and publishing a list of meet-ups soon.
Above all, be brave and willing to try something new.  Making new friends is harder as we get older, and I am proud of you for reaching out!
* If you would like to host a meet-up please contact: Julie Jensen at Julie(dot)jensen (at) gmail (dot) com or Phyl Stutzman at phylstutzman (at) gmail  (dot) com.  A list of meetups will be published in early February.
Photo by Ian Aberle, http://www.flickr.com/photos/ianaberle/4354009553/, Accessed January 1, 2014, Used by Creative Common License.
---
https://media.myworshiptimes31.com/wp-content/uploads/sites/3/2014/01/29170639/Girls-in-Snow-Askie-Jan-2014.jpg
427
640
Askie
https://youngclergywomen.org/wp-content/uploads/sites/3/2017/05/YCWILogo_Vert_Black-300x229.png
Askie
2014-01-02 04:00:11
2015-08-06 14:16:01
Ask a Young Clergy Woman – Making Friends